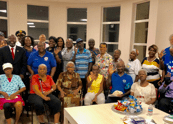 Calling on all Virgin Islanders during these troubling times, CAPA (Community and Police Association) is launching an initiative called St. Thomas Senior Relief, starting at noon on Wednesday, March 18. CAPA has reached out to local businesses, clergy and the community to participate in the relief effort.
Supplies of non-perishable food, water and health items will be collected and dropped off at the Celestino White Senior Residents building behind the hospital in the foothills.
CAPA is reaching out to clergy across St. Thomas to participate in the St. Thomas Senior Relief effort each week at their local churches.
People of St. Thomas who may be in need of supplies or those who may want to donate to St. Thomas Senior Relief, please call for information at 340-513-4041.