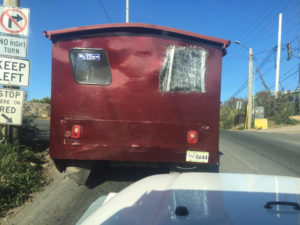 The driver of a safari bus that crashed recently on St. Thomas sending five passengers to Schneider Regional Medical Center for observation and treatment, was cited by the V.I. Police Department for negligence in losing control of his vehicle, a police official said.
St. Thomas-St. John-Water Island Police Chief Ludvig Thomas said investigators took a look at the circumstances leading up to the crash. According to a statement issued by the Virgin Islands Police department, the vehicle was traveling west when the driver lost control near the Tutu Park south access roadway. The police did not name the person driving the vehicle.
"The driver was found negligent. We felt he wasn't paying attention to the roadway," Thomas said.
Police issued a citation to the driver, but did not bring criminal charges against him. The chief urged other safari bus operators to exercise caution and remember that passengers are not restrained by seat belts.
Safaris are privately operated, open air taxis. Many provide scenic transportation for visitors and cruise ship passengers making day trips to St. Thomas and St. John. A small number travel the public bus route on St. Thomas, serving hundreds of commuters daily.
Safety concerns about the buses – modified trucks equipped with canopied seat kits – crop up occasionally because safaris have open access seating and are not equipped with seat belts.
In October 2015, five people were injured when the brakes on a safari bus gave out on Raphune Hill, St. Thomas. Thirteen passengers from the Serenade of the Seas were injured in January 2012 when a safari collided with another vehicle, one passenger was hospitalized.
Thomas asked for greater vigilance and said the Traffic Safety Bureau issued an advisory shortly after the Feb. 22 accident.
"We need the safari drivers to understand that passengers onboard a safari are not restrained. They need to operate their vehicles in a safer mode or manner, in accordance with the law," the police chief said.