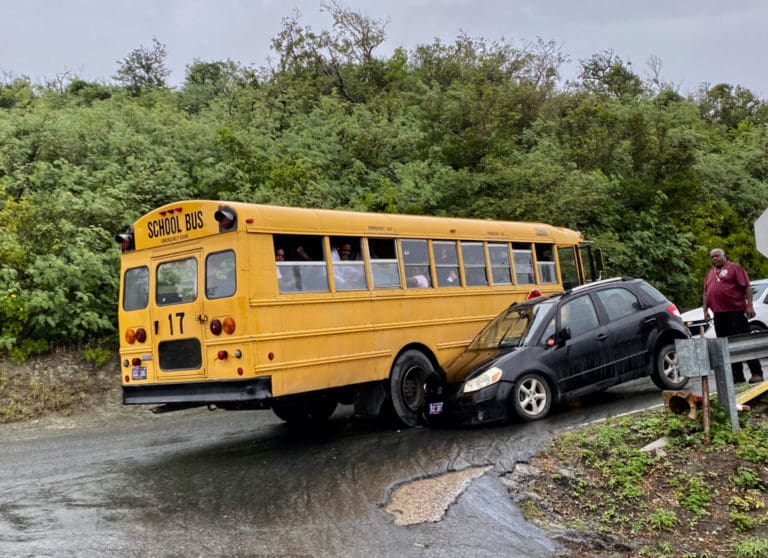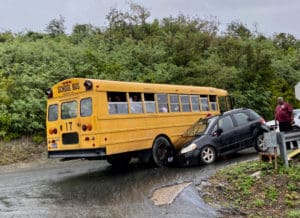 No injuries were reported to students or the school bus driver when Bus No. 7, transporting students from the Ivanna Eudora Kean High School at 4 p.m. Friday, was involved in a traffic accident with a vehicle on Cassie Hill.
According to a news release from the Department of Education, 17 students were aboard the bus at the time of the incident.
St. Thomas-St. John District Superintendent Stefan Jurgen said the bus was traveling west on Cassie Hill and attempting to make a right turn into an intersection. The driver of the vehicle was turning out of the same intersection onto Cassie Hill, which requires navigating a wider turn. The vehicle and the school bus collided at the back bumper of the car, causing some damage to the vehicle. The driver of the vehicle was uninjured.
No damages were identified on the body of the school bus.
Causton Merchant, the district supervisor of pupil transportation, arrived at the scene to ensure students' safety. VIPD traffic officers were also present.
Bus No. 15 was called to transport the affected students to their neighborhoods in Smith Bay, Anna's Retreat, Ras Valley and surrounding areas.