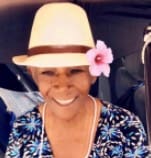 Sylvia Jordan died on Dec. 16, 2019, at the age of 74.
The first viewing will be held from 5-7 p.m., Friday, Dec. 27, 2019, at Turnbull's Funeral Home. The second viewing will be held at 9 a.m. on Saturday, Dec. 28, at St. Andrew's Episcopal Church with a service to follow at 10 a.m. Interment will be at Western Cemetery No. 1.
She was preceded in death by her brothers: Eldan Jacobs, Leroy Jacobs and Valentine Jacobs.
She is survived by her children: Trudy Jacobs, Gail Jacobs, Ricardo Francis and Patricia Potter; grandchildren: Alanna John (granddaughter), Anthony O. Wint (grandson), Anike Wint (granddaughter) and Bianca Phillips (granddaughter); brothers: Fred Jacobs, Michael Jacobs, Cladious Jacobs and Albert Jacobs; nieces and nephews too numerous to mention; sisters: Yvonne Jacobs and Cheryl Jacobs; special friend, Sybil Lucien; and many other relatives and friends too numerous to mention.