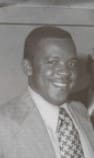 Pedro Smith, better known as Don Pedro, died peacefully and quietly on Tuesday, Dec. 10, 2019, at the Schneider Hospital at the age of 81.
The first viewing will be held from 5-7 p.m., Thursday, Jan. 2, at Turnbull's Funeral Home and Crematory Services. The funeral service will be held on Friday, Jan. 3, at Living Word Family Ministry Church located directly across from Lindqvist Beach in Smith Bay, with viewing at 10 a.m. and a service to begin at 11 a.m. Interment will be at Eastern Cemetery.
Pedro was preceded in death by his parents: Peter Smith and Dorothy Gumbs-Smith; brothers: Alfredo and Julio Smith; sisters: Julia Smith Scatliffe and Leona Smith Almestica; wife of 50 years, Marjorie V. Smith; brothers: Felipe, Benito, Mario and Silvio Smith; sisters: Thelma, Graciela Smith and Iris Smith-Edwards; daughter, Marita Smith; stepdaughter, Ingrid Baronville-Hamilton; son, Shawn Bryan Smith Sr.; and stepson, Calvin Baronville Sr.
He is survived by his grandchildren: Nicole and Nikkiah Friday, Aloni Kye' Creque, Shawn Jr. and Shane Smith, Toney, Kyle, Cordell and Peyton Baronville; great-grandchildren: Jeala-Monee Sasso, Leah Victoria, Damiah, Samari, Kaleah, Cy'Asia, Zion, Calvin and Khloe Baronville; and nieces: Marisa Smith, Kenia Edwards, Melissa Smith-Diaz, Denisia George, Carmen Maynard, Cheryl Todman, Yolanda Blaize, Sherise Smith, Bethsaida Smith-Hanley, Jennifer Smith, Mayra Francis, Celia Ramirez, Maria Smith Thomas,  Minerva A. Chinnery-Holloway and her husband, Steven D. Holloway.
nephews: Kurt Hodge, Kenton Edwards, Ricardo Scattliffe, Sedinio Smith (Effo), Sedinio Smith (Danie), Benito Smith Jr., Shawn Smith and Daniel Smith; sisters-in-law: Sonia Smith, Celestine Smith, Leoneal Smith and Belke Smith; brother-in-law, Zenos Edwards; special friends: Fern Clarke, Reynold Frazer, Beryl Smith, Betty Smith, Raymond Forbes, George Moolenar, Jackie George and the Soldiew family, just to name a few.