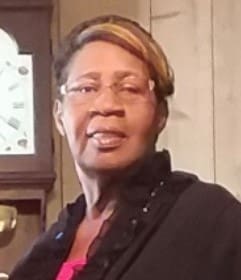 Friends and relatives are advised of the death of Jean Barzey Ryan, affectionally known as "Barzey," who died peacefully on Dec. 6 at her residence after a long battle with cancer.
She was a retired Roy Lester Schneider Medical Center community health worker where she worked for over 30 years. She was preceded in death by her mother, Agnita Forbes; sons: Calvin, also known as "Keba" Barzey and Aldix, also known as Garnet Callwood; and sisters: Gloria Williams and Shelia Williams.
She survived by her husband, John Richard Ryan; mother in the Lord, Emantina Etienne; children: Sherilyn Gordon, Terrance Davis and adopted son, Akijah Newton; grandchildren: Davidson Tavernier Jr., Taiyana Phillip, Kyle and Kathlene Davis, Mercedes Maduro, Alecia Callwood and Tamya Davis; great-granddaughter, Kioree Davis; special sister, Juliet Alexander; other sisters: Joan Forbes, Selina Le Blanc, Eudora Hyman, Ingrid Bisette, Olivia Gibson, Emily Peters and adopted sister, Kathleen Fredrick; brothers: Pastor Alfred Forbes, Monroe Forbes and Carr Forbes;
Other survivors include special cousins: Judith Lewis, Katrina Sotorie and Margret Swanson; special brothers-in-law: Charles Garnet Alexander, Jimmy Peters and others too numerous to mention; uncles: Edward Browne and Delio Browne; aunt, Lena Browne; sister-in-law, Lornette Forbes; daughters-in-law: Sandra Barzey and Natasha Espirit Callwood; son-in-law, Leslie V. Gordon; special caregivers: Taiyana Phillip, Jim Peters and Marvin Williams; many nieces, nephews and friends too numerous to mention. Also acknowledging Pastor Dennis Estridge and members of the Pentecostal Church and Pastor Alejandro and the Full Body EPC.
The first viewing will be held from 5-7 p.m., Friday, Dec 20, at Turnbull's Funeral Home. The second viewing will be held at 9 a.m. followed by a funeral service at 10 a.m., Saturday, Dec. 21, at Faith Wesleyan Holiness Church in Anna's Retreat. Interment will be at Eastern Cemetery.
The family requests festive colors be worn.