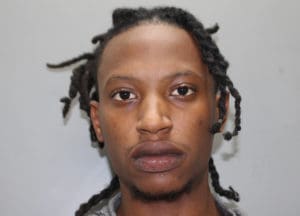 Rony Tati-Liz, a 22-year-old of Berger Gade on St. Thomas, was arrested at about 4:50 p.m. Thursday, Nov. 14, and charged with possession of an unlicensed firearm, possession of ammunition and possession of a controlled substance with intent to distribute.
Officers of the Virgin Islands Crime Initiative performed a traffic stop on a vehicle operated by Tati-Liz. During the traffic stop, officers noticed a strong odor of marijuana emanating from the vehicle, according to the police report. That prompted officers to search the vehicle, where they found an unlicensed firearm, ammunition and marijuana packaged for distribution, among other items.
Tati-Liz was arrested and transported to the Richard Callwood Command where he was booked and processed. Unable to post bail of $50,000, he was remanded to the Bureau of Corrections pending his advice of rights hearing.