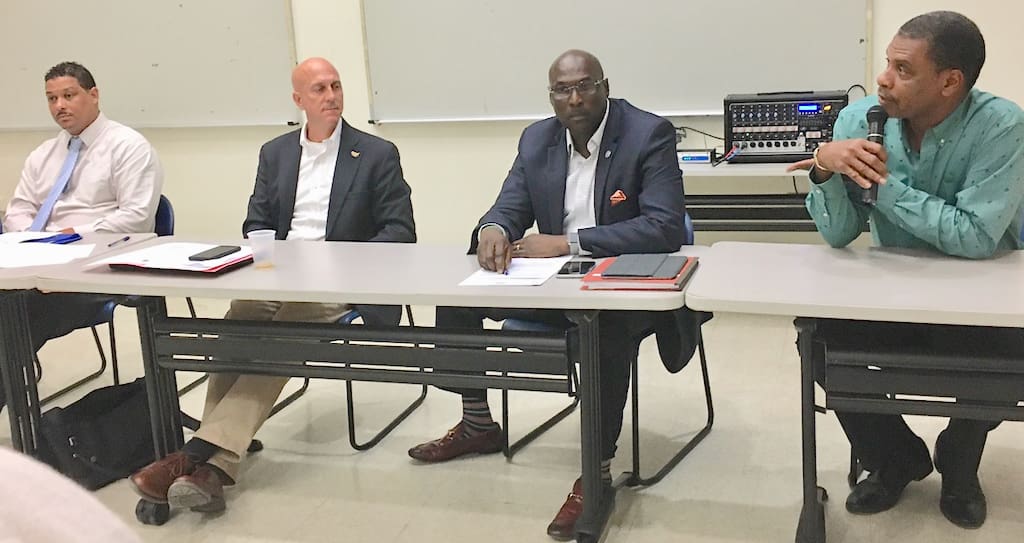 More than 100 concerned citizens gathered at the University of the Virgin Islands Tuesday evening to learn about plans to reopen the Limetree Bay Terminals and Refinery and to press the company about health issues – but no one from the refinery came to answer questions.
"It is information you all have a right to obtain," said Deanna James, executive director of the St. Croix Foundation.
The hour and a half community information session, sponsored by the St. Croix Foundation for Community Development and the nonprofit Consortium, was advertised to "discuss pertinent updates and general information" about the St. Croix refinery, due to reopen in December.
The time wasn't wasted, however – the commissioner of V.I. Department of Planning and Natural Resources, Jean-Pierre Oriol and Daryl Jaschen, director of the V.I. Territorial Emergency Management Agency answered a series of questions about requirements for compliance with EPA regulations and possible penalties. Senate President Novelle Francis Jr. and Sen. Kurt Vialet, finance committee chair, also joined the discussion.
Reportedly, Limetree personnel did not attend the meeting because they were preparing for a Senate hearing Wednesday. Vialet and Francis said they would ask some of the audience's questions along with their own during Wednesday's session.
Questions were written for participants. Those directed at Oriol and Jaschen were about monitoring and detecting leaks and releases into the air. Oriol said that the department does not have auto access to Limetree but they and the EPA receive raw data from the refinery.
Asked about notifying the public of chemical spills and disasters at the refinery, Jaschen said there are several ways including press releases, press conferences, Alert VI and IPAWS, which is a national system for emergency alerts via radio, television and wireless phones. Oriol added that there are no radiation components to worry about and other releases can be monitored and reported to the Health Department if victims experience symptoms.
"One or two tons [of substances] is not going to create an adverse effect in a few minutes," he said.
A participant asked if there was a plan in case a combination of chemicals is released. Angela Arnold, environmental engineer at DPNR, said the self-monitoring equipment used at Limetree was expensive and specifically recommended by DPNR. It monitors not just seven hazardous substances but 188 pollutants – some in micrograms per cubic meter. The equipment monitors in minutes, eight-hour, 12- hour, 24-hour and annual increments.
Penalties for leaks and other non-compliance includes fines of $50,000 and more a day.
Asked about underwater oil leaks, Oriol said submerged cables are composed of segments that have automatic shutoff valves if there is a leak. Only the single point mooring uses underwater pipes to siphon on and off oil to larger ships. Additionally, Limetree has to comply with the Clean Water Act, he added.
Moderators Frandell Gerard, president of Crucian Heritage and Nature Tourism, and UVI student Lileth Grouby also asked about dealing with a situation as the Bahamas faced in Hurricane Dorian. Grouby was reading audience and pre-written questions. Five million gallons of oil was released from the refinery during the dayslong category five storm. Oriol said precautions include emptying oil lines and the trusting that tanks can withstand a hurricane.
"You plan for them as well as possible. You can't walk away but you can minimize the risk. What happened in the Bahamas, you try to mitigate," he said. All Limetree key personnel will remain inside the refinery in case of an emergency, he added.
Jaschen told the audience that a comprehensive hazard mitigation plan is being prepared to include the refinery and next April a practice response will engage everyone under the direction of the unified command.
"Our first goal is to save lives, always," he said. Under the plan first responders are engaged to help the public and then the environment, he added.
Gerard read questions that would have been directed to Limetree representatives: When will the refinery restart? How many local people and off-island people will be employed? Are there background checks to identify sex offenders? There were also questions about a "spill" of 50 or more 100 pound blocks of plastic foam on the south shore? Why was response time so long and when will the beaches be cleaned?
Editor's note: Lileth Grouby's name was initially misspelled and has been corrected. She read questions from the audience and prewritten questions.