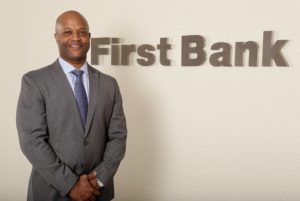 Cassan Pancham, executive vice-president and business group executive in Puerto Rico, announced today that Valdamier O. Collens has joined FirstBank as senior vice-president and U.S. Virgin Islands (USVI) Region executive, effective Sept. 13.
In this position, Collens will be in charge of spearheading and continuing FirstBank's strategic growth in its USVI business operations on St. Thomas, St. John and St. Croix.
Collens joins the bank with over 20 years of experience and knowledge in both the public and private sectors. Prior to joining the bank, he worked for the Government of the Virgin Islands, where he held various executive positions until assuming the role of commissioner of finance and executive director of the Virgin Islands Public Finance Authority in 2015. Throughout his career, Collens has demonstrated successful leadership and accomplishments in financial planning and analysis, financial reporting, economic and strategic planning, and modeling to drive organizational results.
In announcing his appointment, Pancham said, "Mr. Collens is the ideal person to lead FirstBank's Virgin Islands Region in its journey. Within the past few years, the bank has made significant investments in innovation and the enhancement of the overall customer experience. Now with Mr. Collens' direction and the support of the management team and staff, FirstBank is in a great position to continue growing its leadership position in the market and maintain its commitment to the Virgin Islands community."
Collens holds a Master's Degree in Business Administration from Harvard Business School in Boston, Mass. and is a certified public account. He will be based on St. Thomas.