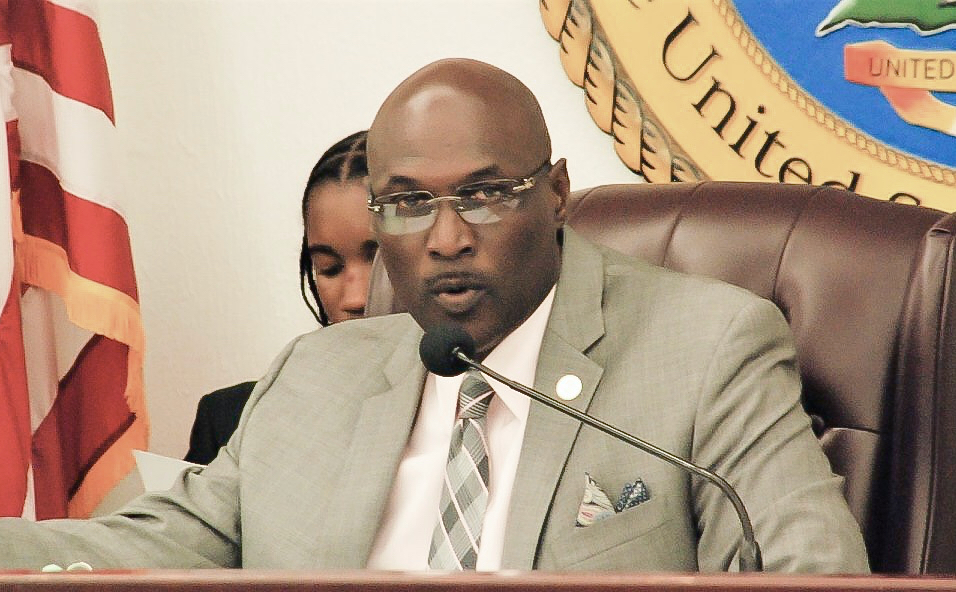 The V.I. government's spending on the Department of Agriculture will more than double, increasing by $8 million or more per year, if a bill approved in committee Monday becomes law.
But senators proposed no corresponding cuts nor any way to divert that funding from other departments, such as police and schools, without cutting those departments.
The bill, proposed by Sen. Novelle Francis (D-STX), aims to spend "a percentage of the local funds of the Government Virgin Islands budget" on "local farming initiatives." The amount would start at 0.25 percent and rise to one percent after five years. The amount would be in addition to the regular budget for the Department of Agriculture.
"I want to be a good steward of the territory's finances," Francis said, but local agriculture is very important for food security and health, and "this is an important thing to do."
Elridge Thomas, president of the St. Thomas farming entity We Grow Food Inc., testified in favor, saying the "Department of Agriculture must develop an Agricultural plan, utilizing these funds, making our Agricultural Industry sustainable."
Budget Director Jenifer O'Neal said the government "supports the idea of providing additional funding" for farming, but said the Office of Management and Budget has not been given details of what the spending would be for. Also, the bill is unclear on what the actual amounts would be, or how the percentage is to be calculated, she said. But even at the lowest range of potential amounts, if it were based on just the government's general fund, it would be $2.25 million at the least, in the first year alone, "without any plan for the additional revenues."
She said the planned sharp increase would come "at at time when the general fund is already stretched to capacity" and that a recession may be on the horizon, threatening the territory's fiscal condition even more.
"Therefore OMB opposes this measure at this time," O'Neal said.
Legislature Post Auditor Jose George said if the bill was looking at only the V.I. general fund, and assuming the general fund budget remained around the $800 million level currently projected, it would mean a roughly $2 million increase for the first couple of years. Then it would mean $4 million extra for a couple of years and level off at $8 million extra for every year afterwards.
"If it can or cannot be sustained is up to this body," George said, adding that the Legislature has the power to raise revenues or cut other areas of the budget.
Gov. Albert Bryan's proposed Fiscal Year 2020 budget earmarks $4.5 million from the general fund for Agriculture, plus about a million in other funds, for around $5.5 million. If enacted, this bill would, in the event it is actually carried out, add another $2 million this year and increasing amounts in subsequent years.
Funding for the department has been steadily increasing over the past decade. The FY 2016 budget included $2.7 million from the General Fund, or a third less than the current level.
Sen. Alicia Barnes (D-STX) said she was "still in support of this measure notwithstanding the budget director and post auditor."
"If we are serious about agriculture, we have to put our money where our mouth is," Barnes said.
No senator proposed cutting spending in any other area to free up the money for the big jump in Agriculture spending.
Sen. Kurt Vialet (D-STX) said the Legislature could instead just increase the department's appropriation.
"I am in support of making sure Agriculture gets X amount," he said, adding that they need to determine the amount they intend to budget.
"There are fiscal realities … This is the real world," Vialet said.
Francis said the important thing is to support local agriculture.
"Wherever this bill goes is fine. But there must be a commitment to agriculture," Francis said.
Currently, the V.I. government is in the midst of a multi-year fiscal crisis. Unable to borrow on the private market, it has no way to spend more than it takes in. The Legislature has approved unfunded spending mandates on many previous occasions. When it has, those mandates often do not end up being carried out. Whenever appropriations levels are higher than available funding, spending authority effectively leaves the Legislature and moves to the executive branch as the government is forced to set lower amounts to allocate than was budgeted.
Voting to send the measure out of the Committee on Economic Development, Regulations and Agriculture were: Francis, Sens. Oakland Benta (D-STX), Dwayne DeGraff (I-STT), Myron Jackson (D-STT), Athneil "Bobby" Thomas (D-STT), Marvin Blyden (D-STT) and Allison Degazon (D-STX). Vialet abstained.
The committee also sent on another bill from Francis to expand the definitions of farming in V.I. law and add what he said were "industry current definitions" to the law.
Francis said adding the definitions may make it easier for the territory and some farming entities to take advantage of some federal grants.
Nate Olive of St. Croix's Ridge to Reef Farm testified in support.
"There are many grants, programs, tax incentives, markets, and contracts that have become available to assist small farms in our local agricultural revolution. Without these opportunities, it would be monumentally challenging to create a viable industry with such a razor-thin profit margin. Yet today we see in some instances some taking advantage of the demand and incentives for local crops who are not bona fide agricultural producers," Olive said.
The committee voted unanimously to send the measure out of committee. Both bills now go to the Rules and Judiciary Committee for amendments and another vote.