Top executives from Lyft, General Motors and Tantalus Systems spoke at Delegate to Congress Stacey Plaskett's panel on new mobility Friday, tackling challenges in getting new transportation trends, like electric vehicles and ride-sharing options, into more rural communities, such as the U.S. Virgin Islands.
The panel, called "Auto 2.0," was one of several sessions at the Congressional Black Caucus Foundation's 49th Annual Legislative Conference. The five-day conference, held at the Walter E. Washington Convention Center in Washington D.C. from Sept. 11 to Sept. 15, gathered roughly 9,000 people for some 70 public policy forums on various topics.
"Rural areas in particular, I really have a concern with," Plaskett told panelists on Friday. "So many of us live in rural areas. We have the mobility in cities, but how do people get access to things. How do kids who live on farms get access to libraries because they don't have internet in their homes?"
New transportation trends such as electric vehicles and ride-shares are becoming a norm in major American cities. Just outside the Annual Legislative Conference venue, bikes and scooters congregate in busy corners, waiting for the next user to pay a nominal fee with a credit card for point-to-point rides. A University of California-Davis study placed roughly half of the nation's 1.7 million electric vehicles on the road in California, while a Texas utility company called Austin Energy charges $5 a month for unlimited charging in any of its multiple electric vehicle charging stations across the city.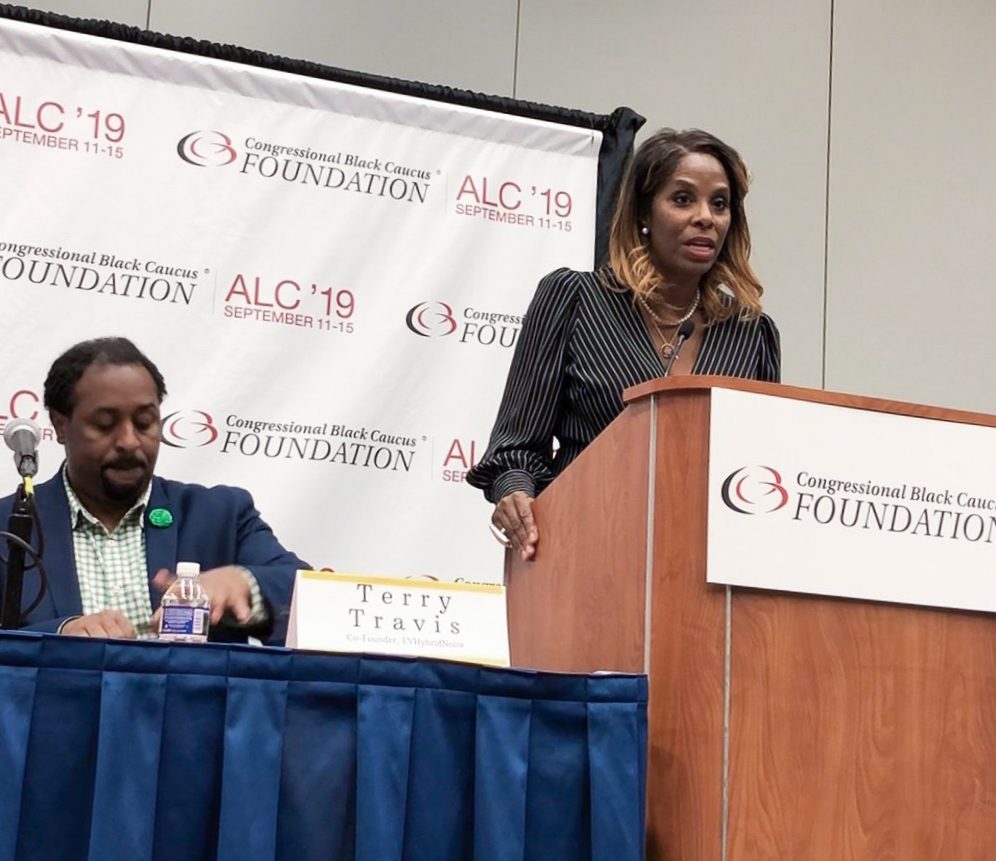 "The data shows that the more electric vehicles you have on the grid, the better it is for all consumers because it brings the rate down," said Terry Travis, co-founder of EVHybridNoire, the nation's first multicultural network of diverse electric vehicle drivers.
"The more electric vehicles on the road, it actually benefits everyone, even those who don't drive EVs," Travis said.
But while possibilities abound on the mainland, mainstreaming them in rural areas like the Virgin Islands can be a challenge. The prospect of switching to electric vehicles, in particular, faces a hurdle in the territory, where electricity rates rank highest in the nation – $0.41 per kilowatt hour – and frequent power grid failures draw residents out to the streets in protest.
Panelist and St. Thomas native Adrien Austin, chief executive officer of Virgin Islands company Drive Green VI, estimates roughly 150 electric vehicles on the road in a territory with a population of 150,000, a penetration of less than one percent that does not surprise him. Plaskett agreed there might be a disconnect for residents who feel frustrated about unreliable electric service and soaring power bills, but stressed that the benefits of shifting to vehicles running on renewable energy are interconnected.
"I think that what's more important is not so much solely electric vehicles but having electric vehicles that are maybe tapped into solar panels so that the charging is related to solar and to wind," Plaskett said.
"This then allows families to, once those vehicles are charged, if there's a power outage, they're able to use the cars, what's in that battery, to continue to use their refrigeration or to continue running some fans or something in the house, that's it's all interconnected as we were talking about," she said.
Plaskett echoed Austin, saying with the right incentives the private sector may buy in, leading to more charging stations that can make the idea of electric cars more palatable.
"Whether it's Margaritaville or having the Buccaneer, or other locations, maybe a school or a library," Plaskett said. "People will want to come there and be able not just to charge their car but to get work done and to get things done."
Tantalus Systems Executive Vice President Hugo Hodge, Jr., also a panelist at the event, said the age of some Virgin Islands homes may also pose a technical risk.
Hodge, who was chief executive officer of the V.I. Water and Power Authority for eight years, said many homes in the Virgin Islands are old, which means their infrastructure may not be ideal for receiving any kind of additional electric load. One solution would be to upgrade entry conductors or transformers, or update building codes to allow new homes to accept additional energy load.
This is where government comes in, Hodge said.
"Maybe the utility has a program where they can make the upgrades, do some kind of a grant where it's not the burden of the homeowner to pay for the upgrades," Hodge said. "Then it facilitates bringing in whatever is on the horizon for the General Motors and the Rivians, and we can have everyone ready with not too much burden on the consumer."
"The consumer is already making a purchase; you want to facilitate that taking place," he said.
Time-of-use discounts can also incentivize homeowners if they get charged lower rates for charging their vehicles during off-peak hours. This produces a two-pronged benefit: savings for the consumers and a balanced load for the electric grid.
"It's a way of shifting load," Hodge explained. "Many times in the utility world, you have a lot of load being used during one time of the day, and very little the rest of the day. Shifting where you can do some of the charging at night and what-not really balances the load and makes the investment of the utility that much better managed."
Tamberlin Golden, plant director for General Motors' Flint Engine Operations, said with the millennial generation shying away from vehicle purchase overall, including electric cars, a way to get around the potentially difficult conversation on electric vehicles is to educate stakeholders early.
"The research tells us that if we really want to engage a student in understanding this level of talk with engineering and otherwise, you have to start in fourth or fifth grade. So that's where our efforts have been," Golden said.
"It really needs to start at an earlier age and in the school system … so that what we get down the road is an easier discussion, whether it be about the benefits or just the overall technology," she said.