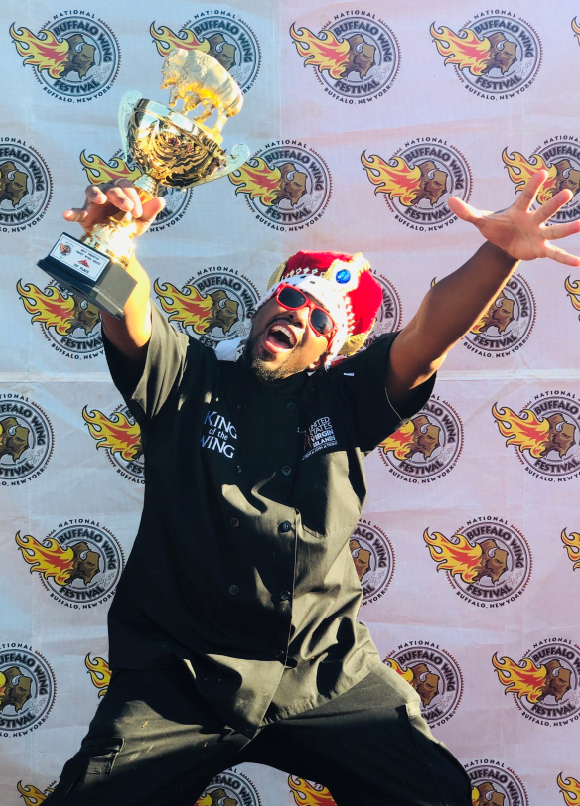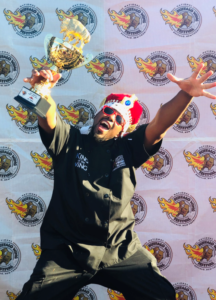 Chef Taj Siwatu, owner of Buddha Sushi Sake Bar & Grill, won first place in the "Creative Sweet Wing" category and third place for "Best of Show" at the 18th Annual National Buffalo Wing Festival (Wingfest) held in Buffalo, New York, Aug. 31 to Sept. 1. As the Restaurant Division winner of the 2019 King of the Wing (KOW) Contest on St. Thomas, Chef Taj and his team, accompanied by the U.S. Virgin Islands Department of Tourism, showcased the best of the USVI at the nation's largest Wingfest, which has attracted almost 1 million people from all 50 states and more than 34 different countries since its inception in 2002.
Team Buddha Sushi, consisting of Chef Taj, Chinwe Osaze, Lasima M'bilashaka and Ishmael Todman, wowed the judges with their "Fireworks Wings" and "Buddha's Atomic Wings." They beat out stiff competition among over 100 different styles of wings served by 18 other participating restaurants that included past winners and 11 out-of-town competitors from as far away as Mexico and Great Britain. The blind taste competition included eight different categories of wing styles, including traditional medium, hot, extra-hot, creative, traditional BBQ, creative BBQ, creative sweet and creative spicy.
"It has been an extreme honor being a part the 2019 National Buffalo Wing Festival. This is one of the premier food festivals in America and to be able to travel from Virgin Islands where the population is 100,000 to a festival with about 60,000 people in attendance is huge," said Chef Taj. "Going into the competition I was confident that we could compete on a national level, and we proved it. When we were announced as the winner, I felt very proud to be representing the Virgin Islands and will continue to be the Virgin Islands Ambassador of Culinary Arts and hospitality."
Joining Chef Taj and his team were Alani Henneman-Todman and Keisha Nelson from the U.S. Virgin Islands Department of Tourism who promoted the dazzling seascapes of all the Virgin Islands, offering festival attendees a free chance to win a two-night stay on St. John.
"I want to congratulate Chef Taj on his stellar performance at the National Buffalo Wing Contest," said Joseph Boschulte, commissioner of Tourism, U.S. Virgin Islands. "To receive not one but two prizes at this national festival as a first-time competitor is a true testament to the creative culinary talent of Virgin Islanders. We celebrate his success and accomplishments, and we thank him for strengthening our position on the world culinary stage."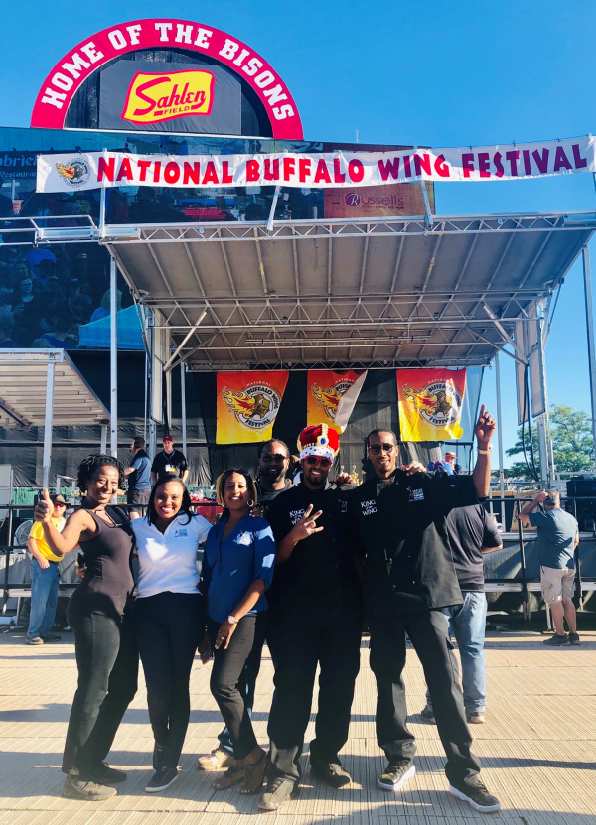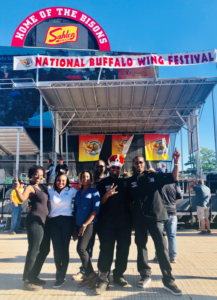 A graduate of Charlotte Amalie High with an award of excellence in Hotel Training at Johnson and Wales University, Chef Taj Siwatu started cooking at the age of 12 and started making sushi at 14. He started Buddha Sushi Sake Bar & Grill in 2009 and has won various food competitions in addition to the 2019 King of the Wing Competition. His restaurant was voted "Best of the VI" by the VI Daily News in the categories of "Best Sushi," "Most Creative Cuisine" and "Best Seafood Dining."
The opportunity to compete at the Wingfest with paid airfare and accommodations was the winning prize package for the winner of KOW's Restaurant Division at the 10th Annual King of the Wing contest, which was presented by Alpine Securities USVI and White Bay Group, and sponsored by Coors Light, Captain Morgan, Island Wiring LLC, Southland Gaming and the USVI Department of Tourism.
In addition to being the island's most celebrated and anticipated family-friendly culinary and community event, King of the Wing (KOW) has grown every year in attendance and number of competitors, and it serves as a crucial fundraising platform for local charities.
For more information, visit www.kowvi.com or www.facebook.com/alpinekow.