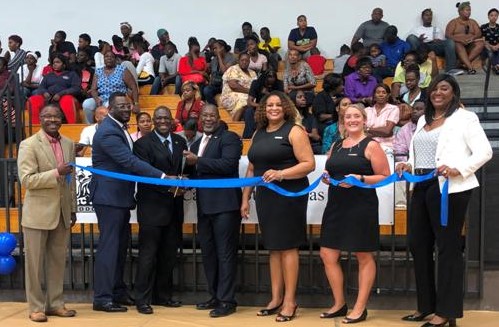 Proactively raising its own bar to meet its projected demand for employment when it reopens on St. Thomas, The Ritz-Carlton St. Thomas hotel launched its Hiring Opportunity Program with a ribbon-cutting ceremony on Tuesday, June 25. Representatives from the U.S. Virgin Islands Economic Development Authority (USVIEDA) and ICF Restoring Futures joined The Ritz-Carlton St. Thomas hotel professionals for the program's launch held at the University of the Virgin Islands Sports and Fitness Center on St. Thomas.
The Hiring Opportunity Program is the beginning of the hotel's long-term strategic commitment to employee recruitment and hiring, career services, customized training, on-boarding, and comprehensive on-the-job training. Individuals unemployed due to hurricanes Irma and Maria were especially encouraged to attend the Hiring Opportunity Program to learn more about career opportunities at The Ritz-Carlton St. Thomas hotel.
This hotel anticipates hiring hundreds of well-qualified individuals to serve their guests when it reopens in late October 2019. The Virgin Islands Economic Development Commission beneficiary is appealing to unemployed, dislocated workers in the territory.
"What's unique about the Ritz-Carlton is that we're not just looking for individuals looking for a job; we're looking for individuals looking for a career," said Carol Baker-Robinson, director of finance Ritz-Carlton St. Thomas. "We have many legacy employees at the Ritz-Carlton. We have seen several Virgin Islanders in the diaspora interested in coming back that were displaced from the storms," Baker-Robinson said.
During the term of HOP, The Ritz-Carlton St. Thomas hotel professionals will provide information on the array of available employment opportunities when the hotel reopens in the fall.
Kamal I. Latham, USVIEDA chief executive officer, reflected on his enthusiasm from the onset about this initiative. "A seed was planted during a listening session back in January 2019 with ICF – Restoring Futures and different companies in the territory. We are pleased to see that hundreds of Virgin Islanders attended with interest. We are excited for this kick-off and look forward to expanding into the St. Croix District at an accelerated speed." The Ritz-Carlton St. Thomas hotel is also a beneficiary of the V.I. Economic Development Commission's tax incentive program.
Ed Trumbull, project director of Restoring Futures and vice president of ICF, also rendered his comments of support. "We are steadily working in the background. This is a large recruitment effort that is being driven by the employer, but also adding to the Virgin Islands Department of Labor database for dislocated workers," said Mr. Trumbull. "Working in collaboration with (the V.I. Department of Labor) VIDOL and our other partners, we are interested in building capacity and providing assistance to dislocated workers," said Trumbull.
Learn more about the Hiring Opportunity Program (HOP) at http://www.ritzcarlton.com/careers.