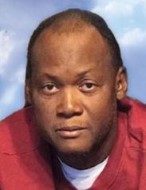 Wayne Lauren Martin, also known as "Monyo," died May 25.
He is survived by his sisters: Garnet, Shayna, Carolyne and Gloria Martin; brother, Michael Martin Sr.; nieces: Tandrea and Tiffany Marcelli, Luciana Warrell, Chaunte and Imani Martin, Damika Clement and Whitney Seymore; nephews: Camile and Kurt Reovan, Linares Warrell, Timmeon Marcelli, Imon and Michael Martin Jr., Jesse Davis and Qunin'C Nesbitt; great-nieces: Twila, Anya and Taniya Reovan, Lyn'L Liburd, Shaqueena Warrell, Noelena and Nicole Clement, Hadleight and Neolania Davis, J'Niya Lee, L'Ayla and Imonae Martin, and J'Leah Smith; and great-nephews: Makil, Malachi, Makeemo, Makeeboand Linares Warrell Jr., JahFari, Tamare and Shiloh Reovan, Brandon Lee, Elijah Marcelli and A'Dhen Lans.
He is also survived by niece-in-laws: LaToya and BeAsia Reovan, and Tiara Davis; godsister, Patricvia Blake-Lee; family members: Adams, Thomas, Martin, Grant, Francis, Fredericks and Faulkners; many cousins too numerous to mention; special friends: Ola, Emo, Champy, Paptio (Milo) Francis, Achille (Tony) Heywood, Second, Robbie and Eugene Smalls, Linda Daly, Lulu Lans, Golda Buckley, Keith (Mallem) Vanterpool, Allie (Kindu) Schneider, Keith (Black Pete) Benjamin, Robert and Michael Young, Abasi Smith, Ellie Tamba, Malta and Andre Petrus, Scientist, Wycliffe and D Whole Wess Farm, "Wess Posse," Nature Boy Pit family and Octopus Pit family.
The first viewing will be held from 5-7 p.m., Friday, June 21, at Turnbull's Funeral Home. The second viewing will be held at 9 a.m. followed by a funeral service at 10 a.m., Saturday, June 22, at Nisky Moravian Church. Interment will be at Western Cemetery No. 2.
The family requests that festive colors be worn.