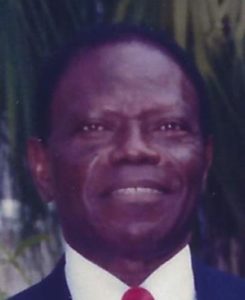 The Bridges family has announced the passing of their beloved Rudy W. Bridges, who died on June 2, at the Schneider Regional Medical Center. He was 85 years old.
He was preceded in death by his parents: Lucilla Parker and Dennis Bridges; brothers: Cleofoster, Fitzroy and Ruppert Bridges; and sister, Elfreda Bridges.
Rudy, of St. John's, Antigua, was a longtime resident of the Long Path/Garden Street area and worked for Charlie's Trucking Service until retiring and opening Rudy's Woodcrafts.
He is survived by his sister, Janet Henry; brothers: Robert Henry, James "Sebert" Bridges, Denzil Bridges and Raphael Bridges; daughters: June Bridges-Cox, Terry Bridges and Renee Bridges; son-in-law, Martin Cox; grandchildren: Rudy Bridges, Carlton Charleswell Jr., Camal Charleswell, Juriel Purifoy, Crystal Charleswell, Juna Purifoy and Jumara Cox; great- grandchildren: Jayla Renee Smith and Cayden Daniel; and nieces: Agneta Bridges, Violet Bridges, Cheryl Bridges, Doris Bridges, Lisa Bridges, Christine Bridges, Islyn Bridges, Janet Bridges, Marilyn Bridges, Claudette Bridges and Glordia Mack.
He is also survived by nephews: Leslie Bridges, Conrad Bridges, Neill Bridges, Hannis Bridges, James Bridges Jr., Jeffery Bridges, Everton Bridges, Donnie Bridges, Dion Bridges, Bruce Bridges and Wayne Grant; special friends: Margaret Bernadette Gumbs, Will and Gretel Hennis, Donald Isaac, Maduro and Richardson families; adopted families: Cherisse Richards, Dee' Quain Pinney, Dee' Neyzha Webb, David Webb Jr., Ray and Luz Chesterfield; and godchildren: Alex Roberts, Victor Caraballo Jr. and Tierra Caraballo.
The viewing will be held from 5-7 p.m., Monday, June 17, at Turnbull's Funeral Home. The service will be held at 10 a.m., Tuesday, June 18, at the Cathedral of All Saints followed by interment at Eastern Cemetery.