The V.I. Legislature reorganized Wednesday, for the second time in less than a month and the third organizational structure, including its initial organization in January. In May, the Legislature changed its leadership. This time, the changes are more of detail, with the overall hierarchy largely unaffected.
"If you take note, you will see that there are six senators in this majority that were here when we first formed in December," Majority Leader Marvin Blyden (D-STT) said at a press conference Thursday about the changes. "What you see before you is not a new and different team, it is a reformed and improved team that has the same nucleus as when we began," he said.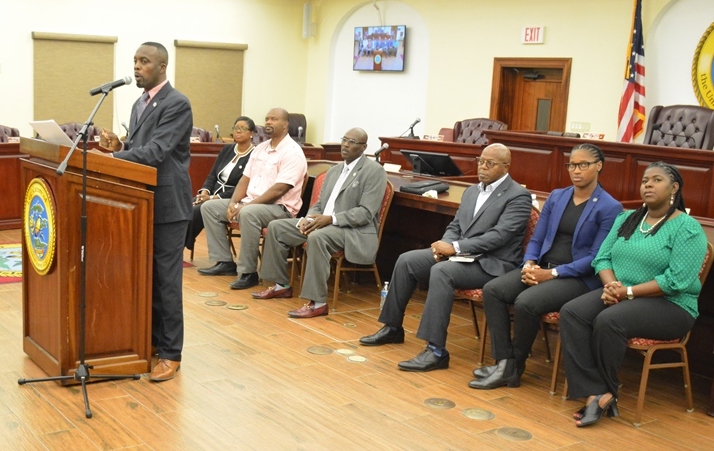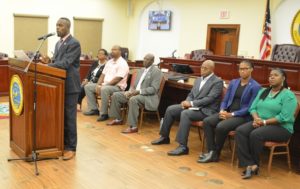 Blyden said the majority caucus maintains its commitment to working together as a team to address the pressing and vexing issues that plague the territory and work in the best interest of the people of the Virgin Islands.
"We believe, based upon our collective experience of the past five months, that the current line-up of officers and committee chairpersons is the best leadership structure that can be made with the membership of this body," Blyden said.
He pointed to a lack of communication and collaboration as the ultimate reason for the reorganization.
"Decisions were being made and negotiations were being conducted, on behalf of the majority and the Legislature, without the knowledge and approval of the caucus," he said. "
Senator Blyden also addressed concerns about a non-Democrat being a member of what was previously, an all-Democrat Majority. He said the inclusion of non-Democratic members has been a long-standing practice of the Virgin Islands Legislature, which is true. He also said various majorities selected non-Democratic presidents, vice-presidents and majority leaders, while still maintaining what he called a symbiotic relationship with Democratic administrations.
"Regardless of party affiliation, our job as senators is to work collectively for the benefit of all Virgin Islanders, not just Democrats, Independents, Republicans, or ICM'ers," Blyden said. "If you look at the history of this body over the last thirty years, you will find that out of the last fifteen legislatures, only three or four had majorities that were solely made up of Democrats," he said.
According to a statement from Blyden, the majority caucus will now include Blyden, Sens. Alicia Barnes (D-STX) Allison DeGazon (D-STX), Novelle Francis (D-STX) Myron Jackson (D-STT), Javan James (D-STX), Steven D. Payne (D-At Large) Janelle Sarauw (I-STT) and Kurt Vialet (D-STT).
That means minority caucus is now: Sens. Kenneth Gittens (D-STT), Stedmann Hodge (D-STT) Dwayne DeGraff (I-STT), Donna Frett-Gregory (D-STT) and Oakland Benta (D-STT). But both Frett-Gregory and Benta continue to chair committees, calling into question the meaning of a governing majority. Frett-Gregory is out as chair of the very powerful Rules and Judiciary Committee however. That committee vets nearly all legislation, so its chair can effectively stall legislation at will, unless senators vote to special-order the legislation to the full Senate.
.
The top leadership is unchanged. Francis remains president in place of Sen. Kenneth Gittens (D-STX) and Sen. Myron Jackson (D-STT) as vice president in place of Sen. Donna Frett-Gregory. (D-STT). Sen. Alicia Barnes (D-STX) remains secretary. Blyden remains majority leader.
Committee chairs and vice chairs as of June 5, 2019, with changes to chairmanships marked in bold:
Committee on Rules and Judiciary
Chair: Sarauw (Replaces Frett-Gregory
Vice-Chair: Francis
Committee on Finance
Chair: Vialet
Vice Chair: Blyden
Committee on Government Operations, Consumer Affairs, Energy, Environment, and Planning
Chair: Barnes (Replaces Thomas)
Vice-Chair: Jackson
Committee on Education and Workforce Development
Chair: Frett-Gregory (Replaces Sarauw)
Vice-Chair: Vialet
Committee on Health, Hospitals and Human Services
Chair: Benta (Replaces DeGazon)
Vice Chair: Sarauw
Committee on Youth, Sports, Parks and Recreation
Chair: James
Vice-Chair: Payne
Committee on Economic Development, Regulations and Agriculture (Formerly Economic Development, Planning and Infrastructure)
Chair: DeGazon (replacing Barnes)
Vice Chair: Thomas
Committee on Homeland Security, Justice, Public Safety, and Veterans' Affairs
Chair: Payne
Vice-Chair: Benta
Committee on Housing, Transportation, Infrastructure and Telecommunications (Formerly Committee on Economic Development, Planning and Infrastructure)
Chair: Blyden
Vice-Chair: Barnes
Committee on Culture, Historic Preservation, and Aging (Formerly Committee on Culture, Historic Preservation and Agriculture)
Chair: Jackson
Vice-Chair: James