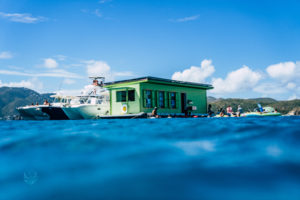 New on-water businesses have dropped anchor on St. Thomas and St. John in the last two years joining a handful of places that were around before the devastating storms of 2017 and cementing a trend that took hold earlier in neighboring British Virgin Islands.
The well known Soggy Dollar Bar, Foxy's and the raucous Willy T remain the party destinations they were pre-storm, but have new USVI competition out there wooing travelers and locals alike.
On St. Thomas, Lime Out VI, a floating taco bar, welcomes swimmers, boaters and paddlers for tacos and cocktails.
Lime Out VI is the brainchild and offshoot of St. John-based The Lime Inn, a popular avant-garde restaurant tucked away in Cruz Bay about a block from the ferry dock.
The concept, according to team member Chelsea Baranowski, is a blend of environmental consciousness with craft food in the V.I.'s ultimate setting, on the water.
Lime Out is located on the South Shore of St. John at Hansen Bay, near what is commonly known as Hurricane Hole.
Before Irma, Hurricane Hole was primarily a parking spot for a handful of privately owned monohulls and the rare flotilla seeking shelter from impending storms.
Today, Hurricane Hole and Hansen Bay remain a mostly locals' sanctuary, but the secret is out and more tourists are coming, thanks to Lime Out, which has gotten the attention of local, regional, national and global news sources.
Lime Out offers a small but carefully constructed menu of tacos and craft cocktails. Prices range from $7 for the vegan taco, to $10 for the Surf + Turf taco, which combines beef short ribs with blackened shrimp and organic micro greens grown by Josephine's at Coral Bay Organic Gardens on St. John.
Cocktails are $12 and a selection of non-alcoholic fresh juices range in price from $4 to $6.
"Lime Out was designed for charter boat traffic," Baranowski said.
What if you aren't booked on a charter boat and want to experience Lime Out? Paddle in.
"The ladies at Hansen Bay rent kayaks, paddle boards, and peddle boats, and provide parking," Baranowski said.
One thing to note: tacos at Lime Out are made with a distinctly Asian twist. No pollo loco here, and there is no way to arrive except by water.
Up and around to St. John's North Shore is another new water destination hot spot called Maho Crossroads. Part food truck and part tiki bar, this colorful watering hole at Maho Bay brings a new twist to this popular and picturesque beachfront locale dotted with water toys, paddlers and yachts.
A self-proclaimed "minimum footprint pop-up village" constructed of an old Volkswagen bus and repurposed shipping containers, Maho Crossroads isn't exactly on the water or even waterfront. It too is best accessed by boat or paddle.
Sail west from Maho Bay to Honeymoon Beach, where you'll find a tranquil film-worthy scene at Bikinis on the Beach Bar and Grill and a full range of water toys.
Bikinis is the brainchild of Sybille Sorrentino, who opened Virgin Islands Ecotours at Honeymoon Beach in 2001 while raising her special needs child solo.
Sorrentino also operates an ecotour business on St. Thomas, offering stand up paddle board rentals and mangrove tours by kayak.
"I'm so excited to announce that we are opening a waterfront bar and grill at our Mangrove lagoon location and launching a new evening paddle and dine-out with campfire activity," Sorrentino said. "It's going to be great fun and I hope to welcome many tourists and locals," she added.
Caneel Bay Resort is now allowing traffic through the resort from their main security gate to Honeymoon Beach via a $10 per person round trip taxi shuttle. Beachgoers can park at the main gate and catch the chauffeured golf cart to the beach, or you can book options with a taxi shuttle from the Cruz Bay ferry dock from Virgin Islands Ecotours web site.
Also on St. Thomas, just across the water from the St. Thomas Yacht Club, is Pizza Pi VI.
While not a newcomer to the local water destination vibe, Pizza Pi is a regular stop for day boats entertaining travelers with snorkel trips and turtle watching at Christmas Cove.
Don't mistake Pizza Pi VI for a last-ditch on-water dining option when snorkeling Buck Island or shuttling between St. John and St. Thomas.
Pizza Pi VI has gourmet pizza with high-end meats, cheeses, veggies and hand-tossed crust from the galley of what founders Sasha and Tara Bouis call a "floating food truck."
You can order ahead for dinghy delivery to your yacht or raft up to fellow boaters for fresh-baked pizzas, locally churned ice cream and a selection of spirits and local brews.
Prices at Pi range from $6-to-$30 and you might want to float in early because this busy biz serves about 4,000 guests each month.
If you're seeking solace from the water revelry, there is a new floating spa called ZunZun Sailing Yacht & Floating Spa. Moored at Secret Harbour on St. Thomas, ZunZun is both a catamaran charter and a massage-spa.
ZunZun offers day sails, term charters and health and wellness retreats for up to six passengers. Services include massage therapy, reflexology, mud treatments, body scrubs and mini-facials.
Owned and operated by veteran island licensed massage therapist and naturopath Jill Scott, ZunZun offers a peaceful respite from too much sun and rum, and it's conveniently located just off the shore from a popular beachfront watering hole called Sunset Grille.
You can come for a pampering massage and stay for the sunset.
A short sail or motor west across St.Thomas's South Side is a tiny rock called Water Island. A small population of die-hard locals call this small, secluded island home and play host to two of the USVI's most popular stops for beachfront fun; Heidi's Honeymoon Grill and Dinghy's Beach Bar & Grill.
Heidi Erwig of Heidi's first staked her claim in this formerly secluded beach front nearly two decades ago with a food wagon.
Today, Erwig hosts ferry guests, cruise ship passengers, Coast Guard personnel and loyal locals at her sprawling beachfront restaurant complete with picnic tables, homemade Caribbean food and drinks.
After the 2017 storms, Heidi's decided to go all solar, eliminating any need for diesel generators.
"We are totally solar and use only biodegradable cups and containers now," Erwig said. "We don't use anything that is not biodegradable," she said.
Erwig said Heidi's also tries to hire locally from Water Island.
"We've had generations of Water Island families working here," she said.
A few paddle strokes across from Heidi's is Dinghy's Beach Bar & Grill, another waterfront food and fun scene owned by Lisa Bertrand.
While Heidi's is like an island family picnic in paradise, Dinghy's is more of a party on the beach, offering live music and other special events, including all-day "Sunday Fundays" with guest artists from local and mainland bands.
Heidi hosts Monday Movie Nights at Heidi's during "in-season" winter months too.
The made-to-order lionfish tacos next door at Dinghy's are crisp, slightly sweet and help curb the lionfish problem invading the U.S.V.I.'s coral reefs.
If you're looking for something a little more kid-friendly or simply to satisfy the big kid in you, there is Jungle Float VI, a floating jungle gym new in 2019 at Vessup Beach near Red Hook on St. Thomas's East End.
You can take a high dive into the water from a 12-foot open platform or launch 20 feet into the air from an olympic-grade trampoline.
Not feeling quite that adventurous? There is a baby trampoline and a kid-friendly slide.
Reservations to Jungle Float VI are required and tickets for one-hour blocks of jungle time or all-day-play passes are available online.