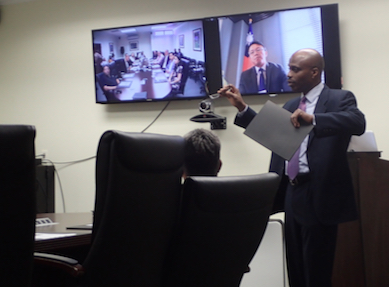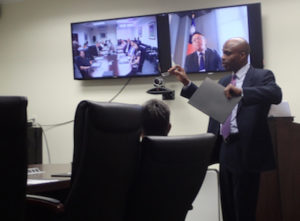 Plans to fund economic development, along with the announcement of a relationship with Taiwan's business community and government, were unveiled last week at the V.I. Economic Development office to private and public stakeholders by Anthony Weeks of the St. Croix Economic Development Initiative.
Weeks said the ultimate goal is to turn St. Croix into Silicon Island within 20 years by developing cutting edge technology – a 5G advanced wireless system – to facilitate state-of-the art banking, healthcare, a hub of data centers and a monetary exchange.
St. Croix can achieve the objectives with the second largest fiber optic bandwidth infrastructure in the world, Weeks said.
To pay for the expansion, SEDI's members and strategic partners are setting up a capital market investment fund – the Alexander Hamilton Opportunity Fund – to raise an initial $750 million by 2020 through a list of 13,000 investors. They will need a total of $1.5 billion to fund those and a variety of other projects such as a regional entertainment industry, an Alexander Hamilton museum in Christiansted, various real estate projects and venture capital for businesses, organizations and institutions.
Weeks said the fund can also help the V.I. government with the 10 percent matching funds required to access $8 billion in FEMA storm recovery grants.
During Friday's program, Gregory Sweeney, chief executive advisor of LCR Franchise Finance and David Sillaman, Jr., fund development advisor, discussed steps to set up the Hamilton fund.
The other topic of discussion at the summit was a joint announcement by Weeks and David K.S. Chien, director-general of the Taipei Economic and Cultural Office in Miami, to talk about new aspects of the relationship between Taiwan and the U.S. Virgin Islands.
Over the last two years, Weeks and representatives from the V.I. government and businesses have visited Taiwan to explore commerce and trade prospects with the country. Taiwanese representatives reciprocated with a visit last year and a donation of $20,000 for hurricane relief.
Weeks said Taiwan is the United States' 11th largest trading partner and has the 22nd largest economy in the world. Despite ongoing trade embargos against China imposed by the U.S. government, Weeks said goods can be traded with Taiwan and then sold to China. Taiwan is China's largest private investor, he added.
Chien said Taiwan wants to collaborate with the local government and Chambers of Commerce to develop a Virgin Islands market and assist the territory in developing a trade office and a market in his country.
"The goal of our office is to promote a bilateral relationship with the United States," Chien told the group of stakeholders.
Sens. Myron Jackson, Kurt Vialet and Novelle Frances and former Sen. Samuel Sanes, now St. Croix administrator, have traveled with the delegation to Taiwan in the past and individuals from the University of the Virgin Islands Research and Tech Park visited in March. According to Weeks, because it is cost-prohibitive to locate a business in Silicon Valley, Taiwan is interested in relocating to the Virgin Islands.
Chien and Weeks announced that official approval has been given so that Virgin Islanders who travel to Taiwan and vice versa will be eligible to receive a driver's license in the country they are visiting to simplify starting a business. They also will not be required to obtain a VISA.
They also announced that the USVI will be given office space in Taiwan's World Trade Center at a greatly reduced rent, along with expert assistance building the territory's technology.
John Clendenin, a Public Services commissioner and former member of the Economic Development Authority, presented photos and described the March visit to Taiwan and the Smart Cities collaboration in Singapore. He said Taiwan is interested in the Virgin Islands to take advantage of the massive fiber optics capability.
"We have $8 billion (referring to the FEMA award for hurricane recovery) and there are eight billion reasons why Taiwan would want to come here," he added.
Attending Friday's meeting were Vialet, Jackson and Sanes, who were joined by members of the private sector including Edgar Bengoa and Chris Elliott. Representing the public sector were Larry Kupfer, Water and Power Authority president and representatives from the Virgin Islands Next Generation Network, the V.I. Port Authority and Clendenin.
SEDI labels itself "a macroeconomic and public policy think tank" that specializes in market research and business and economic development projects according to the website. It was started in 2007. More information about its projects and funds can be seen online.