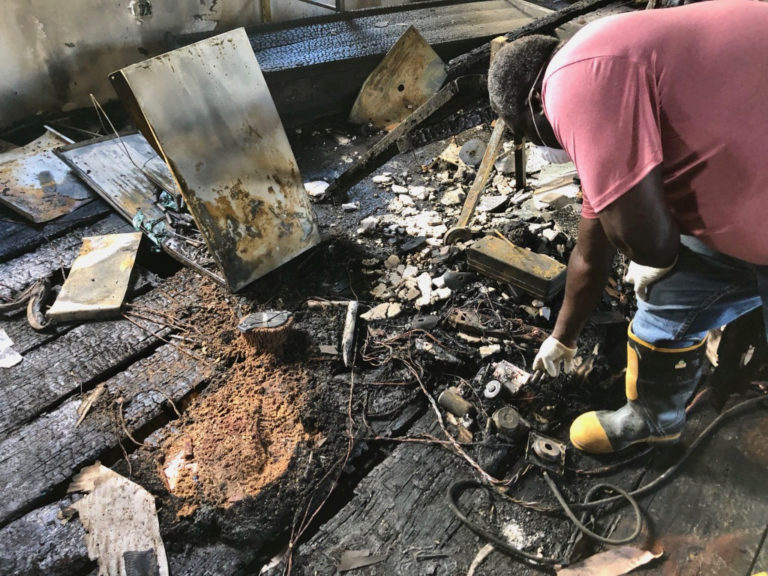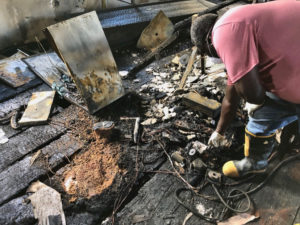 A top official of the V.I. Fire Service says it could take months or years before they have findings about the cause of two mysterious fires that broke out – three blocks away from each other – in downtown Charlotte Amalie.
Emergency crews responded to the scenes within hours of each other in the early morning hours of March 10.
The occupant of one fire scene, near the V.I. Lottery Office, said that blaze and the other in Drake's Passage were two of four incidents occurring that morning. What they all had in common, he said, were electrical problems.
Deputy Fire Service Chief Daryl George offered no speculation by late April as to the cause of the fires. One broke out in the storage room of Tavern on the Waterfront restaurant. The other occurred in a second-floor warehouse space that was undergoing renovation.
Responders received alarms at 2:04 a.m. and 4:27 a.m., respectively.
"We're still working on those cases. Still an open investigation," George said.
In order to get to the bottom of each incident, inspectors with the VIFS Arson Investigations unit must track down and gather details that address several aspects related to the fire.
"That's fire investigations. They take time to test samples, interview witnesses. There's a lot that goes into the investigation," he said.
According to an online guide to fire investigations found at firehouse.com, every U.S. fire service has the right to look into the nature, cause and circumstances of any blaze occurring in its jurisdiction resulting in loss of life or property damage.
The guide calls for a thorough and systematic look at the fire scene, from the most to the least heavily damaged areas. It also directs first responders to interview witnesses and develop scenarios about what might have happened. After that, each scenario must be tested for plausibility.
There also often are instances in which materials linked to the investigations are sent to the U.S. mainland for analysis.
Fire officials may or may not examine the circumstances of incidents of power failures and equipment disruptions reported around the same time as the two March 10 fires. According to Zack Zook, the warehouse owner, a nearby supermarket found the circuit breakers in a bank of refrigeration units had tripped around the time of the fire.
A few blocks east, Chuck Perkins, manager of the Side Street Cafe, said the equipment in the cafe's kitchen experienced a sudden loss of power around the time of the fires.
Perkins, Zook and Damien Labeda at the Tavern on the Waterfront restaurant, blamed the Water and Power Authority.
But WAPA Director of Communications John Greaux said there was no evidence of unusual activity with the electrical grid in the area at the time.
Editor's Note: This has been corrected to indicate Zack Zook is the owner, not a tenant.