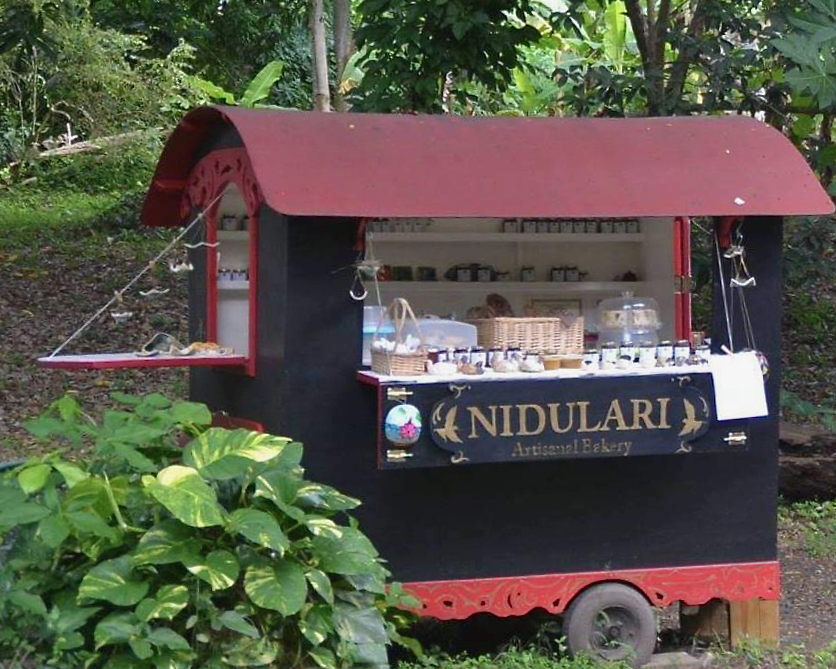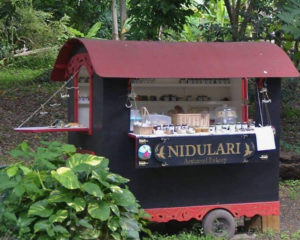 Merryn MacDonald's Nidulari red and black gypsy food truck is an oasis on Mahogany Road nestled in the beauty of the rainforest of St. Croix. The word-of-mouth foodie's "go to" has folks flocking to its location three days a week.
Nidulari offers a unique fusion menu from 3 to 6 p.m. Wednesdays and 11 a.m. to 3 p.m. Saturday and Sunday
"Local fare, Indian curries, British-influenced dishes and Southern comfort food with a farm-to-table and slow-food twist are all made from scratch with love," MacDonald said.
Shade and fruit trees and the historical buildings of Little La Grange Village surround Nidulari's idyllic location. It's just one and a half miles from Fort Frederik.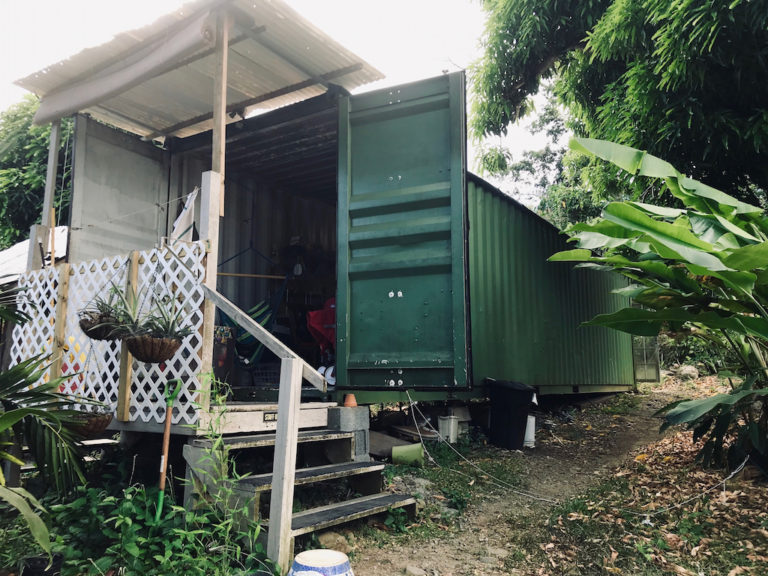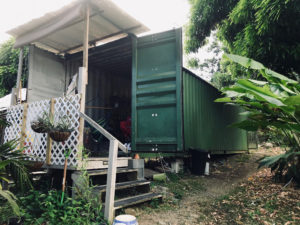 What began as a sourdough bread bakery turning out a few loaves in the wood fire brick oven each week for just over its first two years, has gradually mushroomed to four years of sweet and savory small baked bites, hearty sandwiches, and tasty meals.
Owner, baker, business person MacDonald has been working the Nidulari gypsy food truck by herself.
"I am completely self-taught and began baking at the age of four. When my family lived on a boat, I baked our bread in a propane oven," she said.
MacDonald was born in the United Kingdom and grew up in the Caribbean, mostly in the U.S. Virgin Islands. She lived on St. John for about six years and after moving away, she returned around five years ago to live on St. Croix.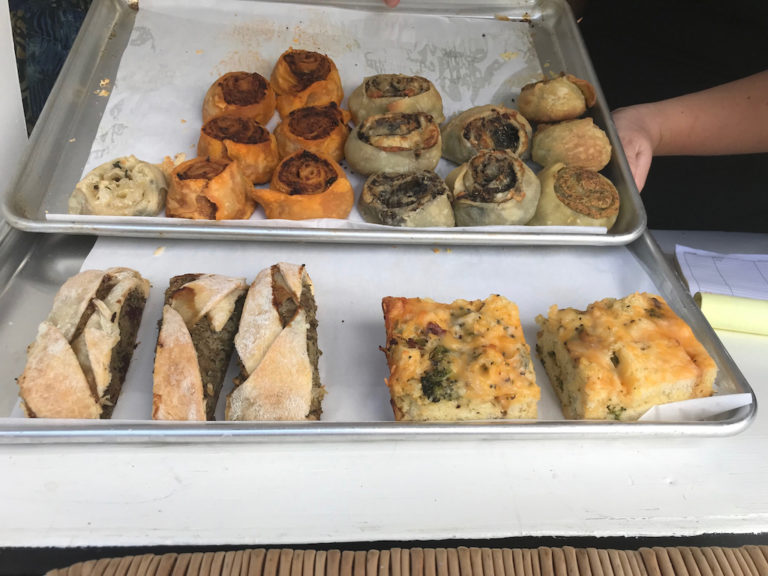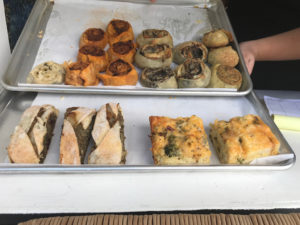 MacDonald played around with sourdough from a starter given to her from a friend in Baltimore. She began baking and giving her bread to friends, then decided to outfit a commercial kitchen to be perfectly legal, she said.
"So, I built the little gypsy caravan to sell my baked goods. I needed something cute, yet mobile," she said.
She outfitted the trailer's shipping container as a commercial kitchen. It is relatively custom packed.
"I did it all by myself, except for the electrical side of it."
MacDonald's greens, herbs, and fruits and all ingredients for her baked goods are sourced from the property she shares with her mother, Mandy Thody, who built the wood-fired brick oven for the initial sourdough bread baking.
Hurricane Maria ravaged their garden, so she purchases her tomatoes from Tropical Hydroponic Farms, arugula from Sejah Farms and bananas and other produce from other farmers.
"Our farmers work so hard and I am happy to support them," she said.
The flour for Niculari's baked goods is sourced locally from Golden Rock Market, a family business that supplies most businesses on St. Croix with flour.
"I can special order whatever I need from them," she said.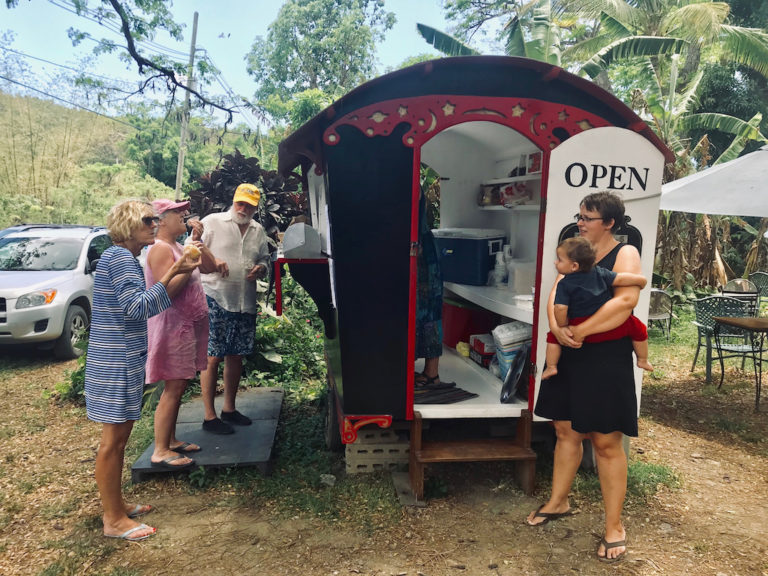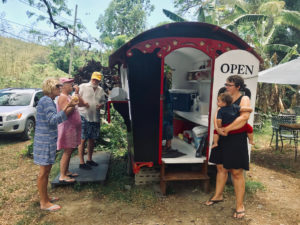 On a recent afternoon, several people were at the window of the food truck ordering from the menu. After placing their order they sat down as a group to enjoy their purchases. One table was filled with a family from Michigan. They were visiting with a family member who lives on St. Croix. The local said she would not miss bringing her family to Nidulari.
"It's a stop on our tour not to be missed," she said.
"I always play it by 'ear' when preparing quantities for my weekly menu. Sometimes it's hard to tell what will sell out and what will be leftovers," MacDonald said. "Oftentimes I take the leftovers to the 'community fridge' at the Frederiksted Health Center. The homeless residents can get food there on a daily basis."
"I try to gauge how much I'll bake, especially if it's a holiday weekend. I only do bread on Wednesdays, but I have a full menu every weekend."
Nidulari's menu changes each week, with a focus on veggies, cheese, herbs, and mushrooms for the tarts. Meals rotate each week, with meat, vegan and gluten-free options. White, wheat, rye, pumpernickel and sourdough are the regular breads offered every week. Mini cheesecakes, coconut macaroons, cinnamon rolls and, for this past Easter weekend, hot cross buns were on the menu.
Jessica and her six-year-old son Damian made their usual stop on the way to Jessica's part time plant-watering job.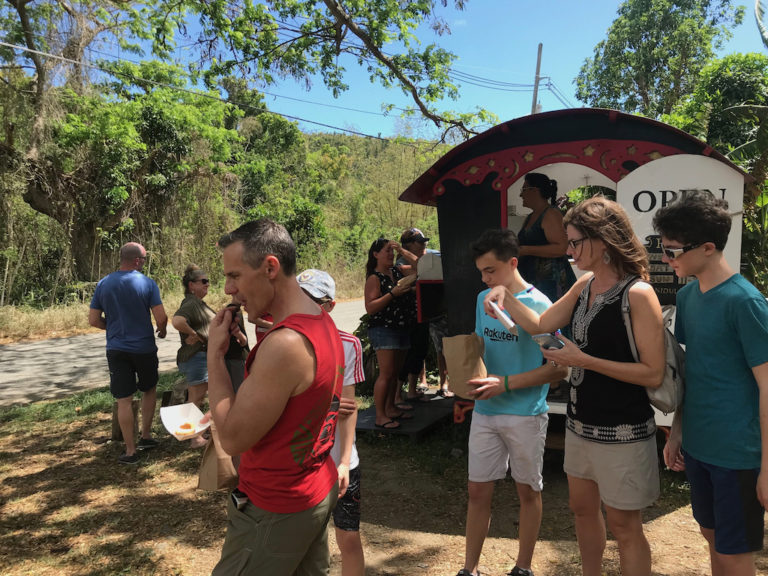 "We can't drive by without stopping for a snack," Jessica said. Macdonald greeted them with the warmth that she shares with her customers. It is a family-friendly space created for locals and visitors alike.
"I cook 'fairly authentic' Indian foods like Lentil Dal and vegetable curry," MacDonald said.
Although she tries to switch up, Chicken Tikka Masala is a favorite with her customers. She makes it every other week to satisfy her clientele, she said.
"I would get tremendously bored if I did not change my menu each week," MacDonald said. "I serve falafel or lentil fritters over rice and I do a lot of gluten-free dishes."
Fresh fruit drinks and lemonades with ginger or basil quench the thirst at Nidulari. There's also cold brew coffee made from Thody's imports from Haiti and Martinique.
Cyrus is MacDonald's 10-month-old son.
"Like most babies, he is active and inquisitive and he keeps me busier than my original schedule was before he arrived," MacDonald admits.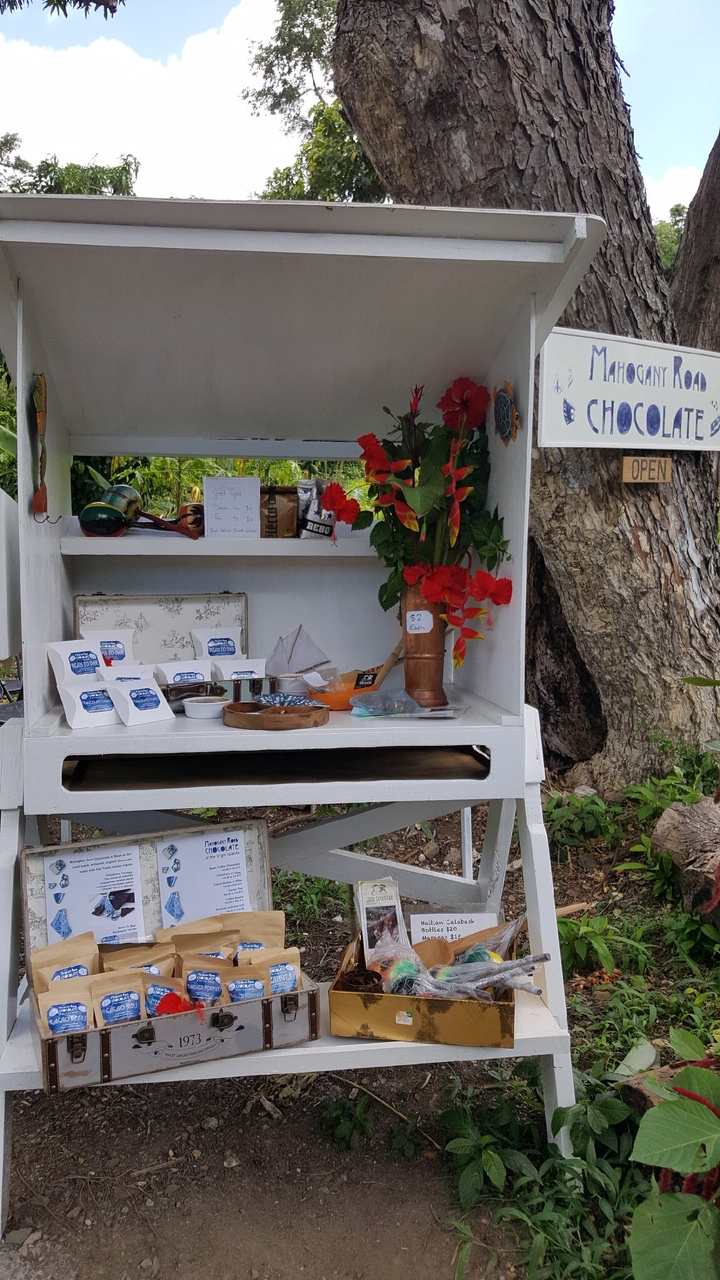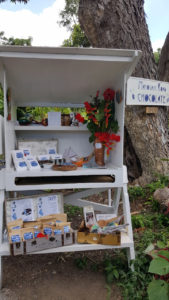 Before Cyrus' birth, MacDonald knew she would need help and employed Shelli Gray to work behind the counter.
"I can do the cooking and baking and all that needs to be done with Shelli in charge of the customers," MacDonald said.
"I like to sell and I love her food, so it makes working here easy," Gray said. "I had to 'taste test' everything so I could explain to customers whatever they wanted to know about their purchases and make them feel comfortable."
"The people are kind," Gray said. "The ambience is lovely and it's so nice to be here in the rainforest in such beauty."
A family flew in Friday night from Wisconsin and had their plans set for the week. They would meet friends who were arriving Saturday evening.
They meandered and explored and came upon the Nidulari food truck.
"What a wonderful selection of goodies to choose from – there was something for each of us," one of the Wisconsinites said.
The group had already planned for a visit to the Domino Club, home of the beer-drinking pigs. Rainbow Beach was for another day and horseback riding with Cowboy Steve was for yet another day.
"One thing for sure," the couple said, "we will be back to Nidulari with our friends as soon as they arrive and are settled."
Adjacent to Nidulari, Mahogany Road Chocolate is "Bean to Bar" small batch, artisanal, organic chocolate, made with fair-trade Haitian Cacao.
"We aim to make a fine chocolate representative of St. Croix, the U.S. Virgin Islands, and of the best ingredients the Caribbean has to offer," said Thody.
Thody also offers coffee, which is sourced from organic Haitian and the Dominican Republic fair-trade farms. They have a high-quality Behmor roaster for their personal use and for the coffee and chocolate bars and more recently, for red skin peanuts. The peanuts are also ground into smooth peanut butter combined with sea salt and other ingredients.
The word Nidulari in Latin means, "to share a nest," MacDonald said. She has created a nest in the rainforest for all to share and invites the public to come and experience Nidulari.