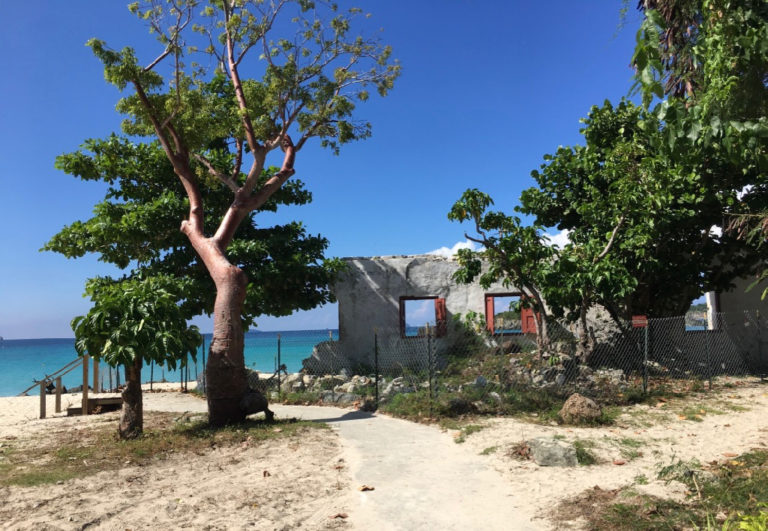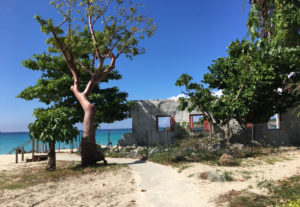 In the spring of 2018, some well-intentioned individuals planted coconut palms along the beach at Maho Bay on St. John in an attempt to replace the ones destroyed by the hurricanes six months earlier. When Virgin Islands National Park personnel found out, they ripped the plantings out, and the incident blew up on social media.
Facebook users wanted to know how anyone could object to restoring coconut palms, the very symbol of a tropical paradise.
Plant experts explained that coconut palms have shallow root systems; they topple easily and do little to prevent erosion. Further, though many people may not know it, coconut palms are not a native species, and the park does not condone the planting of exotic species within its boundaries.
The incident crystalizes the problem that local nature lovers face: with so much devastation to trees, plants and wildlife as a result of the 2017 hurricanes, what can we do to promote recovery, restoration, and resiliency of the natural environment?
The question troubled the members of the Unitarian Universalist congregation on St. John, who have a tradition of environmental activism. They decided to use $10,000 of the group's own funds to conduct a study to answer some of these questions, and to update their noteworthy 2016 publication about the trees of Cruz Bay, which can be found on the church's website.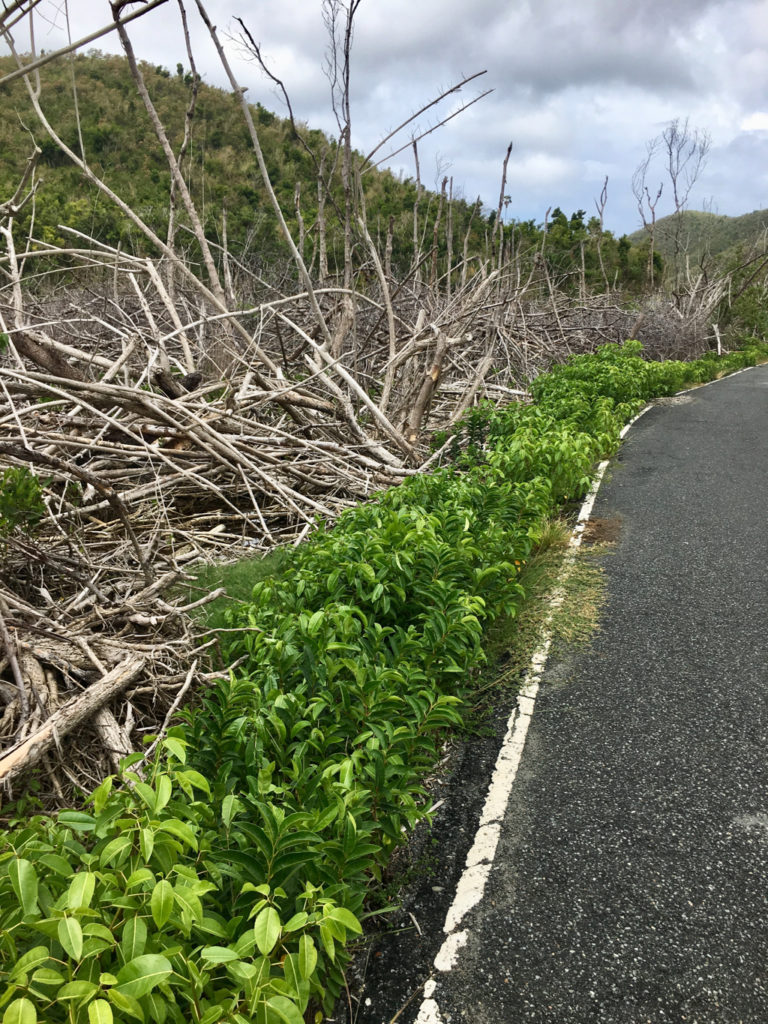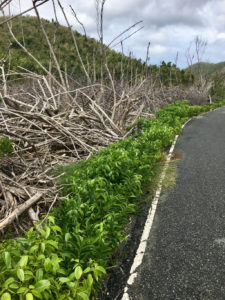 In early April, they released their report, "A Brief Assessment of the Impact of Hurricanes Irma and Maria on the Trees, Landscape and Wildlife of St. John USVI."
Now available as a public document on Google Docs, the report is a valuable source for anyone in the territory who seeks guidance on the best species to plant in order to restore forests, support butterflies, bats, bees and birds, and prevent damage from future storms.
The report was written by Kevel Lindsay, a trained forester and plant biologist; Eleanor Gibney, a horticulturalist and expert on native species; and Gail Karlsson, an environmental lawyer, nature writer, and wildlife photographer.
They initially targeted 25 sites for their field study and ended up visiting those and others. During 11 days in late February and early March, they ranged from upland slopes to shorelines, covering a lot of ground – as does their report.
In addition to providing an overall assessment of the current conditions at the 25 original sites, the report covers post-hurricane environmental issues, rare and endangered plants, wildlife after the storm, and recommendations for government agencies and concerned individuals.
Though the authors admit that coconut palms have their appeal, they stress the value of planting native species.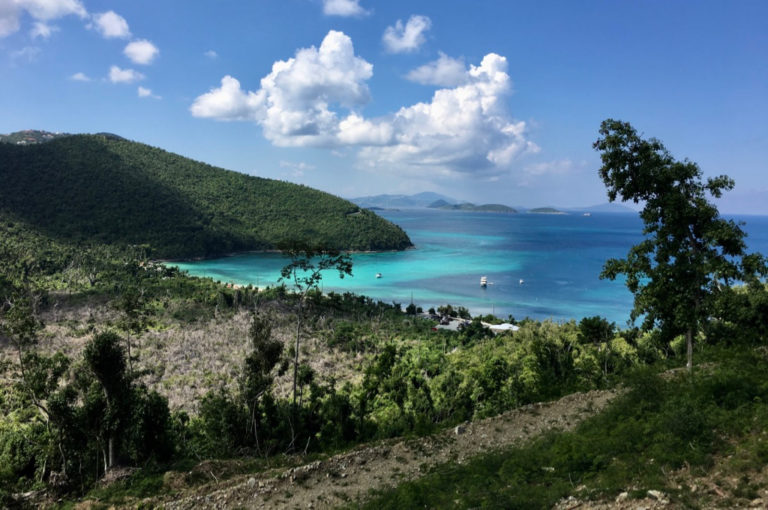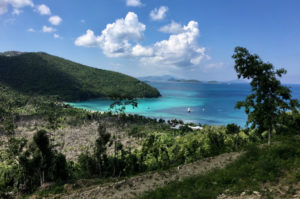 "All areas with significant loss of land could be replanted with a variety of native trees, with at least three tiers of planting, rather than one narrow line. While many native vines and ground covers are reestablishing on shores already, these will do little to protect against future storms; trees with wide spreading roots are needed. The most durable, fast-growing and long-lived for this situation are Sea Grape (Coccoloba uvifera) and Buttonwood (Conocarpus erecta). The large and extremely durable Gre-gre Tree (Bucida buceras) is an excellent choice for the back-beach area behind the first line," they wrote.
Gardeners will appreciate the report's comprehensive list of plants which enhance diversity and support wildlife. As the report states, "If any person doubts the importance of abundant and diverse vegetation to our human habitat, the aftermath of a Category 5 hurricane might instantly convert them into plant appreciators."
The report continues, "The unsettling sight of a tropical landscape totally denuded of foliage, the incredible heat of September sun, without any shade, the massive erosion where there were few roots to hold the land, the birds literally starving and falling from the trees at your feet—these images of desolation will stay with all of us. But then, the first green leaves emerged, and life flowed back into the land – still the effects will be with us through the remainder of our lives."
Mangrove wetlands are an area of special concern. Some species of mangroves are showing signs of recovery in some areas, but overall they are in danger from overgrazing by non-native white-tailed deer.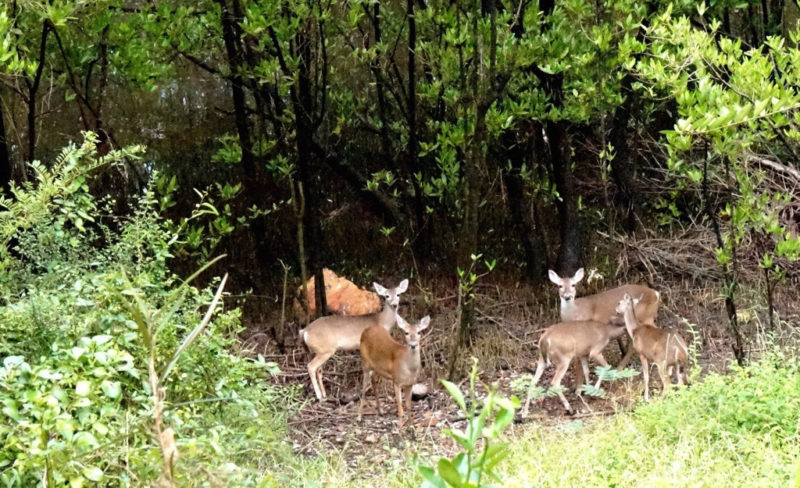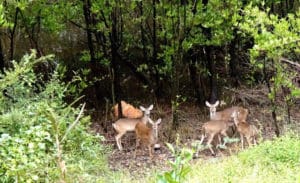 These wetlands have multiple critical functions. They filter the rain water, which often picks up toxic materials as it runs down the slopes; they serve as nurseries for marine and terrestrial wildlife; and they act as natural barriers to raging waves during storms.
Mangroves have evolved to be resilient following storm damage, but the newly-grown mangrove shoots are a special favorite of the white-tailed deer.
"At the time of Hurricane Marilyn in 1995, white-tailed deer were not a major threat to mangrove populations and wetlands on the island. The increase in deer since 2000 has placed many mangrove areas at a strong disadvantage for recovery," the report states.
"These deer are abundant across St. John, and on St. Thomas, and they can swim back and forth. The hurricanes do not seem to have adversely affected the population, and many were seen, including mothers with grown fawns, at all elevations of the island. … Deer will slow or stop the recovery of the forest and woodlands over time," the report warns.
The increase in the deer population has concerned Virgin Islands National Park resource management staff. The park is responsible for managing the wildlife within its boundaries. They have plans for most of the larger mammals – rats, cats, mongoose, sheep, goats and hogs, and deer are high on their list of priorities.
In 2017, park officials explained that developing a management plan is a multi-step process that can take many months. The park is required by the National Environmental Policy Act to coordinate with federal and territorial agencies, file documents, conduct studies, and hold public hearings before the plan can be implemented.
With VINP budget cuts and staffing shortages, it's unclear when any action will be taken.
Another area of concern is erosion of the beaches, particularly those on which humans have built structures. According to the report, "In every case, the most significant beach erosion on St. John from Irma and Maria occurred where there were concrete structures at or near the tree line, with west or northwest exposure.
"This includes several of Caneel Bay's beaches, the pavilions at Hawksnest Beach, the house at Oppenheimer Beach, the roadway and sidewalk at the east side of Trunk Bay, the Boulon family's pavilion on Windswept beach, the old warehouse and cottages at Cinnamon Bay, and the former Birch house and pavilion at Maho Bay.
"Several of these sites had noticeable erosion and tree loss prior to 2017. Apparently even a relatively small area devoid of healthy tree roots can make an area vulnerable to these hurricane surges," the report concluded.
Clearly, there is a need to replant native species that have proved their resiliency along the shorelines. The good news is, "The survey team did not find any native plant species that are in unsustainable declines as a result of the storms and storm surges. Many of the trees and other plants are now recovering, and are showing signs of regrowth and regeneration, despite the presence of numerous broken, dead or damaged stems and trunks."