Understanding and educating Virgin Islanders about the rapidly growing hemp industry will lead to entrepreneurship and profits for local business people, Barbara LaRonde believes.
"I want to make sure that local people don't get shut out of the business," LaRonde said Saturday at an event she organized. LaRonde is the one-time president of USVI NORML, the local chapter of the National Organization for the Reform of Marijuana Laws. NORML was founded in 1970 in Washington, D.C., with the mission of decriminalizing marijuana. LaRonde's mission is education.
Saturday's daylong event at Hull Bay, dubbed "Inna Cannabis World," was an attempt to jump-start the process.
It's not just growing and manufacturing that can foster new income for Virgin Islanders, but all the other businesses that come with a hemp industry: garden supplies, transportation, graphic artists, label manufacturing, lights (for growing indoors), photography, and security cameras, to name a few, LaRonde said.
While economic development is clearly at the head of the list of benefits that could develop from the USVI's medical marijuana legislation, LaRonde stressed the importance of keeping the community safe through proper testing and labeling of products.
"If it's your medicine, you've got to take it seriously," LaRonde said, and that means growers and manufacturers need to understand the various strains and seeds of the hemp plant and their specific applications.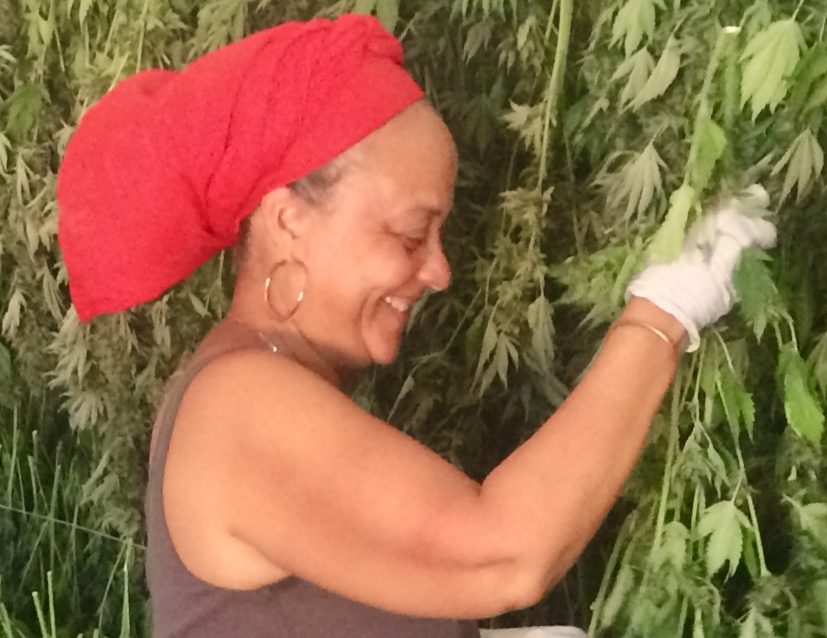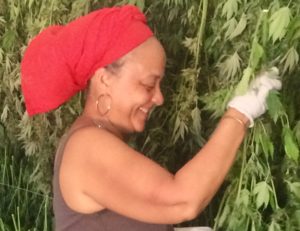 It also means scrupulous testing and product labeling. She spoke at Saturday's Hull Bay event of a friend with colon cancer who benefits from a very specific strain of plant, emphasizing the importance of extensive education around the products.
LaRonde should know. She did her homework well. For two and a half years she split her time between California and Jamaica, learning about and training in all aspects of the business – from planting to dispensing.
"I was a chef, trimmer, and farm manager," she said.
As an advocate, she made the decision to devote those years to hands-on experience so, "Nobody could tell me I didn't know what I was talking about."
While the cannabis industry has been in play across the U.S. mainland for more than 20 years, it's new to the U.S. Virgin Islands, with the bills signed into law in January, as one of the first acts of newly elected Gov. Albert Bryan after years of legislative wrangling.
Former Sen. Positive Nelson – now Agriculture Commissioner – has been the legislative champion of the legalization and LaRonde has spent the last 10 years of her life also campaigning for the law that would establish the guidelines for the industry.
Though she sees recreational use as a natural next step to the recently passed laws in the Virgin Islands that legalized medicinal use of cannabis and the cultivation of industrial hemp while removing it from the list of controlled substances, that is not her mission.
LaRonde wants first to see people who can benefit medically have access to locally produced products, such as CBD oil.
The medical benefits are many and at this point widely accepted both through testing and anecdotal accounts of relief from everything from seizures to inflammation to sleep apnea and pain from multiple sclerosis and fibromyalgia. In fact, the findings are so strong the pharmaceutical industry has created its own very expensive FDA approved version, called Epidiolex, specifically to treat seizures. Sold at around $2,700 for a month supply, its active ingredient is CBD extracted from marijuana plants.
An extensive article in the May issue of Consumer Reports said a survey they conducted suggests that more than a quarter of the people in the United States have used CBD; one out of seven say they use it every day. Last June changes in federal law allowed farmers to legally grow hemp. Starting with California 20 years ago, it is now legal to grow marijuana in 33 states.
LaRonde explained hemp has only a fraction of the Tetrahydrocannabinol, better known as THC, of the marijuana plant. THC is the psychoactive ingredient that gets a user "high." That's why education is so important, LaRonde said. She rattled off a score of different strains of hemp that have different properties and uses.
The CR report said more than three-quarters of U.S. adults favor legalizing the medical use of marijuana and half support legalizing recreational use.
LaRonde doesn't use the term recreational. Her terms for use are, "medicinal, industrial and sacramental."
While LaRonde stands as the proponent locally, CR – a nonprofit consumer protection and advocacy organization – is crowd-sourcing to raise the money to test CBD products to see if they are what they claim to be.
"We want to learn whether they have as much CBD as claimed, whether they are contaminated with pesticides or other adulterants," the group said. That will be expensive, they say.
LaRonde agreed. But the good news is, "we have a laboratory in the V.I. that can do the work."
It can be found at the University of the Virgin Islands, which is partnered with the Agriculture Department in the promotion, research and development of markets for local hemp products, according to the legislation.
Meanwhile, there are boards to be formed and work to be done to get this new industry off the ground.
LaRonde expects it will take about a year from the enactment of the legislation for the "medicine cabinet" to open.
"You need at least one growing season," she said.
Meanwhile the new legislation is expected to generate revenue way before that from licensing fees associated with creating the industry.
Brightfield Group, a market research firm specializing in cannabis, expects the CBD market from hemp alone to grow to $22 billion by 2022 – a huge increase from the $327 million it garnered in 2017, according to the CR report.