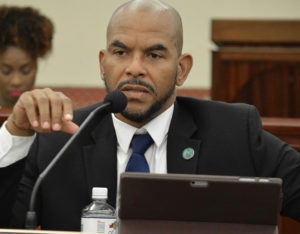 Giant potholes, lack of striping on highways, dangerous curves without guard rails and frequently flooded streets were concerns raised by members of the Committee on Housing, Transportation, Infrastructure and Communications Monday.
They might not even have been the biggest concerns senators placed at the feet of testifier Nelson Petty Jr., commissioner nominee of the Department of Public Works. They also wanted answers on why traffic lights, street lights and stop signs had not been replaced at intersections.
Sen. Novelle Francis said two fatal accidents had occurred at the Paradise intersection of Queen Mary Highway because of a lack of a traffic lights.
Dennis Brow, assistant commissioner, told Francis he had spoken to family members of one of the deceased and had assured the family something would be done at the intersection as soon as possible.
Sen. Janelle Sarauw pointed to an area on the waterfront on St. Thomas she said was frightening. She said students were dropped of by the bus on one side of Veteran's Drive near Addelita Cancryn Junior High School and had to play "hop scotch" getting across the road where there used to be a traffic light. She said cars were traveling like "whoosh" there.
Petty said the delay in getting traffic signals was because his department could not get the post and arms to hang the signals. He said the Virgin Islands has been in line for the parts for 18 months. He said the shortage came about because of storms in 2017 that also affected Florida and Texas.
As for the striping of highways, the lack of which has been a complaint of residents for years, Petty said there were still issues. He said workers needed more training on striping equipment but it was moving along and would be done soon. Sen. Marvin Blyden, chairman of the committee, told Petty, "I want to see more striping come online quickly."
As for problems with potholes, Petty also said the solution was training employees to do them correctly. He agreed with senators who said the present method of patching is not working.
"We are going to take care of that," he said.
Flooding of the main intersection in Gallows Bay during storms is another complaint that has been around for years. Sen. Javan James said the flooding has been there since he was a little boy and that it is still happening is "ridiculous." Petty replied work was going to be done to alleviate some of the problem there, but it would never go away completely. He said part of Gallow's Bay was a low lying area barely above sea level.
At the recent V.I. Office of Management and Budget's annual Revenue Estimating Conference, the department presented a list of active projects costing a total of $176 million. Of that amount, Petty said the department expects to expend $76 million this fiscal year.
The department also anticipates receiving $460 million in federal funds to complete infrastructure projects, he added.
"Rattan Road, Mahogany Road, Hams Bluff Road, Spring Gut, Frederiksted federal routes and Christiansted town roads are all under design," Petty testified. "We anticipate most of these designs will be completed by the end of this year and forwarded on to construction in early 2020."
He said he expects emergency repairs to the major routes on St. John to be completed by the end of next month, with the repair cost at almost $700,000.
The enhancement of Main Street on St. Thomas is expected to cost $13 million and be completed by September 2020.
Also, according to Petty, the $2.8 million road and pedestrian way improvements at Crown Bay should be completed at the end of this month.
Petty said the emergency repairs on the road at Hull Bay will be completed at the beginning of next month and cost more than $600,000.
Back on St. Croix, Phase II of the East Scenic Road pavement preservation project is expected to be finished at the end of next month at a cost of $3.4 million.
Two other major projects Petty reported on were the Veteran's Drive Project – Phase 1, estimated to cost $42 million and currently ahead of schedule, and the Melvin Evans Highway Project which has been broken into six segments. Three of the segments are in construction, two are in the procurement phase and the design of the last segment is near completion. The total estimated cost for all six segments is $15 million, he said.
At the conclusion of the hearing Petty asked residents to be patient.
"Lack of funding and lack of manpower are real issues," he said.