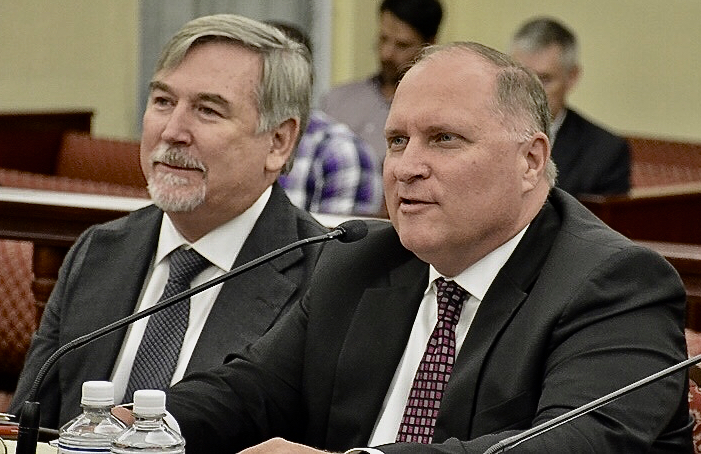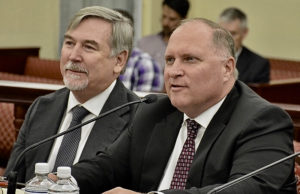 Executives from AECOM, one of the prime contractors in hurricane recovery work in the territory, tried to assuage agitated lawmakers Tuesday, saying the persistent problem with delayed payments to subcontractors stems from the slow, red-tape ridden disbursement of funds for the post-hurricane emergency home repairs in the territory.
"The primary and most fundamental causes of delays in payments to subcontractors are the delays and inadequacy of available funding for the EHRVI program," said Randall Taylor of AECOM Caribe. "This means that AECOM is not being paid for its own work."
Taylor appeared Tuesday before the Senate Finance Committee, chaired by Sen. Donna Frett-Gregory, after receiving a subpoena from the same committee for failing to appear at a March 19 hearing. The March hearing sought answers on why payments to many subcontractors have been delayed, and why some roof repair workers under subcontractors hired by AECOM and APTIM are not receiving timely or adequate pay.
Taylor attended the hearing with testifiers from other entities, including consulting and advisory firm Witt O'Brien's, the V.I. Housing and Finance Authority, which administers Emergency Home Repairs V.I., and the Office of Disaster Recovery.
Taylor told lawmakers that when AECOM entered into the EHRVI contract with the V.I. Housing Finance Authority, the company was told that funding, which comes from the Federal Emergency Management Agency, was already approved and available, but Taylor said FEMA funding did not become available until mid-May 2018, and a revised version of the Project Worksheet instrumental in releasing the funds was not submitted to FEMA until September 2018.
"These sorts of delays significantly hampered the hiring of subcontractors and slowed progress," Taylor said. "We want to be clear that we acted in good faith and in accordance with the information and direction given to us as we have endeavored to deliver this program."
Because of the V.I. government's financial difficulties and reliance on the reimbursement system, Taylor said AECOM secured a $30 million credit line with various banks, but by June 2018, the full amount was fully exhausted because of long delays in program funding. AECOM ended up using its own cash resources, Taylor said, providing advances to subcontractors of up to $43 million that he said were critical to retaining resources in the territory, on top of its own operating costs.
"At one point, AECOM's working capital position reached negative $100 million for the completion of this safe and stable home repair program, because the majority of payments we have received to date have been paid out to subcontractors and material suppliers, Taylor said. "No other company working towards the Virgin Island's recovery has placed such a large personal investment into this program."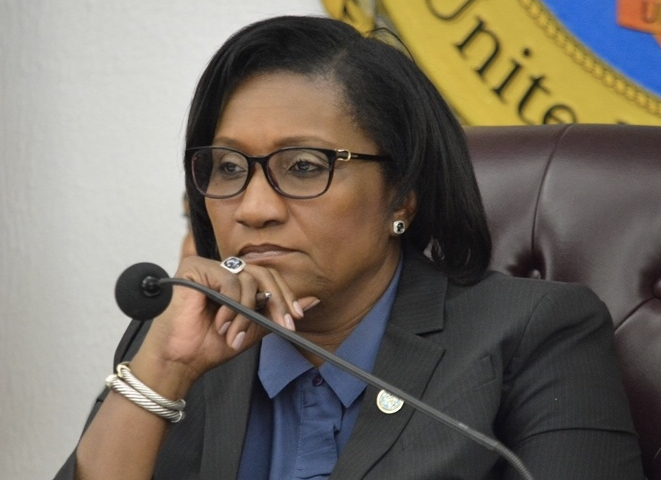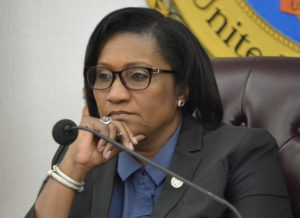 When Frett-Gregory asked why AECOM has only a $30 million line of credit for a contract costing roughly $350 million, and if the company was interested in fronting more money, Taylor said, "When we entered the program, our intention was not to fund the program. Our understanding when we signed the contract was that this program was funded."
According to Taylor, AECOM has performed – and billed – roughly $370 million worth of repair work under the EHRVI program. So far, the company has received $169 million in cash payments, paid out $167 million, including $140 million paid to its general contractors and subcontractors, and $26.7 million to materials suppliers.
"Of the $140.4 million of payments to our subcontractors, $37 million remains as AECOM's advance payments to assist our subcontractors with the program's cash flow," Taylor shared. "AECOM maintains there is approximately $201.3 million in additional outstanding fees due to us."
Multi-layered Contracting
According to AECOM's executives, the V.I. Office of Disaster Recovery identified multi-tiered contracting as one factor that exacerbated the delayed contractor payments, though it was a necessity and is not unusual in disaster response. A recent Source investigation into complaints over delayed payments similarly found long chains of subcontractors to be a major cause of confusion, conflict and delay.
AECOM alone has 89 subcontractors working under it, according to VIHFA Executive Director Daryl Griffith, with six of those companies being main subcontractors.
Taylor defended the practice, saying there was a need to mobilize a large workforce in very little time, and that AECOM has extensive experience in managing these complex types of programs with multiple sub-contractors.
"The scope of destruction created by back-to-back Category 5 hurricanes in the USVI cannot be overstated," Taylor said. "In order to mobilize the large number of skilled workers needed to make basic repairs to help get life restored for Virgin Islanders, AECOM had to recruit construction contractors from on- and off-island with the right skills and resources for immediate mobilization."
Taylor added that there was significant competition for subcontractors and workers from Puerto Rico, which also got hit hard by Hurricane Maria, as well as private industries in the territory, including hotels and utilities, that also needed to rebuild.
Incomplete or erroneous paperwork also hampers contractor payments, according to Taylor, and correcting such errors for resubmission takes time. The company works with its subcontractors, Taylor said, on proper submission of invoices.
"This and other factors, including a three-layer invoice review process implemented by VIHFA, have been an ongoing challenge," said Taylor. "We appreciate the due diligence placed on invoice reviews, but suggest greater coordination and the consideration of alternative and more efficient processes."
VIHFA recently announced that hotline numbers have been set up for the prime contractors so that workers can report delayed payments, mistreatment and other concerns. The AECOM hotline number is 833-203-3002 and the APTIM hotline number is 844-898-4919.
Challenges with Local Contractors
According to AECOM executives, while the company engaged the local workforce, they faced challenges in terms of capacity. Taylor said the limited capacity of some local contractors needed to be supplemented with smaller second or third tier subcontractors to achieve the needed volume and speed of work. Taylor said upon closer look, certain local contractors also do not have the required insurance and bonding capacity, have limited cash flow, and lack adequate training in residential building to meet program standards.
"For the roof program, in particular, AECOM must follow codes triggered by USVI law," Taylor said. "Subcontractor's construction work must be approved for quality and completeness by an inspection team before construction work on a home can be paid."
Another challenge in hiring local subcontractors, according to Taylor, was the inability of many island contractors to meet the insurance requirements, including commercial general liability insurance that covers $1 million per incident, and $5 million total. Taylor said AECOM itself was required to provide a $60-million performance bond, and it required its subcontractors to have bonds in lesser amounts based on their contract amounts.
Witt O'Brien's Role
Brad Gair, senior managing director at Witt O'Brien's, also found himself defending the company from lawmakers' assertions that Witt O'Brien's was part of the delay problems.
Gair explained in a previous hearing that any project exceeding $100 million has to go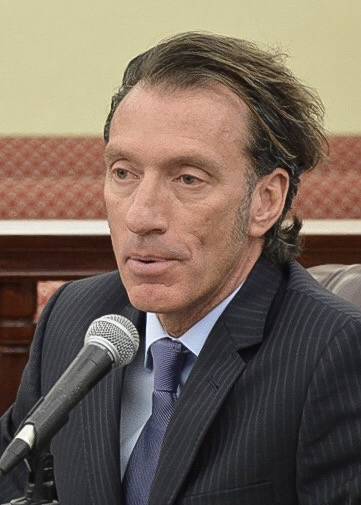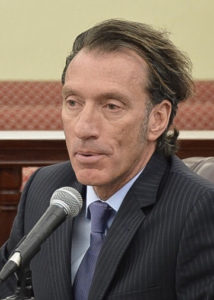 through one office in FEMA's headquarters that also handles disaster-related projects for Hurricane Harvey, the California wildfires and Puerto Rico. The Department of Homeland Security and the U.S. Office of Management and Budget also get involved in the process, Gair explained, resulting in a long bureaucratic process that holds up the release of needed funding.
Pointing out that Witt O'Brien's contract amount is capped at $85 million a year, Sen. Alicia Barnes suggested it may be in the company's best interest "to keep this stretched out until you get to your not-to-exceed amount."
"You cannot answer the timeframe that it takes to process an invoice. You cannot tell us that you have standard operating procedures. You cannot speak to the eligible scope of work, but you sit there smiling because you're laughing all the way to the bank at the people's expense," Barnes said.
Looming Deadlines
With all the confusion surrounding the emergency home repairs, the EHRVI program is slated to end April 15. According to Griffith, VIHFA will then simultaneously launch the Reconstruction and Rehabilitation Program funded by Housing and Urban Development's Community Development Block Grant – Disaster Recovery funds. The new program will prioritize homes too damaged for the EHRVI Program, according to Griffith. To facilitate the process, the agency will transfer all data collected under EHRVI to the new program, Griffith said.
"A significant difference between the HUD-funded CDBG-DR Programs and the FEMA-funded programs is that HUD reimburses based on approved invoices while FEMA reimburses based on proof of payment," Griffith explained. "That means, the HUD difference will increase cash flow and decrease the payment processing time while simultaneously allowing for detail auditing to protect taxpayer-funded relief dollars."
Griffith said 70 percent of funds for the CDBG-DR program must benefit low-income and moderate-income households. The agency will send out requests for qualifications within the week, he said, and the program itself will commence in mid-May.