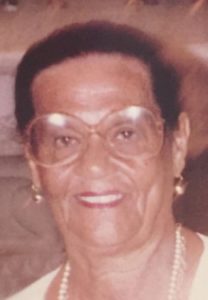 The family regrets to announce the passing of our dearly beloved mother, grandmother, great-grandmother, cousin and aunt, Maria Rosalia Estrill DeGraff, who passed March 14 at age 96.
Maria's life will be celebrated with a viewing today from 5 p.m. to 7 p.m. at Turnbull's Funeral Home and Crematory Services. Services will be held at 9 a.m., Thursday, March 21, at Sts. Peter and Paul Cathedral. Interment will be at Western Cemetery No. 2.
She was preceded in death by her beloved husband, Crooner Pershing DeGraff.
Maria was born Oct. 8, 1922. She was a registered nurse for many years with the government of the Virgin Islands and retired in 1982 after diligent service. She was a proud Savanero and Virgin Islander.
She is survived by her children: June DeGraff Phillips, John, Dean, Daryl, Donald and Senator Dwayne DeGraff. She is also survived by her son-in-law, William "Bobby" Phillips; daughters-in-law, Jean-Vernessa, Loretta, Veronica, Niurka DeGraff and Juliette Thomas; and special adopted children: George "Evans" and Cynthia "Louise" Proctor.
She will be missed by numerous nieces, nephews, cousins, grandchildren, great-grandchildren and special friends, too many to be mentioned, but you know that you are all loved and appreciated. Special thanks and appreciation to her faithful caregivers: Icilma Greenaway, Lelia Felix and Joycelyn O'Garro.