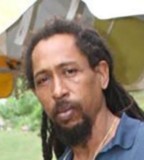 Gerald Elroy Hodge Jr. died on Feb. 18. He was born Nov. 18, 1961.
He is survived by his spouse and friend, Kyaa Barry; children: Jassiem A. Hodge, JahCira I. Hodge, Jahzaiah A. Hodge, Mystique E. Burke and Adrian A. Burke; daughter-in-law, Taquisha D. Hodge; grandchild, Jayla A. Hodge; siblings: John W. Hodge, Carl A. Hodge and Geryl E. Hodge; sisters-in-law: Patricia G. Williams and Shenel Warner; nieces: Ineke Hodge-Franklin, Janeatha A. Robles, Kellene M. M. Hodge, Jonelle A. Hodge and Idalia M. Hodge; nephews: Jerrell A. Robles, Shawn E. Halliburton, Giovanni A. Hodge, Jaylon D. Hodge, Jaren D. Hodge, Jai Hodge and Mak L. Franklin Jr.; aunt, Gloria H. Davis; and uncles: Hon. Verne A. Hodge and Lawrence "Larry" Hodge.
He is also survived by great-nieces: Makenzie R. Robles, Maia L. Franklin and Moriah L. M. Franklin; great-nephews: Xavier A. Robles, Jerrell Robles Jr., Dominic Caceres and Mekhi A. Franklin; and cousins: Verne Callwood, Horace Callwood, Angel Callwood, George Hodge Jr., Trinita Hodge, Gloria Hodge, Jerry Hodge, Merle Hodge, Ilia Sebastien, Anya Sebastien, Errol Olivier Sebastien Jr., Murray "Ray" Morales, Monet Davis, Verne A. "Tony" Hodge Jr., Bridget "Midge" Hodge, Teresa "Terry" Hodge, Joycelyn Hodge-Gregory, Lawrence Hodge Jr., Ann Hodge-Richbourg, Mark Hodge, Matthew Hodge, Stedmann "Steddy" Hodge, Ethan Hodge, Gyasi Hodge, Akil Hodge, Arthur Hodge Jr., Mariel Stoutt Jennings and Jacqueline "Akela" Jennings-Arnold.
The family appreciates all of the outpourings of support, love and condolences from the community.
Relatives and friends are respectfully invited to attend his memorial service at 10 a.m. sharp on Monday, March 4, at Turnbull's Funeral Home on St. Thomas. There will be no viewing.