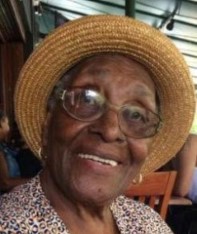 Ivy May Parsons has died.
She was preceded in death by her husband, Reginald Parsons.
She is survived by her sister, Ethlyn Freeman; sons: Renardo Parsons, Justin Parsons Sr., Austin Parsons Sr., Lionel Parsons Sr. and Leslie Parsons; daughters: Winifred Callwood, Lecia Parsons, Deanne Minus, Lorna Parsons and LaVerne Parsons-Donadelle; stepdaughters: Valarie Warner and Lillian Parsons; and grandsons: Justin Parsons Jr., Cade Parsons, Ronnald Parsons, Terrance Parsons, Austin Parsons Jr., Edwin Freeman, Gregory Tuckett, Gyles Tuckett, Keyon Johnson, Lionel Parsons Jr., Levben Parsons, Michael Daly Jr., Marquis Daly, J'Vonne Paris and Bert Donadelle Jr.
She is also survived by granddaughters: Shariece Parsons, Dista Merchant, Joycelyn Evans, Jacqueline Jacobs, Trecia Parsons, Reba Parsons, Le'Nique Parsons, Kenya Johnson, Larease Trotman, Linnea Willis, Leahnita Parsons, Monet Daly and Sharalyn Paris; 56 great-grandchildren; 13 great-great-grandchildren; son-in-law, Steven Minus; daughters-in- law: Lindy Parsons, Sondra Parsons and Patricia Parsons; and brothers-in-law: Stanley Parsons, Rudelle Parsons, Glandwell Parsons, Kenneth Parsons, Clarence Dawson, Edgar Hodge and Basil Hodge.
Other survivors include sisters-in-law: Beryl Hodge, Bernice Monsanto, Doris Parsons, Cynthia Parsons, Zula Hodge and Alma Dawson; special friends: Edwina Dore, Altera Frett, Maloura Hodge, Gwenth Pella, Allegra Callwood, Eustace Hamilton, Gertrude Parsons and Celia Hill; as well as many other relatives and friends too numerous to mention.
The first viewing will be from 5-7 p.m., Friday, Feb. 22, at Turnbull's Funeral Home.
The second viewing will be held at 9 a.m. followed by the funeral service at 10 a.m., Saturday, Feb. 23, at Trinity Methodist Church.