When Craig Harms and Brian O'Reilly met by chance hiking on the west end of St. Croix, they not only became friends but also hatched a plan to expand the marine industry in the Virgin Islands a few sailors at a time.
Harms was visiting St. Croix at the time and has since he left his IT job, sold his belongings and moved to the island from Wilmington, North Carolina. He lives on a 41-foot Bristol sailboat and runs a day and term charter – Sail Sonoma. Captain Harms started sailing when he was 8 years old, teaching at the age of 16 and raced competitively in college.
Lt. Col. O'Reilly, recently retired from the Virgin Islands National Guard, served more than 35 years, including 14 months in Iraq as provost marshal for 25,000 troops. He also recruited personnel for VING and worked in human resources for the Guard. He recognizes the importance of education – especially at home.
After their first meeting, O'Reilly took Harms around the island, touring historic and cultural spots and Harms invited O'Reilly for a trip around the territory on board Sonoma. During their sail, they began formulating their plan.
"We both clearly recognized that Virgin Islanders were not participating as they should in the marine industry and that we would like to make a difference," O'Reilly told the Source in an email.
Harms volunteered his sailboat to train a crew of young people with the goal to compete in the St. Croix Regatta March 8 through 10.
"Ultimately, the goal will be to train people in the industry, for maritime jobs. Local people should have part of that industry and they don't." Harms said.
The plan is to train the sailors for four full days and then again a couple of times before the race so they are competitive, Harms said.
So far, Harms and O'Reilly are absorbing the project's expenses. O'Reilly met with then governor-elect Albert Bryan and also enlisted support from Sen. Javan James, chair of the committee on youth, sports, parks and recreation. He enlisted help from Richard Difide of Gold Coast Yachts, John Clendenin of Inner Circle Logistics, and charter captain Junie "Bomba" Allick, former director of the Frederiksted Community Boating.
James sent out a press release and the others also spread the word. Fortunately, six people showed up for six slots and no one had to be turned away, Harms said. One of the requirements was that the interns must be 18 years of age or older.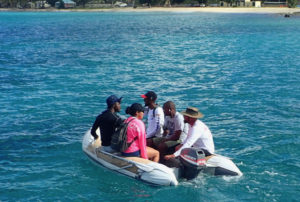 Saturday was the second day of training, and four of the six students arrived on time at the Frederiksted Pier. They said confidently that they already had learned enough to sail the boat alone.
Darryl Donohue Jr. said the classes were "cool" and he enrolled because he has always wanted to own a boat.
Terrence Nelson Jr. is working for Gold Coast Yachts as a marine designer and said he also wants to have his own boat.
"We could handle it by ourselves today. Craig is a really good teacher," Nelson said.
Amaraini Ventura, a JetBlue flight attendant, said she's taking the course to learn a new skill.
And, Khalil James said he is learning so that he can sail for recreation.
Harms and O'Reilly are not the only people to teach Virgin Island's youth to sail. Until recently, the Frederiksted Community Boating held summer sailing classes but it hasn't been active for the last two or three years.