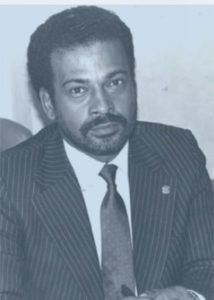 Former senator, cultural icon, master mocko jumbie, professional prize fighter and student of anthropology Alvin "Alli" Paul died on Jan. 11, after a brief battle with cancer.
He is preceded in death by sister, Lorna Paul.
A brief ceremony will take place on the grounds of the Legislature of the Virgin Islands before interment at Cemetery No. 1. Alli is survived by his aunt, Gloria Emanuel Carter; sisters: Patricia Paul, Ann Paul-Williams, Antoinette Ernest and Bernadine Paul; brothers: Lawrence Paul and sister-in-law Jean Paul, Franke Hoheb, Derek "Candyman" Parrilla and sister-in-law Candance Parrilla; and Rudy Paul; children: Anthony Alvin Paul, Sergio Paul, Allisa Paul-Taylor, Aixa Paul-Boyce and Brandon Paul; and grandchildren: Alexia Paul, Anthony Alvin Paul Jr., RL Paul, Demi and Ashley and Sergio Jr., Zai Paul, Rayan Taylor and Kyla Boyde.
He is also survived by nieces and nephews: Edwin Emanuel Jr., Shahara Emanuel Harrigan, Marie, Christopher and Calvin Paul, Chantel Hoheb, Kwesi Williams and his wife Jesuit Sanchez-Williams, Dannell Paul and his wife Tara Otway- Paul, Devin Paul, Candia, Dereka and Britini Parrila, Nadia and Bianca Ernest, Larry Paul Jr. Lamont and Leo Paul, Bryan and Johnathan Paul, Tina Thomas and Alvin Colon; former wife, Lisa Mallory; many great-nieces and nephews; special friends: Angela Fleming, Jennifer Butler, Samuel Rodriguez, Cameron Carter, the late Maria "Chi Chi" Haywood and Kim Blackett.
Funeral services will take place on Friday, Feb. 22, at Turnbull's Funeral Home and Crematory Services. The viewing will take place from 9 a.m. to 10 a.m., with a service immediately following.