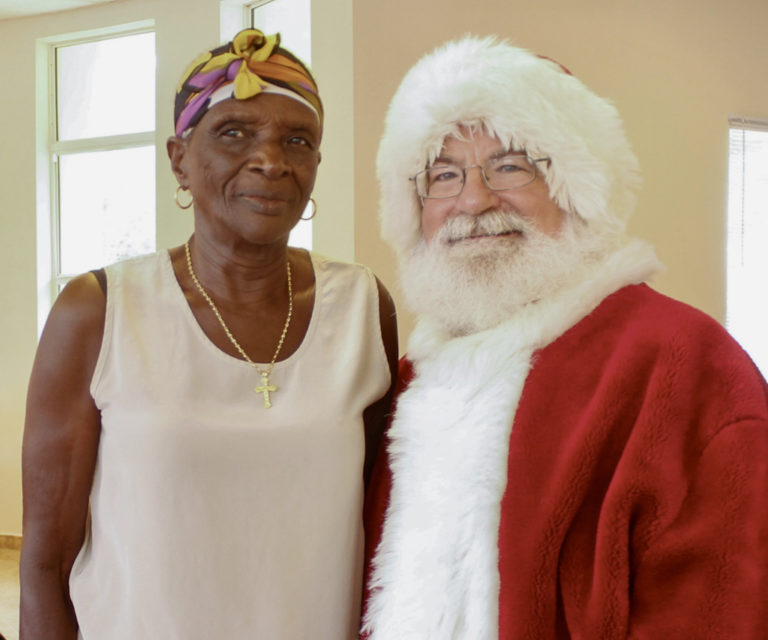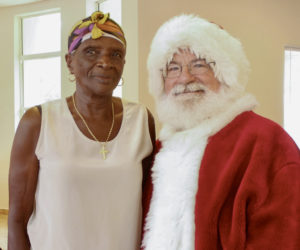 Some 45 residents of the Sugar Estate Seniors' Residences received a Christmas Day treat on Tuesday: a Christmas party featuring gifts, games, and a hot meal, all thanks to a collaboration between community members of different faiths and walks of life.
On Tuesday afternoon, senior residents headed over to the Sugar Estate residences' community center on wheelchairs, using canes or on foot. In addition to sharing a buffet and watching movies on a big screen, every senior attendee received a gift containing sundry items totaling $3,000 for all 45 seniors.
Organizer Diamond Carter said roughly 15 entities and individuals, including a woman living in Hawaii, made donations toward the cost of the gifts.
The impressive spread featured salmon, turkey and ham, along with an abundance of side dishes and desserts, including rum cupcakes, pecan pies, sweet potato pies and red velvet cakes.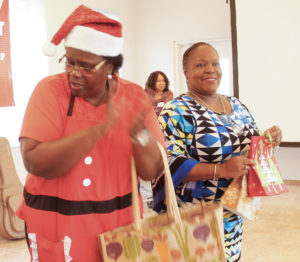 Santa Claus also came by to give out gifts, take pictures and just spread some holiday cheer.
Some of the seniors needed help looking under their chairs for special stickers that meant a special gift. Those who found them received wristwatches, courtesy of a donor.
Resident Ergan Rawlings, 72, came to live in the facility in June 2016 after his landlord raised his rent and added on the burden of utility costs. Rawlings said a friend's daughter would have brought him Christmas dinner on Tuesday but he was glad for the opportunity to go to the community center and mingle with his friends.
"My favorite part was the food and the gifts," Rawlings laughed. "It was pleasant and nice. I appreciated it."
Rawlings' friend and fellow resident Donald "Red" James, 84, began living in the facility two months before Rawlings. Red said also enjoyed the event, and shared something in common with Rawlings.
"My favorite part was food. I love the food. I love my pork, ma'am," said Red proudly.
Carter said she decided to put the party together after speaking to some of the seniors living at the facility about their Christmas day plans.
"They expressed to me that they didn't have any families here and they had no idea what they were going to be doing for Christmas," said Carter.
Carter said she understood, having no family on the island herself despite having lived on St. Thomas for 22 years. She immediately contacted taxi driver Bruce Flamon, who also works as a safety officer for contracting company Lemartec. Flamon said he was very excited when he heard of Carter's plans.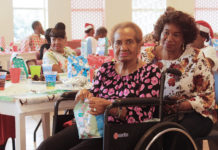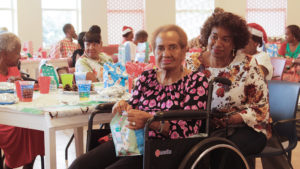 "What we needed was funding," said Flamon. "I reached out to the chief executive officer of Lemartec and asked them if they would sponsor this event. They said they would be glad to."
Carter also put out a request for donations on Facebook, which bore fruit. U.S. Postal Service employee Silva Gibbs said she saw Carter's post and donated cash toward the cost of gifts and food. On Tuesday, Gibbs attended the event and saw for herself the seniors' reactions, especially when Santa Claus stopped by.
"It's good that we look out for our seniors because that is our tradition passed on to us, the ones who stay behind, so we should take care of our seniors," said Gibbs.
The Word of Faith International Ministry, led by Pastor Ronald Walker, officially received the donations and disbursed the funds. Walker himself went shopping with Carter at various grocery stores around the island last week, and with help from St. Thomas restaurant Smoking Rooster, cooked all the food served on Tuesday.
"We're feeling victorious," said Walker. "We're really feeling good about ourselves and good about the seniors. It's good for them to be able to come together and have fun and enjoy each other's company rather than stay in their room all cooped up."
Margaret Price, a practicing Muslim, does not celebrate Christmas but said she was happy to participate on Tuesday. Price said she received a text from Carter and committed to help out with some of the food items.
"It's a Christian event, and even though we don't celebrate as Muslims, we don't have to take full participation but we can come and show our support to help others," said Price. "I just felt as though no one should be left at home and this was just something that I felt if I didn't go, I would be home by myself and I'd rather be around people."
At the end of day, every senior attendee went home with gift bags, food, and smiles. Carter said when it was all over, the reactions from the senior community she served was a reward in itself.
"Everyone was surprised that I would just do this for them, and everyone seemed very happy and pleased that not only did I do a dinner for those who would have been home alone, we also gave gifts for Christmas," said Carter.