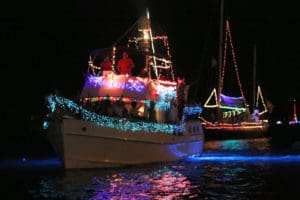 Erik K. Ackerson, director of the19th Lighted Boat Parade, has announced the parade winners in two categories. There were 21 entries.
Small Division (25 ft. or less)
1st place: The School Boat, Commodore Alex Randall
2nd place: French KISS, Captain Paul Aubain
3rd place: M2R Duck, Captain Jerry Cowan
4th place: Blink, Captain Ike O'Connell
5th place: Capital Punishment, Captain James Bahan
Large Division (26 ft. or more)
1st plays: Days Like This: Captain Jay Pennington (Winner of the Annual Friendship Trophy*)
2nd place: Poncho Man, Captain Mark Knoph
3rd place: Showtime, Captain Tim Hall
4th place: Blackbeard's Revenge, Captain Cory Crowder
5th place: Pirates Penny, Captain Christy Weiss
Parade Sponsors: Crowley Transport, Heidi's Honeymoon Grill, Guardian Insurance, Off Shore Marine, Island Marine Outfitters, St. Thomas Cargo, Storage on Site, Crown Bay Marina, Tickles Dockside Pub and the St. Thomas-St. John Chamber of Commerce.
*The Friendship Trophy is a traveling award in memory of M/V Friendship, and all of the annual participating vessels who were lost in Hurricanes Irma and Marie.