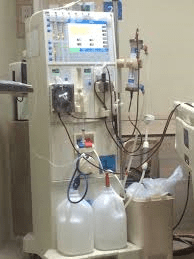 Dear Source:
First, my condolences go out to those family members that lost love ones due to medical illness during the hurricanes. I know that our dialysis family lost few patients that were relocated to the states. We lost over 51 patients. Every life is precious. St. Thomas Dialysis Center was fully committed into reopening our doors to serve the people of the Virgin Islands and beyond.
Our dialysis patient population deserves answers as to why St. Thomas Dialysis Center did not reopen post hurricanes Irma and Maria. Our dialysis patients require very complex care. Although part of their critical care is providing dialysis services, they also have other chronic diseases that must be monitored and controlled on a regular basis. In our case, we often provide the much-needed additional assistance to our dialysis patients that went far beyond our dialysis services. Because we are a federally regulated facility, we have very strict compliance guidelines that we must always adhere to in order for the best evidence-based practices to be implemented in which will result in best patient outcomes and patient safety. In three years of operations, we never had a patient death at our dialysis center.
As a proud Virgin islander, who have been in healthcare space for over 36 years with a very proud and proven track record and came back home to serve his community. My primary focus was to coordinate with all agencies and get this dialysis center doors reopened. My partners and I had spent over $2 million to create the most advance dialysis center with a proven best practice evidence-based platform. Our dialysis center was one of the largest private medical facility here in the U.S. Virgin Islands.
Post hurricanes, we reassembled our clinical team and began to coordinate resources to assess the damage and repairs needed to reopen our dialysis center doors. Our dialysis patients were our primary responsibility. Our team was working with both local government and federal agencies. I also was in communication with Congresswoman Plaskett office and her team as well. Being that our dialysis center had receive minimal damage in comparison to other medical facilities, we knew that we could be back operational in a short period of time. I was updating the federal agencies on a weekly basis on the progress being made on the ground. I was also in contact with the Department of Health. I knew the that Health Commissioner was extremely busy in trying to complete our own assessment and planning the next steps with her department. We had staff at the dialysis center on a regular basis at the ready to coordinate times to have the repairs completed. We met with management team that completed the abatement at the dialysis center. The next phase of the process was to complete the repairs and get the remaining pieces fixed (elevator, backup generator, air condition system, and etc..).
The damage to the dialysis center was primarily from a leaky roof which had leaked in the past and one damaged window inside our social worker office. Within the confines of our lease, it is very clearly stating what roles and responsibilities that the Virgin Island Port Authority had in time of disaster. Our lease even specified which damages would be repaired and the time line in which the repairs would take place. Furthermore, I was certain as Virgin Islanders or simply being human that the Virgin Island Port Authority senior leadership team would want to do everything in their power to bring this dialysis center back online in a timely manner. We meet several times with the Virgin Island Port Authority manager for Crown Bay Terminal, facility managers, and employees to discuss in detail the damages and repairs needed to building structure. Everyone knew the urgency in bringing the dialysis center back online because they were surrounded by the constant reporting in the media and we heard the pleas from the dialysis patients and family members through the various media outlets.
Here lie the problems. After numerous phones calls, in person meetings, and emails with the senior leadership team of the Virgin Islands Port Authority, very little to no action was taken in repairing the building structure. To add insult to injury, the Virgin Island Port Authority began to charge us $32,000 per month in rent which include over $6,000 in interest payments which continued through September 2018. Our lease is still in effect and we were never evicted from the premises. Our opportunity to provide best proven evidence-based world-call healthcare services was rapidly dissipating. Our opportunity to serve the people of the U.S. Virgin Islands was escaping. Our opportunity to finally become solvent with a positive balance sheet was also dwindling. Other arrangements had to be made for these dialysis patients to receive dialysis treatments upon returning to the U.S. Virgin Islands.
After sending emails to the director, David Mapp, inquiring the status of the repairs building structure, the Virgin Island Port Authority director finally responded back in February 26, 2018. "Please be advised that at this point, the Board has made a final decision regarding the tenancy of the St. Thomas Dialysis Center at CBC. As such, VIPA will proceed with the eviction. May I suggest that you seek a new location of St. Thomas for your endeavor." All the best to you. David W. Mapp Sr." Yes, in dealing with the aftermath of two category five hurricanes and working around the clock to get the dialysis center reopened, the Virgin Island Port Authority was planning all along to evict us from our facility while we were waiting for months for their team to repair the building structure. I want to be clear. Even if we did the drywall and ceiling tiles repairs ourselves, we still did not have an operational air-conditioner system in place, nor the same window that was damaged by the two hurricanes still remains in place a year later, nor the elevator to the dialysis center is still inoperable going on a year, and no backup generator in place in case of WAPA failure.
Now, we have patient records, medications, sensitive medical supplies, confidential data being kept at St. Thomas Dialysis Center. Because we requested Viya to come into our facility to reestablish both phone and fax lines in August 2018, the Virgin Island Port Authority decided to change our locks and locked us out of our $2 million state of the art facility. The Virgin Island Port Authority initial response concerning the lockout was that "they now own our facility, equipment, personal belonging inside, and everything else inside the facility." This comment was made by a senior team leader at Virgin island Port Authority. Any access to the facility must be cleared by Director David Mapp through the Virgin Island Port Authority Police Chief. The Police Chief for the Virgin Island Port Authority would either let us in with supervision or have one of his officer's escort us to the facility to retrieve such items. Once our legal team contacted the Virgin Island Port Authority and inquired the reasoning for the lockout, the story began to change several times. Our team have critical deadlines that have not been met and other tasks that should have been completed months ago. We had requests for patient chart information, fiscal reports for federal government, IRS, IRB, lien holder, EDA and others. Being lockout has caused a major delay in completing these reports.
Our primary goal is to reopen the dialysis center. We do have current business licenses in place. Once ready, we will recontact the appropriate agencies to restart operations. I can share that we have many dialysis patients requesting to be dialyzed at our facility. We still have dialysis patients that wanted to relocate back home. We also have been receiving many requests from tourist and other vacationers that wanted to visit our beautiful islands.
Because of the testimony provided by Director David Mapp during his senate hearing in October 2018, which simply dismissed the dialysis center like we never exist and/or abandoned the facility, I wanted the people of the Virgin Islands hear the other side of the story. Any further comments will be generated through our legal counsel. This dialysis center belongs to the people of the U.S. Virgin Islands. "V.I. Strong"
Rudel Chinnery Jr. MBA HCM, President/ CEO, St. Thomas Dialysis Center