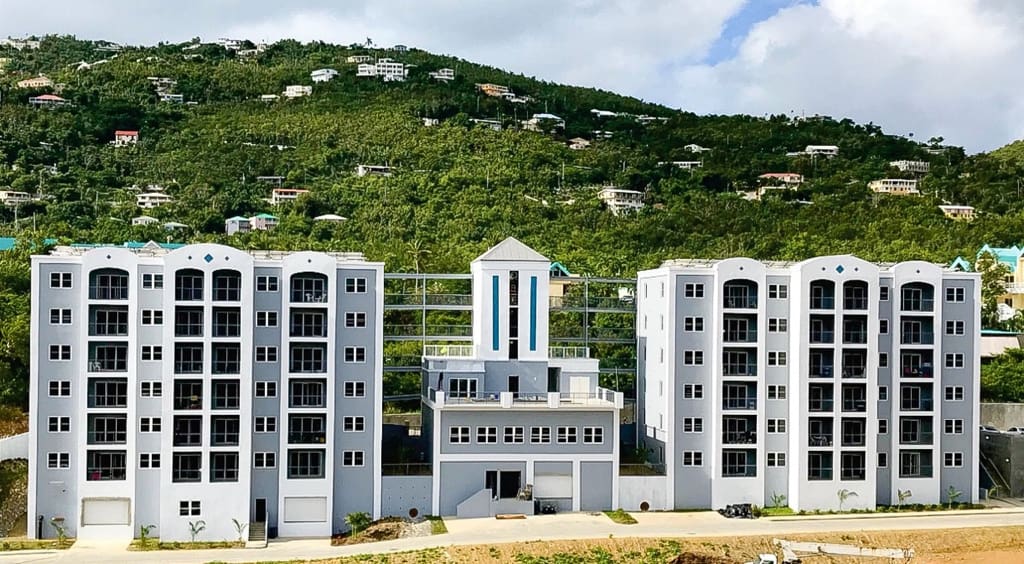 More than 70 people witnessed the ribbon-cutting ceremony Tuesday that signaled the grand opening of Magens Junction Apartments on St. Thomas, a rent- and income-restricted affordable housing complex that attendees of the event heralded as a hopeful sign of continued hurricane recovery.
"It represents hope. It represents pride," said Sen. Marvin Blyden (D-STT), who chairs the Senate Committee on Housing, Public Works, Waste Management and Planning. "It's the first post-hurricane housing development that came back online."
Dignitaries, including Gov. Kenneth Mapp, Lt. Gov. Osbert Potter, Delegate to Congress Stacey Plaskett and various senators, were present for the long-overdue opening of the housing complex that was delayed a year by the 2017 hurricanes. In response to a request from the Virgin Islands Housing Authority, Jackson Development Company, the company that built the property, immediately designated 24 of the residential units to house families displaced from the Tutu High Rise community.
"When I came to [Jackson Development Chief Executive Officer Bob Jackson] and asked, 'Can you help us by reserving some of your new units at this development,' Bob did not hesitate. He said, 'How many do you need?'" said VIHA Executive Director Robert Graham.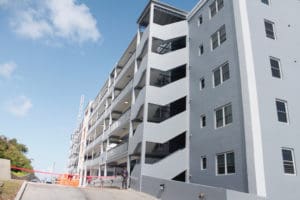 New Magens Junction resident, Essalita Fleming, 86, was one community member who benefited. Fleming used to live in Tutu High Rise but was forced to look for other housing after the hurricanes damaged her old apartment complex.
"Over here is beautiful. I love it," said Fleming, who later received the ceremonial key to the building.
"It's a one-bedroom, but with everything. Lots of room. The kitchen is big, the porch is big, everything is alright," said the senior citizen, who lives alone.
Magens Junction is fully occupied, with residents moving in within the last couple of months and some 300 names on the waiting list. Low-income Housing Tax Credit equity, allocated through the V.I. Housing Finance Authority, financed the construction, which is rent-restricted in compliance with federal regulations. A one-bedroom unit costs $696 per month, while a two-bedroom unit costs $835, including all utilities.
"Families that live in public housing, living on the margins, can use those funding for other things, such as education, such as supporting families," said Plaskett.
"Affordable housing, being able to save, being able to have that funding, allows people to then become homeowners, and homeownership, in a lot of instances for college students, like myself, allows their families to take out loans, allow our families to be able to make a difference for us to be able to go to school," added Plaskett.
Income requirements also apply. A family of four must not exceed 60 percent of the area median income, which currently stands at $55,000. A two-person household must not exceed $29,700 in annual income, while a three-person household must earn less than $33,420.
The Magens Junction complex towers over the Magens Bay community, two six-story gray and blue edifices standing at the old St. Thomas Dairy site. The two buildings, each of which contain 24 of the 48 completed units, are connected by a core building housing the leasing office, a business center, a fitness center and a pool.
Exactly 24 of the residential units are one-bedroom, one-bath apartments, covering 696 square feet of floor space. The rest have two bedrooms and two baths on 911 square feet of space. Every apartment includes a dishwasher, garbage disposal, and washer and dryer hook-ups and has access to a parking space close to the buildings.
The entire complex was also built with energy efficiency in mind. A distributed-generation microgrid, with 65 kilowatts of solar power and 325 kilowatts of microturbine power, provides cost-effective electricity to residents. The complex is also in the final stages of acquiring a National Green Building Silver Certification according to a energy-efficiency rating system for homes and apartments approved by the American National Standards Institute. On-site wells and a reverse osmosis treatment system also provides potable water.
Magens Junction Apartments is the latest of real estate developer Bob Jackson's affordable housing projects in the Virgin Islands. As chief executive officer of Reliance Housing Foundation, Jackson also worked on Lovenlund Apartments, Altona and Grandview, and Amalie Terrace on St. Thomas. Under Jackson, Reliance Housing also developed Bellevue and Calabash Boom on St. John.
In 2013, Jackson formed his own company, Jackson Development, and built Anna's Hope Villas on St. Croix.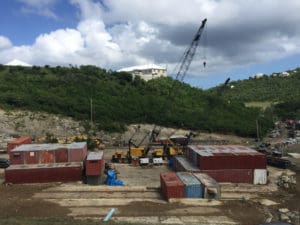 "The interesting thing now is, with the hurricane recovery, Housing and Urban Development is funding a lot of Community Development Block Grant money, and that can be used for not only low-income but moderate-income housing, and that gives us the opportunity to broaden the income range," said Jackson.
The 48 Magens Junction units already completed represent phase one of this housing project. Phase two aims to build another complex right below the first two towers featuring 68 similar units with more flexible income requirements. According to Jackson, they may be able to offer the phase two units to applicants earning 80 percent, or even up to 120 percent, of the area median income. This takes care of a common problem, which is too many middle-income applicants whose earnings are barely above the top end of the low-income restrictions.
Some heavy equipment and trailers are already sitting on the phase-two site. Jackson said as soon as VIHFA releases the funding, they can begin construction.