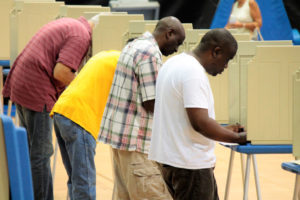 Supervisor of Elections Caroline Fawkes has announced the extension of Early Voting on St. John. Due to the increased turnout on St. John, Early Voting has been extended through Saturday, Oct. 27.
Early Voting on St. Croix and St. Thomas will continue through Monday, Oct. 29. The hours for Early Voting are from 9 a.m. to 6 p.m. The office locations are as follows:
ESVI St. Croix Office
Sunny Isle Annex Unit 4
ESVI St. Thomas Office
Lockhart Gardens Shopping Center (Above of Banco Popular)
ESVI St. John Office
Market Place Suite II
Visit the website at www.vivote.gov for updates on the 2018 General Election.