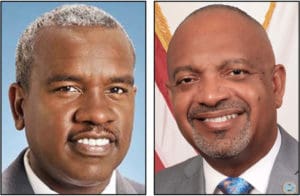 In this series, the Source introduces the community to the platforms of the candidates for governor and gauges their approaches to issues in the territory. The Source sent each gubernatorial team the same questions and is running the answers in the order in which the candidates responded. The Source invites comments on these articles, in the hopes of creating a dialogue among voters.
This story covers the views and planned initiatives of candidate Albert Bryan, who is running as a Democrat.
Albert Bryan has extensive experience in supporting entrepreneurial initiatives and workforce development as the founder and president of Aabra Group, co-founder/managing partner of Master Strategies USVI, and executive director of Junior Achievement Virgin Islands. Bryan served an eight-year tenure as Labor commissioner and has also served as chairman of the Economic Development Authority and the Government Development Bank, and as a V.I. Port Authority board member.
His running mate is Sen. Tregenza A. Roach, who has served three terms in the Legislature of the Virgin Islands. As an attorney, Roach has practiced in the Territorial Court's Civil and Family divisions, at Bornn Bornn Handy and Rashid, and as legal counsel to the commissioner of Education. He has also served as executive director of the Board of Education and chairman of the V.I. Humanities Council.
The Source: The V.I. government has a $100 million-plus annual deficit, currently cannot borrow on the private market and is not paying many of its obligations, to GERS, to WAPA, territorial nonprofits, sewage treatment contractors, trash haulers, health care contractors and more. But the territory has never missed a debt payment on its $2 billion in debt. How can the territory avoid default?
Bryan: The government must establish realistic and conservative budget practices. We can no longer continue to spend more than we have. Budgets that are based on overly optimistic forecasts of revenues only set us up for failure in meeting our financial obligations. The law requires that budgets be based on the verified revenue collections of prior years. This prevents an escalation of government spending during an economic downturn and is a smart budget practice. We must also end the politically motivated practice of long-term borrowing for short-term gains. We should gradually reduce spending until we get to a sustainable level that does not require us to borrow to make ends meet.
As revenues increase we can then increase expenditures accordingly. It is politically difficult, but the financially prudent thing to do.
Source: Should Congress form a board like that in Puerto Rico, to decide how much to pay on which debt?
Bryan: No. If we maintain strict financial discipline as a government, a financial control board is unnecessary. However, we must be willing to make tough decisions based on an honest assessment of anemic fiscal and economic conditions. Elected officials continue to gloss over the underlying weaknesses of our economy, which prevents us from taking the collective action required to address those challenges. The Financial Oversight and Management Board in Puerto Rico is essentially there to protect the interests of the municipal bond investors and financial markets affected by Puerto Rico's financial collapse. The austerity measures that they insist on are not always in the best interest of the Puerto Rican people. We must avoid this at all costs. If there are tough decisions to be made, we should be courageous enough to make them by and for ourselves.
Source: What is your fiscal and economic plan?
Bryan: The first step of a Bryan/Roach Administration will be to stabilize our government and restore the trust of the investment market and the federal government in our ability to properly manage our fiscal affairs properly. To do this we must address the longstanding structural deficit that has hampered government operations. We plan to take action to resolve the looming pension crisis at GERS. We will be realistic and conservative in projecting revenues and will propose budgets that remain within those parameters. We will also take steps to improve our management of federal grants. As our local economy continues to stagnate, we must ensure that we are maximizing our receipt and utilization of federal funds. We will establish a proactive federal grant policy that clearly describes the processes and procedures that all agencies within the government must use to account for and report on federal grant award activities so Virgin Islanders will be reassured that we are the best stewards of their government's dollars. We will then continuously train all relevant staff in how to adhere to the policy to ensure that all awarded money is spent appropriately.
Our approach to economic recovery calls for a focus on attracting new revenues to the territory through outside investment. The Virgin Islands has many economic incentives, but we do a poor job of promoting those investment opportunities. We must focus our efforts on targeting industries that complement our economy, and pursue them aggressively. There are opportunities to leverage the investments made in broadband infrastructure to lure information technology and e-commerce investments. We will pursue strategies to re-engineer the tourist experience by attracting new investment to this sector and diversifying our tourism product. The territory has extensive financial incentives for hotel development and will promote these more effectively. Additionally, we will be proposing the establishment of a free trade zone on St. Croix as an additional incentive for manufacturing companies. But these plans all require affordable and reliable power and a modern and properly maintained infrastructure which will also be our priorities.
Source: Many young Virgin Islanders are seeking educational and financial opportunity outside of the territory. What plans will you execute to encourage those that remain to stay, and to get those that have left to return?
Bryan: We have to create economic opportunities for our young people that are comparable to those available elsewhere. We must provide them with meaningful career opportunities. We can start by amending the law to require EDC companies to provide quality jobs. The compliance rules for companies seeking new Economic Development Commission benefits should be amended to only count full-time jobs that pay a livable wage, offer health insurance, retirement benefits, and paid sick leave towards meeting the employment requirements.
For those young people who are interested in starting businesses, the local Small Business Development Agency must be empowered and staffed to provide active and ongoing support to home-grown entrepreneurs and local start-ups. This includes support for companies that want to expand themselves within the Virgin Islands or regionally. True support for local small businesses includes addressing workforce concerns, expanding access to capital, reducing operating expenses resulting from burdensome fees and taxes, and improving the effectiveness of economic incentives.
It is also important that we expand the availability of affordable homes. Homeownership should be an attainable goal for all young Virgin Islanders. The Housing Trust Fund needs to be provided with a sustainable and adequate source of funding so that it can fulfill its purpose of supporting affordable housing development in the territory.
Source: What would you propose to address the collapse of GERS in light of the $3 billion-plus shortfall and projected exhaustion of all funds between 2020 and 2023?
Bryan: The only way to save the GERS pension plan is to infuse a large amount of capital before the system becomes completely insolvent. The system will not be able to generate sufficient investment returns without it and the amount increases significantly for each month that we delay. Unfortunately, the Government of the Virgin Islands is unable to float bonds to raise this capital at a reasonable cost and is currently unable to generate sufficient surplus revenues to dedicate to this purpose. The Bryan/Roach plan calls for freezing the system from new entries. An actuarially determined required annual contribution will be budgeted for in order to preserve the retirement benefits of vested workers and retirees. Non-vested workers and new employees will be placed into a new plan that is a hybrid defined benefit/defined contribution plan. Pursuing new sources of revenue would generate the necessary infusion of capital. There are three potentially lucrative areas that we will pursue in this regard: expansion of rum exports, intellectual rights on cannabis research for pharmaceutical products, and hosting of internet gaming sites.
Source: How will you help make government more transparent?
Bryan: One of the initiatives the Bryan/Roach Administration intends to launch is a publicly accessible budget transparency website. We look forward to creating an online searchable budget that provides one point of access to all information about the executive budget and how tax dollars are being spent. In general, Sen. Roach and I hope to build a true performance-based management culture in government. We want to establish key performance indicators that measure the results that matter most to the public. We intend to make the progress on those indicators publicly accessible. In so doing, we can be transparent in the areas where we are succeeding as well as where we may be falling short and quickly make adjustments to maximize resources.
Source: Why are you running?
Bryan: I love these Virgin Islands and care about our people. Too many Virgin Islanders feel left behind and abandoned by this government. With the shrinking middle class and ongoing out-migration from the territory, income inequality is growing at alarming rates. Fortunately, we have the talent amongst us to reverse our course. I believe I can provide the leadership to modernize our government and instill a renewed sense of purpose. My mission is to provide a higher standard of living and quality of life for all Virgin Islanders. My work is to create a Virgin Islands for all of us. I sincerely believe the Bryan/Roach team is the best one to get this accomplished.
Source: Why should voters choose you instead of another candidate?
Bryan: My decision to run for governor was not a last-minute decision or driven by personal animosity towards the incumbent governor. It has been a carefully considered decision based on my strong desire to transform our government into a more efficient and effective instrument of progress. Aspiring to the position of governor is a responsibility that I take very seriously. It is a position I have diligently prepared for well through my education and experience in both the public and private sectors. Most importantly, I have a clear vision for what we can achieve over the next few years to promote a better quality of life for Virgin Islanders and a definitive plan to get us there."
Source: How do you feel about legalization of marijuana and why?
Bryan: I support the legalization of medicinal cannabis. My support is based on the proven health benefits in the relief of pain and treatment of symptoms for many serious ailments including cancer. Conventional medical treatment for these ailments is often expensive and/or results in severe side effects. Medicinal cannabis may also be a preferable alternative to opioids for management of pain in some instances.
I believe a properly regulated medicinal cannabis industry can provide relief to those seeking alternatives to conventional medicine and can also be an economic driver attracting new revenues for the Virgin Islands; 29 other states have arrived at the same conclusion. I am not currently advocating for legalization of the recreational use of marijuana as my focus is on medical cannabis and related research.
Source: What can you as an elected official do to help alleviate violent crime in the territory?
Bryan: Violent crime in the territory is a symptom of the protracted failure of our education system and our weak economy. Over the course of several decades those factors have slowly created a social environment that perpetuates criminal behavior. I believe we must begin the long-term approach towards reversing those negative trends. It starts with investing in our people. I have identified strategies to help low-income families increase their household income and rise out of poverty. I believe a better-educated community is a more prosperous and safe community. That's why I am prepared to promote adult education, literacy, and skills training opportunities as part of an overall strategy for workforce readiness. I have a bold, but financially feasible, proposal to offer free college tuition for interested high school graduates. Additionally, we must rethink the role of our local prison. A greater effort must be made to enroll prisoners into adult education courses, online college courses, career and technical training, substance abuse counseling, and similar programs. The goal is to leave the men and women that have found themselves in the prison system better prepared to succeed in life once they are released. These steps end recidivism and lower our overall crime rate.
Source: How do you see your role in overseeing government agencies?
Bryan: Currently, there is little confidence that the Government of the Virgin Islands is capable of keeping the promises it makes to its workers, vendors, and taxpayers. I think it is critical that the government work towards regaining the trust of the people it serves. To achieve this, a Bryan/Roach Administration will restructure government to promote accountability and transparency. I intend to begin the process of instilling a true performance-based management culture within the Government of the Virgin Islands. The government must focus on producing results that benefit the public and I am prepared to guide agencies in setting appropriate goals and objectives. The public should know what measures of performance the government is using and what progress is being made towards meeting targets. That way we can be held accountable. Establishment of a performance-based culture will go a long way in winning the public's trust.
Source: How will you ensure the territory is prepared for future major disasters like hurricanes?
Bryan: Given our most recent disaster experiences, VITEMA needs to update the Virgin Islands Territorial Emergency Operations Plan to reflect the current response needs of the territory. We need to continue efforts to bury our utilities and harden our infrastructure to the greatest extent feasible. Special attention must be paid to the communications infrastructure, which failed us tremendously in the aftermath of Hurricanes Irma and Maria. I intend to integrate the cellular and landline phone companies into discussions of hurricane preparedness.
Source: What will you do to mitigate the effects of climate change on the territory?
Bryan: The Virgin Islands has been exploring the conversation of climate change mitigation and adaptation for at least 10 years now. What is missing is the integration of the science into the day-to-day decision making of the government. For example, the review of Coastal Zone Management permit applications should include preparedness for anticipated sea level rise. The hazard mitigation planning should include stormwater management in anticipation of intense periods of rainfalls. The Department of Agriculture should have water reservoirs in place to alleviate water shortages for farmers during prolonged droughts. The concept of a climate change council should be retained with the composition of that council including individuals who are knowledgeable about how to make scientific information more actionable by our government.
EDITOR'S NOTE: This story has been edited to correct the party affiliation of the candidate. The Source regrets the error.