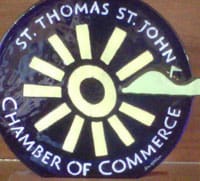 On Friday, Sept. 21, the Board of Directors of the St. Thomas-St. John Chamber of Commerce (Chamber) appointed 15 members of the St. Thomas and St. John business communities to to fill vacant positions on the board.
"It is important that the Chamber Board represents the breadth and depth of the business community and selects those willing to actively engage on issues that our membership believes are important for today's business environment. I believe that the selection of these new board members helps achieve these objectives and sets the foundation for the future," said Sebastiano Paiewonsky Cassinelli, president of the Chamber.
Effective immediately, the new appointees are:
Mike Allietta, President of International Private Bank
Scott Barber, Owner/President of Universal Business Supplies, a business services company
Jason Charles, Director of External Affairs for of Alpine Securities, a registered securities firm
St. John Representative to be announced.
Hugo Hodge, principal of HKT Energy Consulting Group
Erika Kellerhals, Managing Partner of Kellerhals Ferguson Kroblin PLLC
Anthony Murray, President of Virgin Excursions, a tour-based company
Allie Petrus, President of Petrus Gas and Petrus Plaza
Alex Querrard, Program Director for the Cardiac and Pulmonary at the Schneider Regional Medical Center and Young Professionals Network Representative.
Adam Reeve, President of Cruiseship Excursions, a marine based tour company
Marjorie Roberts, Principal, of Marjorie Rawls Roberts PC Attorneys at Law
Naveen Sakhrani, Owner, of Grand Jewelers, a retailer vice president of the India Association of the Virgin Islands
Cassandra Webster, Vice President, of Banco Popular
Brad Wilson, President of Brad's Deals, an online marketplace
Edmundo Zayas, President, of Allied Rental Center, a supplier of tools and equipment
"The 15 appointees will stand for election at the Chamber's annual meeting, scheduled for Jan. 29, 2019. We have selected this date to give the new board members time to familiarize themselves with the Chamber's operations and their responsibilities and, most important, the issues that concern our membership," said Executive Director Joe Aubain.
Current board members include: Tom Brunt (MSI); Mike Daswani (Royal Caribbean); Adrianne Dudley (Dudley Rich Davis LLP); Dexter Freeman (AT&T); Shaine Gaspard (Southland Gaming of the VI); Steve Morton (Topa Properties Ltd.); John Woods (Jaredian Design Group); and Sebastiano Paiewonsky-Cassinelli (A.H. Riise).
Paiewonsky-Cassinelli said, "The new board members bring a wealth of skillsets, industry knowledge, experience and commitment to our community. I look forward to working with the entire Chamber board to improve our business climate and the opportunities for our members. Operating a business is a significant undertaking with numerous responsibilities, and these individuals are committed to the Virgin Islands and will help ensure that the Virgin Islands is attractive for those interested in locating here and for those that have been committed for generations.
"With a full board and invigorated membership, we will be more aggressive in our pursuit of these opportunities through our Working Groups. For instance, our work with the Cruise Ship Working Group, the EDC Working Group and the Historic District Revitalization Working Group will continue as we also address such issues as the pension system's unfunded liability and the general area of taxation and ensuring a competitive business environment.
"The Chamber is vigorously working on initiatives that will improve life for all Virgin Islanders through stimulation of our economy. I welcome the participation of the 15 new members and urge all business people to familiarize themselves with issues facing our community and hopefully actively support the Chamber's proposals."