The National Weather Service issued a high surf advisory Thursday morning for the U.S. Virgin Islands as a weakening Tropical Storm Isaac pushed into the Caribbean.
The high rip-current-risk remains in effect through late Thursday night, according to the V.I. Territorial Emergency Management Agency. A high-surf advisory is in effect from 6 p.m. Thursday until 6 p.m. Friday.
Waves and surf are expected to break from 10 to 14 feet for beaches on the eastern tip of St. Croix. Rip currents will be a threat there and along the island's north coast.
The advisory warned of life-threatening currents that can carry even the best swimmers out to sea and bring high breaking waves that can wash people and pets off rocks and jetties.
Tropical Storm Isaac had arrived at and pushed past the Lesser Antilles at about 9 a.m. Thursday. On its current track it is expected to make its closest approach to the territory at 11 p.m. Thursday, passing 185 miles to the south of St. Croix. At that time, Isaac is forecast to be a tropical storm with top winds of 40 miles per hour. No storm watches or warnings have been issued for the Virgin Islands and the winds of Isaac are not expected to impact the territory.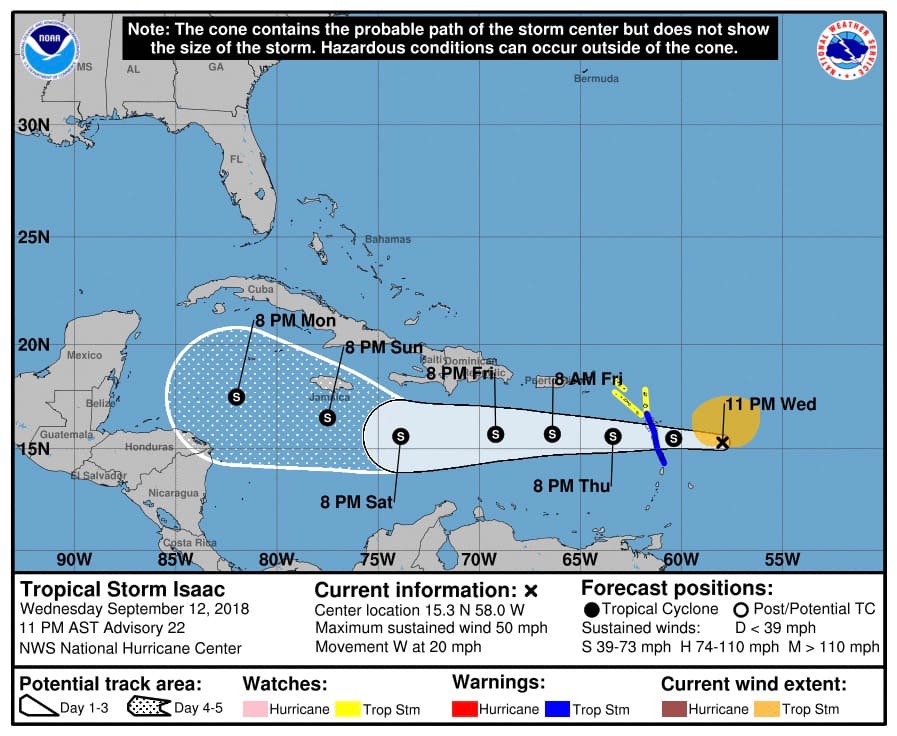 In its 11 a.m. Thursday update, the National Hurricane Center said satellite imagery indicated that Isaac remains a poorly organized tropical cyclone, with the low-level center mostly exposed during the past several hours. The center of Isaac passed between Dominica and Martinique around 9 a.m. AST, with westerly winds reported on both St. Lucia and Martinique, indicating that Isaac is still a tropical storm.
Data from a NOAA P-3 Hurricane Hunter aircraft indicate maximum winds remain near 40 knots, although the area of tropical-storm-force winds has shrunk since Wednesday.