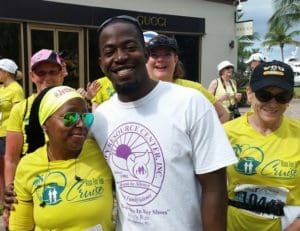 This week, the Marion and John E. Anderson Foundation donated $300,000 to FRC — along with local subsidiaries Bellows International, West Indies Company, Dorchester Insurance Company, TOPA Insurance Services, TOPA Properties and Leeward Islands Management Company.
Family Resource Center (FRC) Inc., a 501 (c) 3 non-profit organization, has been providing programs and services to victims of crime for over 37 years. Since hurricanes Irma and Maria devastated the territory, FRC has expanded services to include coordination and distribution of relief supplies to the community. With four damaged buildings, it has been a challenge to keep providing these services, but it continues to persevere.
"After such a trying year, the board and staff are excited to receive this donation which will help to ensure the agency's survival," said Jose Raul Carrillo, FRC's board chairman. He said, "Our staff has been working diligently to keep up with the demand for our services, and this contribution will help us to sustain and expand our services to those in need."
Vivian St. Juste, the agency's executive director, let out a big "Woo-Hoo!," as she received the news over the phone. "Our amazing staff continues to work through adversity, still providing hurricane relief supplies which aid in reduction of area violence, which often increases due to lack of basic necessities. We are very grateful that organizations such as the Marion and John E. Anderson Foundation have joined #TeamFRC to help end family violence in the Virgin Islands," said St. Juste.
Family Resource Center is now preparing for various outreach events as it approaches Domestic Violence Awareness Month in October, and it urges the community to join it in spreading the message of love and healthy relationships in the U.S. Virgin Islands.