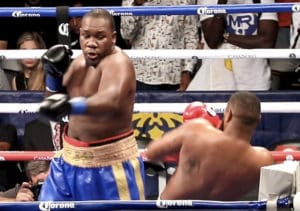 For Clayton Laurent, Jr., Saturday night's fight at the Barclay's Center in Brooklyn was just as much mental as it was physical.
The V.I. heavyweight boxer racked up his second professional win after dropping opponent Sherman Artis, Jr. (3-3) three times in two rounds, but Laurent – who got to the venue around 3 p.m. Saturday – didn't get to hit the ring until after midnight. Gloved, cupped and waiting in his locker room for more than four hours, Laurent resolved that when he finally got on stage, he'd prove his resiliency to new promoter Lou DiBella and the world.
"I was supposed to go on much earlier, but the main events were slated for a certain time and the rest of the fights went the distance," Laurent Jr. said from New York early Sunday morning. "If someone had gotten knocked out, or one of the other fights had been called early, I would have been put in to fill the gap."
Instead, Laurent was brought up after the main card had already wrapped, and still sat through another eight rounder before making his way through the Center to meet his opponent who, while coming off a hard loss in 2017, was rumored to have never been dropped. Literally and physically hungry, with a plane to catch less than six hours later, Laurent worked quickly to erase the statistic as he pummeled his way to a technical knockout 2:56 into the second round.
Coming in, Laurent spent some time feeling out his opponent and trying to back Artis into angles where he could attack. While Artis attempted to respond with a few counters, Laurent remained the aggressor, and was able to pin Artis against the ropes and lodge a series of counterpunches before the bell ended the first round.
Finding his stride, Laurent proved his mettle in the second round: halfway through, Laurent dealt Artis a right to the head, causing him to take a knee for the first time.
"It was here that I knew I had hurt him," Laurent said afterward. "I actually started to punch harder after that. I knew if I kept using my jab and stayed consistent, that would set me up for more combinations and, eventually, an opening I could take."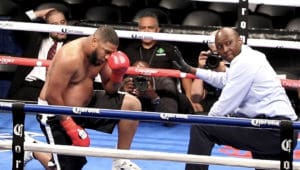 Laurent continued his barrage of punches, forcing Artis again into the corner. A clean left to the face put Artis on his knees again. Artis got back up but it moments later a combo from Laurent put him down again and forced the referee to call the fight, declaring Laurent the winner by TKO.
"I found the opening," Laurent said before getting on the plane. "I'd been working on my timing. I knew if I doubled up on the jab and threw a right after it, it would be there. And there it was."
"Thankful" was how Laurent said he felt about the win, and the efforts of his team – stepdad and three time world boxing champion Julian "the Hawk" Jackson was in his corner – and new promoter Lou DiBella, whose placement of Laurent on Saturday's Garcia-Porter world welterweight title undercard was a prime spot for a boxer so early in his career.
"I'm really happy for him because it was a fight that placed Clayton under a bit of pressure, being on such a huge card," Laurent's co-manager Matt Clark said from Australia Sunday. "But he handled it with absolute ease, and he's announced his arrival on the scene. … He mixed it between the body and head, giving his opponent no chance to recover. It was amazing."