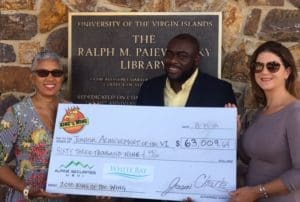 The check presentation ceremony for the 9th annual King of the Wing Contest (KOW) was held at 8 a.m., Tuesday, Aug. 14, at the Ralph M. Paiewonsky Library at the University of the Virgin Islands on the St. Thomas Campus. Alpine Securities USVI and White Bay Group, organizers of the competition, revealed the donation amount from this year's event is $63,009.64. The King of the Wing event was held on June 9.
Sponsored by Island Wiring LLC, Corona and Captain Morgan (both distributed by Bellows International and produced by Alpine Securities and White Bay Group), King of the Wing (KOW) entered its 9th year with all proceeds benefiting Junior Achievement of the Virgin Islands.
The contest took place on Saturday, June 9, on the shores of Magens Bay beach on St. Thomas. 42 teams consisting of the top local restaurants, businesses, organizations and chicken wing connoisseurs set up their grills and cooking stations starting at noon to cook up mouthwatering chicken wings, wow the attendees and claim bragging rights for the best tasting wings on the island.
Thanks go to major event sponsors — Corona, Captain Morgan and new donor Island Wiring LLC — for providing support along with many other sponsors and participants. This year's celebrity guest judge, actor and former host of the food reality series "Man versus Food," was Adam Richman. He tasted all 42 wings that were entered into this year's competition. Richman is known for traveling across the world to participate in various food-eating challenges shown on the Travel Channel.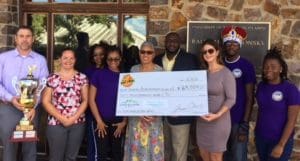 In addition to being the island's most celebrated and anticipated family-friendly culinary and community event, King of the Wing serves as a crucial fundraising platform for select local charities. All the proceeds from this year's event were donated to Junior Achievement of the Virgin Islands (JAVI), a 501(c)3 recognized organization.
JAVI is dedicated to teaching young people in the Virgin Islands about financial literacy, work readiness and entrepreneurship. The mission of JAVI is to inspire and prepare young people to succeed in today's global economy.
The 10th Annual King of the Wing is set for June 15, 2019.
For more information, contact Jason Charles or Catherine Bryan at 714-2020, email [email protected] or [email protected].
For further information, visit www.facebook.com/alpinekow.