To try to inform the community on where the candidates stand, the Source sent each senatorial candidate a questionnaire with questions on pressing issues for the territory. We are running the answers in the order in which the candidates responded. (See Related Links, below.) We aim to publish all the Democratic Party candidates answers prior to the Aug. 4 primary, contingent upon the candidates providing their responses in time. This story covers the views and planned initiatives of candidate Ophelia "Nemmy" Jackson, who is running as a Democratic candidate in the St. Croix District.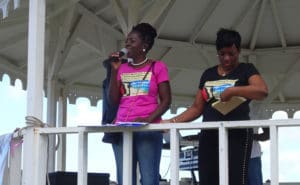 Ophelia "Nemmy" Jackson has 23 years of experience as an educator in the territory. She has also served as an administrator within the Department of Education, and deputy commissioner of the Department of Housing, Parks and Recreation.
Source: The V.I. government has a $100 million-plus annual deficit, currently cannot borrow on the private market and is not paying many of its obligations, to GERS, to WAPA, territorial nonprofits, sewage treatment contractors, trash haulers, health care contractors and more. But the territory has never missed a debt payment on its $2 billion in debt. Half of that is secured by federal rum taxes which pay creditors before the territory gets control of the funds and half is secured by V.I. Gross Receipts taxes which, by statute, IRB is supposed to give to a third party to pay creditors first. How can the territory avoid a fiscal shortfall that could force cuts to services and government layoffs in order to pay creditors first?
Jackson: Seek and properly manage federal funds in order to redirect and prioritize spending of local funds, in addition to the elimination of managerial duplication.
Source: What is your fiscal and economic plan?
Jackson: It is imperative for our community to experience economic security and an economic engine must be developed to provide opportunity for our citizens. In order to encourage the circulation of money, we must build our territory from within. This can be done through many avenues. My contribution will be in the areas of agriculture, sports, education and small business development. I support measures to increase fiscal accountability and responsibility, by requiring a justification of funds appropriated and successes of all government agencies. I will aim to redefine the Department of Agriculture to serve as the lead agency to build the agriculture industry in becoming a viable economic medium for the Virgin Islands. I will also aim to incorporate an educational curriculum for agricultural development and vocational education beginning at the elementary level and culminating to the university. This will be a step towards experiencing growth in the agriculture industry and vocational programs. Building this Industry is imperative for several reasons; it creates food security, alleviates poverty, raises the standard of living and encourages the circulation of our money, which must be experienced if the economy is to grow. Through development and funding, the implementation of a program educating all stakeholders on their roll in moving this industry forward will be paramount.
Additionally, through funding, a comprehensive recreational and sports tourism plan will be created for implementation. I will seek and provide funding for the development of our historical sites to be used as tourist attractions. Also, through the Government Development Authority, I will support incentives award for the creation and enhancement of excursions.
Source: Many young Virgin Islanders are seeking educational and financial opportunity outside of the territory. What plans will you execute to encourage those that remain to stay, and to get those that have left to return?
Jackson: It is imperative to prepare our students for employment in our community, which includes an educational curriculum that addresses our local demands. The economic plan outlined in question 1b will encourage workforce development. I support and will seek funding to improve the infrastructure and social areas for leisure and recreational entertainment and enjoyment.
Source: What would you propose to address the collapse of GERS in light of the $3 billion-plus shortfall and projected exhaustion of all funds between 2020 and 2023?
Jackson: Realizing that the system can only survive if we have an adequate government workforce; for the maintenance of the system, the government workforce level should be consistently and sufficiently, restructure government agencies to decrease contract labor and unclassified managerial positions in order to increase Tier II government employees, and line item a percentage of funds to the Government Employees Retirement System every fiscal year in an effort to decrease the deficit and the liquidation of assets for annuity payment.
Source: How will you help make government more transparent?
Jackson: The territory's Sunshine Act speaks to a transparent government and I will comply with the law.
Source: How do you feel about legalization of marijuana and why?
Jackson: Medicinal marijuana can benefit our health care, allow additional options for patient care and increase funds to the territory.
Source: What can you as an elected official do to help alleviate violent crime in the territory?
Jackson: Residents and visitors have the right to experience a safe and secured community. Criminal acts should be addressed swiftly and fairly. Through funding, early intervention and prevention programs with emphasis on in and out of school will be offered. Additionally, secure funding for the implementation of programs through the Department of Labor and the vocational school for developing usable skills for workers and entrepreneurs. These will help curb violent crimes in the territory.
Source: How do you see your role in overseeing government agencies?
Jackson: A legislator is tasked with enacting laws, seeking funding and overseeing government agencies. In executing the oversight powers, I will aim to bring greater fiscal accountability and hold the executive branch responsible for the proper compliance and spending of funds.
Source: Why are you running and why should voters choose you instead of another candidate?
Jackson: The greatest teacher is one's own experience. In addition to my educational qualifications, I have traveled a well-rounded path in life. I know how it feels to be a member and coach of an athletic team. I experienced living in an area that yearns for safety, I experienced fighting for good health care due to a chronic disease (cancer), and I have been on Mission SAS, which provides service above self through giving back to my community since I returned home in 1984. I understand government, love humanity and I am passionate about the improvement of life for the masses.
Source: What will you do to mitigate the effects of climate change on the territory?
Jackson: We must become more environmentally oriented and make prior and proper preparation which prevent poor performance. I will aim to collaborate with private and government environmental agencies on redirecting funds to areas that will improve our environmental challenges whether it be coastal erosion, littering, hurricane mitigation, water conservation etc. Also, fees from companies affecting climate change should be applied.
Source: What is your plan to improve the schools and the quality of public education in the territory?
Jackson: The appropriation of funding for the teachers' contract is necessary in order to award and pay competitive salaries. I will also assure the accurate usage of the lottery funds, which is geared towards enhancing the services provided by our educators. It is imperative to produce well-rounded students, therefore, I support the development of a curriculum to assist our students that are talented in athletics and fine arts. Additionally, through the oversight duties of legislators, I will monitor the spending of federal funds in order to decrease the return of those funds.
Source: How will you ensure that adequate funding is put toward healthcare services in the territory?
Jackson: It is obvious that our healthcare system needs to be reliable and encourage residents to seek health care services locally. This will assure the circulation of funds, which will aid with the growth of the economy. As a result of data reflecting funding shortfalls and justification, I will work with colleagues to identify and or redirect funds to address those areas. Further, through legislation, the government and Industrial Development Commission beneficiaries can award scholarships to our high school graduates who have an interest in the medical field, guaranteeing they return home to work. Also, there is a need to conduct a feasibility plan on the re-implementation of the exchange program of nurses and physicians and action be determined based on the findings. Finally, I support the Development and will encourage a transition plan that will reduce and eliminate the need for Nurses from abroad on contract labor, which has proven to be more costly. I will also, support the expansion and enhancement of specialty area services in order to improve medical tourism.
Source: A significant amount of post-hurricane recovery on St. John, St. Croix and St. Thomas was made possible by non-profit organizations and volunteer groups. But private donations are down and budget deficits make more funding difficult. What would you, as a legislator, suggest to help support these community groups?
Jackson: I will support assisting funding of non-profit organizations with federal and private grants.
Source: What do you as a senator believe should be priorities for infrastructure, parking and walkability on St. John? On St. Croix? On St. Thomas?
Jackson: Redirect funding and prioritize the development and upgrading of roads, drainages, sewage system, sidewalks and bike lanes. Additionally, the construction of a parking garage should be built in both towns.
Source: The Revised Organic Act of 1954 gives the V.I. Legislature the power to establish a USVI constitution by any means it chooses. Currently, the territory cannot charge different property tax rates to different parts of the territory. The territory could set up property tax districts if it enacted a constitution. What should the Legislature do in regards to a USVI constitution?
Jackson: The passing of a constitution is vital, therefore, we need to do what is necessary to pass a basic constitution and amend as necessary.