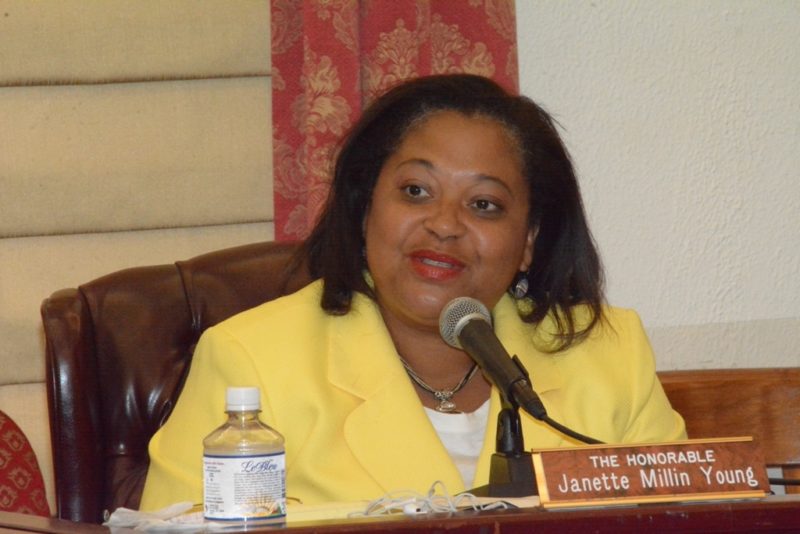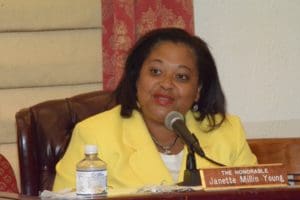 Gov. Kenneth Mapp's press conference Monday morning played like a bad joke at the expense of the Virgin Islands people, Senator Janette Millin Young said this afternoon.
"The governor is not being honest," Millin Young added. "He is trying to lead the people of the Virgin Islands down that well-worn and tired campaign trail of making huge promises he simply cannot realistically sustain in a desperate hope [that] voters will keep him in office."
The senator said she knows many residents will remember the 2010 gubernatorial campaign when Virgin Islands government employees were promised their entire retroactive pay, step salary increases that were also promised during election time decades ago. Did they get it? No, they were only paid 16 percent of what they were promised. The remaining 84 percent never made it to hardworking government employees who had earned those raises, Millin Young stated.
The senator added, "Now, the governor is playing the same game. On Monday, he promised giant salary raises for large groups of government employees, including Education, Human Services and Police. However, he admitted he has no idea how much this will cost and even more important, he thinks the federal government is going to bail us out and pay for these giant raises."
Millin Young said the governor is wrong, wrong, wrong.
"First of all, the governor cannot order salary increases by executive order. Salary raises are negotiated through the Office of the Chief Labor Negotiator. Those negotiations also include nonmonetary items. The numbers are then forwarded to the Office of Management and Budget. And, finally, the governor submits the budget to the Legislature," the senator said.
Millin Young said the governor's continued lack of respect for all is evident every day. He knows the Senate's Finance Committee is currently vetting his Fiscal Year 2019 budget request. Additionally, senators have introduced legislation to raise government employee salaries, and identify real sources of money to pay for those salary increases. "He seems to be fantasizing that the hurricane emergency funds promised by the federal government can be used for whatever he wants to spend them on. He is wrong again. The federal government has strict controls on those funds.
Millin Young suggested that rather than making promises he knows he can't keep, why isn't Mr. Mapp taking care of immediate problems in the territory? Our hospitals, our schools, and even our airports remain in deplorable condition almost a year after the hurricanes. She said that Mr. Mapp is busy trying to buy votes with promises of salary raises that won't last past Election Day and has done nothing to improve the territory's infrastructure.
"The airport is the gateway to our economy. How can the governor even consider playing with people's emotions by announcing raises he knows he has no way of sustaining, especially now when the economy is in the worst shape it's been in for years? Tourists don't want to be greeted by an airport terminal that is among the worst in the Caribbean and the nation.
Voters cannot and should not be bribed. They especially can't be bribed by promises of bigger salaries when the government does not pay its bills to include GERS, WAPA or even years-owed tax refunds. Voters clearly remember Mr. Mapp's promise to create 1,000 new jobs his first year in office. Where are those jobs? He didn't bring in 1,000 jobs his first year, his second year, his third year or his fourth year.
Mr. Mapp needs to quit trying to buy votes with money the Virgin Islands doesn't have and work to get our economy in shape, get the hospitals in shape and get the schools in shape. It's time for action, not his usual false promises.