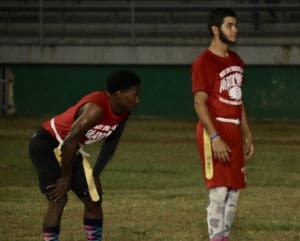 Flag Football League action resumed Saturday as the Sharks improved their record to 2-0 with a 14-0 victory over Dynasty.
Playing at Lionel Roberts Stadium, the Sharks-Dynasty match shared billing with a game between the Archers and 'Canes.
Defense has been a theme for the Sharks early on this season, and three interceptions were crucial in the Saturday's shutout effort.
The first score of the game came with just under three minutes remaining in the first half as Julio Hodge took a handoff from five yards out and ran it into the end zone. The Sharks nearly doubled their lead on the last play of the first half but the Hail Mary effort fell through their receivers hands.
In the third quarter they were able to score again, taking advantage of good field position after an interception. On fourth down they scored on a screen pass to get the lead up to 14, where it stayed for the rest of the game.
In the second game of the night the injury-depleted Archers (2-0) were able to squeak by the 'Canes with a 10-8 victory. The 'Canes were able to get the first points on the board with a safety after the Archers fumbled the ball in their own end zone.
The last two minutes of the first half were a crucial part of the ball game as the Archers came up with a big stop on fourth and goal from the one yard line just after the two minute warning. On the ensuing possession they threw an interception, giving the 'Canes a chance to score before halftime. The 'Canes took advantage, as quarterback Sebastian Silva completed a dart to Yohance Hanley on fourth down, giving the 'Canes a 8-0 halftime lead.
The Archers responded in the opening of the second half, as its defense sacked Silva in the end zone, for a safety. They took the lead for good later in the third quarter when their coach, Richard Clendinen, who was forced to play due to injuries, caught a touchdown pass. The 2 point conversion solidified the victory.
All four teams are back in action Saturday as the 'Canes play the Dynasty with both teams searching for their first victory of the season. The game begins at 7 p.m. from Lionel Roberts Stadium. The nightcap features a battle of undefeateds, when the Archers take on the Sharks about 15 minutes after the completion of the first game.