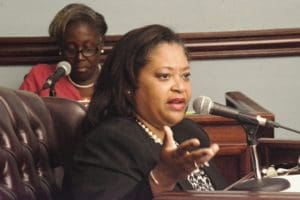 In this series the Source introduces the community to the platforms of the candidates for governor and gauges their approaches to issues in the territory. The Source sent each gubernatorial team the same questions and is running the answers in the order in which the candidates responded. (See Related Links, below.) We aim to publish all the candidate's answers prior to the Aug. 4 primary, contingent upon the candidates providing their responses in time.
This story covers the views and planned initiatives of candidate Janette Millin Young, who is running as an independent.
Janette Millin Young has served four terms in the V.I. Legislature and during her tenure she has served as Senate vice-president, as chairwoman of the Committee on Economic Development, and chairwoman of the Committee on Agriculture and Planning. She also has experience in media, communications, and public relations through her time working as senior public information officer and territorial media director under the Roy L. Schneider administration, publisher of the former V.I. Connections magazine, senior editorial writer for the V.I. Daily News, and director of corporate affairs for the former Innovative Communication Corporation.
Her running mate is Edgar Bengoa, who has been a member of the St. Croix Chamber of Commerce for over 20 years and recently resigned as the chairman of the organization's board. Bengoa is also the rresident and CEO of Bengoa International Inc., an air conditioning and refrigeration company on St. Croix.
Source: The V.I. government has a $100 million-plus annual deficit, currently cannot borrow on the private market and is not paying many of its obligations, to GERS, to WAPA, territorial nonprofits, sewage treatment contractors, trash haulers, health care contractors and more. But the territory has never missed a debt payment on its $2 billion in debt. How can the territory avoid default? Should Congress form a board like that in Puerto Rico, to decide how much to pay on which debt? What is your fiscal and economic plan?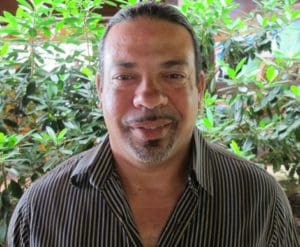 Millin Young: The U.S. Virgin Islands needs to change its leadership and direction. The Janette Millin Young-Edgar Bengoa administration takes the posture that we are already in default category due to our deplorable fiscal conditions and junk bonds status as per the major financial credit agencies. Our fiscal team would be sufficient to advise and craft solutions to our fiscal problems. We do not believe a fiscal board is the best solution to our problems. The greatest challenges that we will overcome are rebranding the Virgin Islands tourism product and facilitating new investors to consider us as long-term markets. We will invest in our local agricultural and manufacturing industries, as well as in vocational training. Our administration will become the greatest champions for new economic investment and economic growth.
With greater inflows of funds, we will be able to improve our tax base and address our critical fiscal issues. Additionally, our administration will make our commissioners and directors more accountable for their departments. With current laws already on the books, we will make sure that they are enforced. And we will work to rebuild the infrastructure to make energy more affordable to attract new businesses.
The Long Term Economic Plan offers our people the stability and certainty needed to keep the recovery going. It has three steps:
1. More and Better Jobs
2. Investing in Public Services
By keeping the recovery going, the aim of our plan is to make job available to everyone who is qualified.
Source: Many young Virgin Islanders are seeking educational and financial opportunity outside of the territory. What plans will you execute to encourage those that remain to stay, and to get those that have left to return?
Millin Young: It is the economy that causes many young Virgin Islanders to leave. The Millin Young – Bengoa administration has the experience, both in the private and public sectors, to aggressively expand the economy.
We will partner with the V.I. Department of Labor, V.I. Bureau of Economic Statistics, V.I. Economic Development Authority and the local business community to assess the workforce needs and adjust the training needs to fill the available jobs with local talent. In addition, many Virgin Islanders seek home ownership, good schools for their children and excellent health care facilities. We will work tirelessly to expand home ownership, resolve property tax inequities (especially on St. John) and create a new public school system.
Our administration will work with our educational system to restructure the curriculum and bring it up to level of states that are succeeding. We will provide an equal opportunity for our students to be as competitive. As a business owner and member of the chamber, my lieutenant governor candidate believes, as I do, that the challenge is upon us to make first steps by educating our young people regarding the opportunities for learning what our companies do as well as what that means for them in the future by introducing them to practical roles via internships, apprenticeships and work study programs.
We also believe a strong technology cluster of growing companies offering hope of growth in the territory as well as the extension of our fiber and telecommunications, health and stronger transparent government will initially create remote job workers and perhaps then the return of Virgin Islanders who realize they can make a living here for themselves and their families.
Source: What would you propose to address the collapse of GERS in light of the $3 billion-plus shortfall and projected exhaustion of all funds between 2020 and 2023?
Millin Young: The greatest error that the present administration made is to dismiss the GERS crisis and literally tell the GERS Board to "pack a lunch." Two immediate steps that the Millin Young – Bengoa Administration would take is to simply nominate new board members to fill vacancies and/or expired seats. Second, we would implement the law and pay both the required pension deductions every month. The current administration has failed to do so. The recent proposal is at best a partial fix. The system has at its disposal top-rated fund managers and professionals with actuarial experience that are well regarded in the financial markets and well paid. Their advice is worth considering and not easily dismissed as in the past.
Source: How will you help make government more transparent?
Millin Young: We would implement all existing laws and rules concerning government transparency, responsiveness, and accountability. As a senator, I have always maintained the public abreast of my work through timely news releases, newsletters, radio broadcasts and through social media. Communication is key toward better understanding.
Source: Why are you running?
Millin Young: Our team seeks to provide a new vision for our territory and unite our diverse society into a new Virgin Islands that is prosperous, dynamic, and productive. Many in our community have simply given up hope for a more caring, attentive, productive and fair government. We will inspire our community to work closer together, improve customer service and workforce morale. As leaders, we will set a better example for managing our government revenues and other resources.
Source: Why should voters choose you instead of another candidate?
Millin Young: We bring a unique mixture of skills, ideas, and energy to the political system. We are most fit to lead. We both have extensive experience in the business sector in media, telecommunications and contracting. Before being elected as a senator, I worked in the offices of two former governors in media relations which gave me great insight into the work of the highest office in the territory and how departments should work to best meet the needs of our people. Bengoa has felt the pain many of our small businesses are currently facing such as difficulty in obtaining business licenses and heavy taxation. We know what it takes to grow our economy so that more, rather than less, will ease the burden of taxes for the few who currently bear it.
Source: How do you feel about legalization of marijuana and why?
Millin Young: For medicinal and sacramental uses, we support the decriminalization of marijuana. The United States has now accepted medical marijuana as legitimate and our local voters supported its decriminalization in the 2016 election. In the territory, we have a sizable population of religious groups that use marijuana as a sacrament. The Rastafari are the most well-known and we respect them and their beliefs. We do see the need to ensure adequate enforcement for the protection of our residents. We support putting in place a real plan that shows how the implementation will work, how much money will it add to our coffers, who will have the ability to plant it and where it will be planted. We need to also ensure that it will generate commerce and will be an asset to our local agricultural community.
Source: What can you as an elected official do to help alleviate violent crime in the territory?
Millin Young: As senator, I sponsored legislation that would allow a comprehensive analysis of crime in the Virgin Islands. It was crafted as a public health issue based on the extensive health issues that emerge from violent crimes. It was supported by the 32nd as a public health study rather than a task force. However, it will not require additional legislation for our administration to develop a responsive crime prevention program that seeks early intervention in pre-teens to address the "detached youth" problem. We will seek to expand vocational and technical training for those who are willing and able. We will suppress violent crime with the creation of a territorial drug unit to fight illicit drug trafficking. We will expand treatment programs for drug users to stop the cycle or addiction and crime. We will expand rehabilitation programs for the incarcerated population and seek their transformation into productive citizens. We will seek a "gang peace" or a ceasefire of neighborhood conflicts. We will equip and prepare the VIPD in gang violence and make sure that all cameras and vigilant devices are working properly.
Source: How do you see your role in overseeing government agencies?
Millin Young: As chief executives, the governor and lieutenant governor are responsible for selecting the best qualified personnel to serve in senior leadership positions. It is our task to mobilize these talented leaders with a vision of transformation and progress. Our view is that the governor and lieutenant governor are most useful when they can inspire good governance through example and that their very lives serve as concrete frames of reference in humility, servant leadership, honesty, respectful communication and undying love for the people of the Virgin Islands. We will encourage a more responsive type of government to address the needs of our community.
Source: How will you ensure the territory is prepared for future major disasters like hurricanes?
Millin Young: We will resurrect the Territory Preparedness Plans and review them for improvement. We will address the errors of Hurricanes Irma and Maria by creating micro grid backup facilities. We will reformulate our communications so that no matter the level of devastation we will never be without communications and St John will never be ignored again. We will create a new evacuation program for the elderly and medically challenged. We believe more training and drills are necessary to reduce chaos.
Source: What will you do to mitigate the effects of climate change on the territory?
Millin Young: As the former chair of the Legislature's Committee on Economic Development, Agriculture and Planning, I convened a hearing to delve into this very matter. We must harden our infrastructure to mitigate against the ill effects of climate change. However, we must play our part in reducing CO2 gases and reduce our carbon footprint by seeking more green energy for our energy systems. The Virgin Islands can be an example with green energy and our administration will improve solar energy use, work toward replacing fossil fuel cars with electric cars and increase the territory's recycling efforts. It is imperative to reduce the amount of paper, plastic, metal and glass that ends up in our landfills.