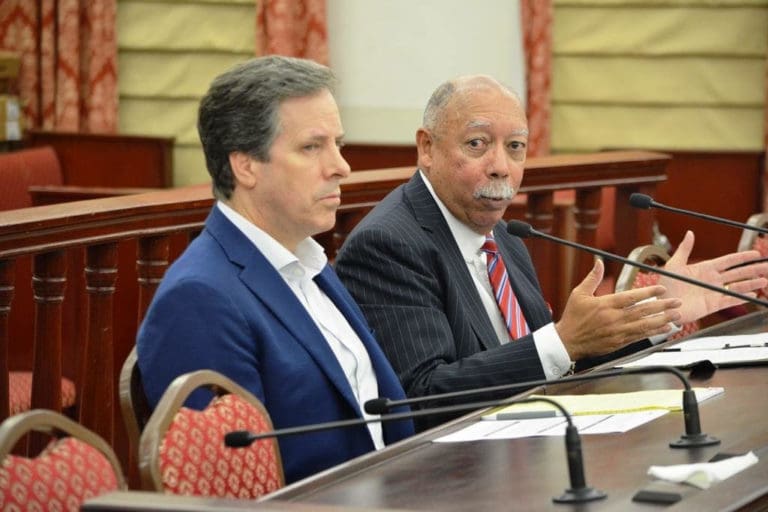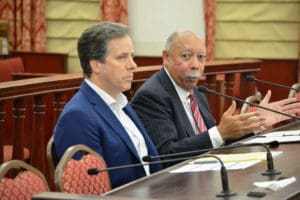 The American Resort Development Association called on lawmakers Wednesday to eliminate the environmental impact fee affecting timeshare owners and craft new timeshare laws, saying their data on the local timeshare industry "paints a negative picture."
"The environmental impact fee is nothing but a new tax that must be disclosed to potential purchasers by timeshare developers and sellers, and that tax serves as a real disincentive to purchasers," said George Dudley, legal counsel to ARDA.
Dudley added that the fee is a real impediment for developers who are currently deciding whether to rebuild to pre-hurricane levels or invest more money to improve their resorts.
"If I can't sell the points, if I can't sell the time, I'm not improving anything," said Dudley.
The Wednesday hearing called by the Senate Committee on Economic Development and Agriculture also invited Tourism Commissioner Beverly Nicholson Doty, Department of Licensing and Consumer Affairs Commissioner Devin Carrington, and Bureau of Economic Research Director Bernadette Melendez, but none attended. Attorney General Claude Walker told Committee Chairman Neville James in an email that he advised the invited government officials not to appear at the hearing due to ongoing litigation between timeshare owners and developers, including ARDA, and the Virgin Islands government.
The $25 environmental fee affects only timeshare owners and applies to each night that a timeshare unit is occupied. Timeshare owners are also required to pay a waste management fee for waste removal as well as property taxes, the highest assessed in the territory, according to Dudley.
ARDA persistently lobbied against the new fee's enactment, with an initial victory in December 2016, when the new fee was shot down during a special senate session called by Gov. Kenneth Mapp. When Mapp reintroduced the impact fee legislation in January 2017, ARDA representatives sat down with the executive branch, and testified before the Senate Finance Committee and Rules and Judiciary Committee in February. The environmental impact fee eventually took effect in May 2017.
According to Dudley, the $25 nightly fee makes the V.I. less attractive to developers and buyers alike, holding back the territory's ability to compete in the only sector of its hospitality industry that has seen sustained growth in the last 25 years.
"They pay their tax without complaints," said Dudley. "Now they're being told that something that they own, something for which they're paying property tax, they're now being asked to pay an additional $25 every night to stay in a property that they own and for which they're paying property tax. That is not happening anywhere else in the Caribbean."
Dudley said that in spite of Sen. Positive T.A. Nelson's newly drafted timeshare legislation, the evolution of the timeshare industry requires changes in local condominium statutes to address significant changes in the industry. For example, timeshare owners can now buy points in timeshare clubs and gain timeshare access to that club's various locations, instead of the more traditional purchase of a deeded interest in a particular unit for a specified number of days out of the year. That's something current laws do not address, according to Dudley.
ARDA offered a set of model laws that would take recent changes in the industry into account, as well as institute a non-judicial foreclosure process for timeshare owners. According to ARDA Vice President Robert Clements, this is "a tremendously efficient way to deal with the foreclosure process," taking the courts out of the equation and placing the right to evict or put on notice tax-delinquent or overstaying timeshare owners on the association.
Timeshare owners still can opt to take the foreclosure process through the courts, said Clemens, but most choose to keep things out of courtrooms.
Under ARDA's proposal, the association would also collect the property taxes due from timeshare owners so that the Bureau of Internal Revenue has to deal with only one legal entity. Currently, the V.I. Tax Assessor's Office issues thousands of timeshare property tax assessments and deals with constantly changing timeshare records. This leads to wasted time sending property tax bills to old addresses for timeshare owners who never receive them, said Dudley.
According to Dudley, he met with Tax Assessor Ira Mills and guaranteed him that the year after this change is implemented, Mills would see property tax revenues from timeshares increase by at least 50 percent.
Enacting the proposed statute changes and scrapping the environmental impact fees could mean the difference between the territory seeing new and improved timeshare developments or lagging behind other Caribbean destinations made more accessible by increased flights.
Lawmakers insisted the American flag flying over the territory must hold some value, but Dudley disagreed.
"There are people who just want to have experience," said Dudley. "The hotel that was supposed to be built in Mandahl has instead been built in St. Kitts and is now regarded as the number one new resort in the Caribbean. That's not because St. Kitts has the American flag there. It's because of the quality of the product they put there."