In this series the Source introduces the community to the platforms of the candidates for governor and gauges their approaches to issues in the territory. The Source sent each gubernatorial team the same questions and is running the answers in the order in which the candidates responded. (See Related Links, below.) We aim to publish all the candidate's answers prior to the Aug. 4 primary, contingent upon the candidates providing their responses in time.
This story covers the views and planned initiatives of candidate Angel Dawson, who is running as a Democrat.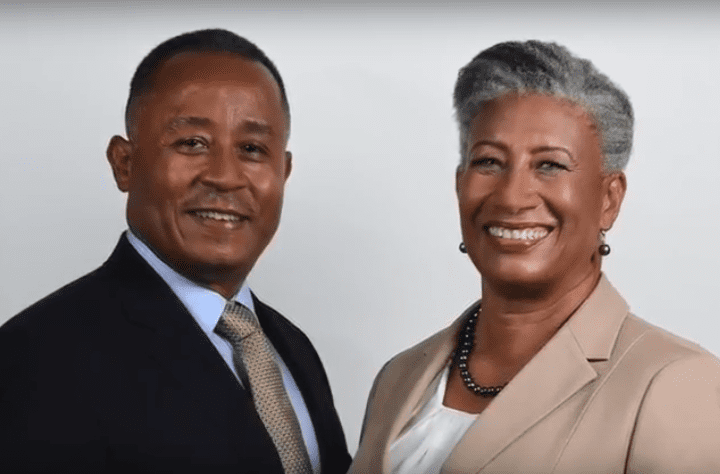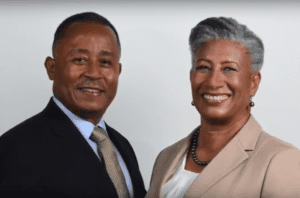 Angel Dawson has spent a 12-year career in banking at Banco Popular de Puerto Rico, in which he served as vice president and commercial loans manager on St. Thomas. He was also the senior vice president and commercial business manager of FirstBank's Eastern Caribbean Region in 2014. Dawson has also served as the commissioner of Finance and head of the Public Finance Authority.
His running mate is Marise James, who recently retired from being staff judge advocate of the V.I. National Guard. James has an extensive career in law; she has been an associate at the Winston Hodge law firm and served as legal counsel for the Department of Planning and Natural Resources, the office of Sen. Gerard Luz A. James II, and the office of Gov. Roy L. Schneider, as well as practicing law as a sole practitioner.
Source: The V.I. government has a $100 million-plus annual deficit, currently cannot borrow on the private market and is not paying many of its obligations, to GERS, to WAPA, territorial nonprofits, sewage treatment contractors, trash haulers, health care contractors and more. But the territory has never missed a debt payment on its $2 billion in debt. How can the territory avoid default?
Dawson: The territory is highly unlikely to default because it issues revenue bonds that are either secured by matching funds (Rum revenue cover-over receipts) that are transmitted by the U.S. Treasury directly to the Bond Trustee(s), or by gross receipts taxes that are lock-boxed and controlled by a collecting agent before transmission to the bond trustee(s). Both types of bond issuances have adequate coverage, as confirmed by senior and subordinate bonds tests.
Source: Should Congress form a board like that in Puerto Rico, to decide how much to pay on which debt?
Dawson: No. Such action is not warranted, given the bond security and coverages described in the previous response.
Source: What is your fiscal and economic plan?
Dawson: The Dawson/James fiscal and economic plan is predicated on the three economic pillars of Tourism, Trade and Technology.
– Tourism
There exists the opportunity to grow the tourism industry, particularly on the island of St. Croix. Utilizing the Hotel Development Act of 2011, which allows hotel developers to use a portion of their hotel occupancy and casino taxes to repay long-term loans obtained to finance hotel construction projects, at least two new branded hotel properties will be attracted to St. Croix: One on the western part of the island and one on the eastern part. These hotels would bring national and international recognition to St. Croix.  There also exists the possibility of attracting at least one boutique-sized hotel to Water Island and the western end of St. Thomas, along with one more full-service hotel.
The damage caused by Hurricanes Irma and Maria have also provided an opportunity for existing hotel properties on all U.S. Virgin Islands to refresh their offerings.
Working with the major cruise lines to homeport a few of their cruise ships on St. Croix will also be pursued.  This will enable the cruise lines to offer one-week cruises that go further into the southern Caribbean.  The advantages to St. Croix would include an increased demand for hotel rooms, as cruisers will likely stay on St. Croix before and/or after their cruises.  This would benefit restaurants, taxi drivers, car rental agencies, retailers, etc.
The benefits to cruise lines of St. Croix as a homeport would include:
A deep water port,
An airport runway long enough to accommodate larger aircrafts,
The ability to bunker their ship with fuel purchased from Limetree Terminals,
An ability to provision their ships due to St. Croix' container port and the U.S. Virgin Islands' exemption from the Jones Act.
– Trade
Utilizing the U.S. Virgin Islands' strategic geographical location in the middle of the Caribbean chain, and St. Croix' land mass, transshipment opportunities on St. Croix will be pursued.  This would include a push to attract a major company such as Amazon, which ships massive volumes of merchandise, to utilize St. Croix as its Caribbean hub.
Agriculture should be transformed to agribusiness for select produce that would supply the local marketplace, both households and businesses, thereby reducing the reliance on imports and enhancing freshness.  Once again, given its landmass, St. Croix would play the central role in the U.S. Virgin Islands' agribusiness.
To support the shipment of agricultural and other production from St. Croix to St. Thomas and St. John, along with better economic integration of the entire territory, the construction of a large multi-use marine vessel will be actively pursued.  This vessel will be able to comfortably transport cargo, passengers, and vehicles.
– Technology
Utilizing viNGN and its unique ability to distribute broadband fiber optic capacity from the point where cables between North America and South America intersect on the northwestern coast of St. Croix, the U.S. Virgin Islands can become the technological hub of the English-speaking Caribbean.  This can be achieved through the UVI Research and Technology Park, the UVI Medical School and Simulation Center.
Given the theoretical broadband speeds made possible by viNGN wholesaling to retail Internet Service Providers (ISP's), this also becomes a key selling point in attracting companies to the USVI that rely heavily upon fast and reliable internet availability and access.
In addition to economic initiatives to generate new V.I. Government tax revenues, expenses must be controlled.  With personnel and related costs being the largest expense category, economic growth in the private sector will enable a migration of employment and related expenses from the public sector to the private sector.
Source: Many young Virgin Islanders are seeking educational and financial opportunity outside of the territory. What plans will you execute to encourage those that remain to stay, and to get those that have left to return?
Dawson: A growing and thriving economy providing opportunities in the areas of Tourism, Technology, and Trade is the only way that the U.S. Virgin Islands can provide the types of jobs and economic opportunities that are attractive to our young people.  Execution of the economic areas outlined above, along with workforce development in academic and trade schools will ensure both the opportunities and the necessary preparation.
But, we will also work to ensure that the U.S. Virgin Islands provides the requisite public safety, healthcare, housing, school systems, parks and recreation, etc. that an individual or family thinking of returning to the U.S.V.I. will consider in making such a decision.
Source: What would you propose to address the collapse of GERS in light of the $3 billion-plus shortfall and projected exhaustion of all funds between 2020 and 2023?
Dawson: FACTS:
At the end of 2017 there were 9,385 Active Members in the GERS:
4,036 Tier 2 (43%)
5,349 Tier 1 (57%)
In 2017 benefits payments and system expenses were $269.5 million and total contributions were $105.5 million, a shortfall of $164 million.
ASSUMPTIONS:
Tier 2 members represented approximately 40 percent of the $105.5 million in 2017 contributions, or $42 million.
36 percent of this $42 million (or approximately $15 million) is attributable to the regular Tier 2 member portion.
64 percent of this $42 million (or approximately $27 million) is attributable to the employer portion for Tier 2 members.
PLAN:
Tier 1 employees continue undisturbed under the current defined benefits plan.
Tier 2 employees that have not yet vested are converted to a new defined contribution plan where they will continue to contribute at the existing rates.
The employer contribution previously made by the Virgin Islands Government for Tier 2 employees will be diverted to the defined benefits plan.
Initially, there will be no employer match in the Defined Contribution Plan.
All employer contributions previously made to the existing defined benefits plan will be retained in it.
Eventually, natural attrition of Tier 1 will result in a complete transition of the GERS from the existing and currently endangered defined benefits plan to the new and financially sustainable defined contributions plan.
RATIONALE:
1 – Tier 1 employees are, generally, those closest to retirement age with less time to make adjustments to retirement plan changes.  Their existing defined benefits plan should, therefore remain undisturbed.
2 – Tier 2 employees are, generally, further away from retirement with more time to make adjustments to retirement plan changes.
Source: How will you help make government more transparent?
Dawson: As executive director of the Public Finance Authority when the territory received hundreds of millions of dollars under President Obama's American Recovery and Reinvestment Act ("ARRA"), I oversaw creation of the Office of Economic Opportunity.  To ensure transparency, a website was created that contained a dashboard showing all funds received, how they were being spent and the status of all programs and projects.  As governor, I will utilize this as a model for the entire Virgin Islands Government.
Source: Why are you running?
Dawson: I am running because, from my position as senior vice president of a major bank in the Virgin Islands, I was dismayed at the economic and fiscal deterioration of the U.S. Virgin Islands that we have witnessed in recent years.  As a financial professional in both the public and private sectors for the last 30 years, I have the necessary experience, interest and track record of success in the relevant areas to address the most pressing issues confronting the Virgin Islands Government at this time: The Economy and V.I. Government Fiscal Decline.
As commissioner of Finance, executive director of the Public Finance Authority, custodian of the Government Insurance Fund, chairman of the Board of Tax Review, and chairman of the Virgin Islands Lottery Commission, I fixed many problems within the V.I. Government and now propose to fix this broken Virgin Islands Government, itself, as governor.
Finally, I am running for the love of my homeland, because I understand that if economic and fiscal issues confronting the Virgin Islands Government are not fixed promptly, we could in fact end up under a federal control board, such as exists in Puerto Rico.  As the former executive director of the Virgin Islands Public Finance Authority, I was able to achieve the best bond ratings and the lowest interest rates on behalf of this territory by working in conjunction with all of the necessary stakeholders at home and abroad.  In less than three years, V.I. Government bonds have gone from investment grade to junk bond status.  And, as a commercial banker my career has been about making sound economic decisions.  By occupying the highest office in the land, as governor, I will be able to harness all of these experiences to benefit the entire U.S. Virgin Islands at this most critical and pivotal time in our history.
Source: Why should voters choose you instead of another candidate?
Dawson: As outlined above, I have the most experience and a track record of success in the areas that are most critical in the Virgin Islands presently:  The economy and government fiscal matters.  My running mate, Marise James, and I also have the personal integrity required to occupy the highest offices in the land.
Source: How do you feel about legalization of marijuana and why?
Dawson: I support the legalization of medical marijuana, based upon the available scientific research. And, effectively, possession of small amounts of marijuana for recreational usage has already been decriminalized locally.  Ultimately, however, local legalization of marijuana may still be effectively overturned by the federal government through the Drug Enforcement Administration, which still has purview and classifies marijuana as a controlled substance.  Additionally, the banking system will still not accept deposits of cash generated from the sale of marijuana.  Therefore, until the federal government, itself, declassifies marijuana as a controlled substance, investing in the business of selling recreational marijuana or relying upon tax revenues generated from its sale remains questionable.
Source: What can you as an elected official do to help alleviate violent crime in the territory?
Dawson: It has been said that "the best social program is a job."  And, as experienced by the drop in violent crimes in the immediate aftermath of Hurricanes Irma and Maria when many of our able-bodied young men and women were hired to assist in hurricane recovery related efforts, this appears to be true.  Therefore, execution of the Dawson/James economic strategy outlined earlier, will yield employment that should divert many of our young people from a life of crime.
As an elected official, ensuring that we have a good educational system that addresses students interested in academic pursuits and those interested in vocational pursuits is very important.
Additionally, properly equipped, maintained and supervised parks and recreational facilities for our children and young people is a must.
Of course, after providing these various opportunities, we must engage in proper community policing and ensure that, after giving at least one second chance, criminals are prosecuted and housed in correctional facilities that will prepare them for reentry into society, where applicable.
Source: How do you see your role in overseeing government agencies?
Dawson: My management style has never been that of a micro-manager.  An executive must hire the right people, set the policy and then have the necessary mechanisms in place to monitor performance against established benchmarks on a regular basis.  In the case of the governor, a highly competent chief of staff is critical.  Where necessary, management changes must be made promptly.  This is greatly facilitated by ensuring that the proper management depth is present in every department and agency.
Source: How will you ensure the territory is prepared for future major disasters like hurricanes?
Dawson: There exists a Territorial Emergency Operations Plan (TEOP) with which every single department and agency head and their direct reports must be familiar.  Regular table-top exercises, in conjunction with VITEMA, the Virgin Islands National Guard and other emergency agencies will ensure familiarity with the TEOP.  It will also point out areas where disaster preparedness is inadequate and enable timely corrective actions, where necessary.  Regular education of and communications with the public at large regarding disaster preparedness is also required.
Source: What will you do to mitigate the effects of climate change on the territory?
Dawson: I will ensure that the Virgin Islands Government and its semi-autonomous agencies and instrumentalities reduce their carbon footprint by utilizing renewable energy resources to the fullest extent possible.  One of the key results of climate change being more intense hurricanes and rising sea levels, my administration will ensure that the Virgin Islands Building Code is strengthened and enforced where necessary for all types of construction, particularly along the coasts.  This will require working with the appropriate federal agencies and the property/casualty insurance industry to ensure that funding is available to mitigate the effects of climate change and that insurance premiums reflect when these mitigants are put into place.