Due to a an editing error this story, which was supposed to have been posted Monday night was replaced by a year-old story announcing a fight that was long since passed. The Source regrets the error.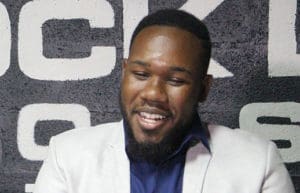 A week after going public on Twitter, New York-based promoter Lou DiBella officially announced the inking of a five-year deal that puts V.I. heavyweight Clayton Laurent, Jr. one step closer to his goal of being a world champion fighter.
"I'm thrilled to add heavyweight puncher Clayton Laurent Jr. to the DiBella Entertainment roster," DiBella said in a statement Friday announcing Laurent's signing.
"With his background as a 2016 Olympian, and having honed his skills under the tutelage of his legendary stepfather Julian Jackson, Clayton has explosive potential. Together with his managers Philippe Fondu and Matt Clark, we will work to develop Clayton and provide him with an opportunity to become the first heavyweight champion from the U.S. Virgin Islands."
DiBella currently has a cadre of world champions in his arsenal, along with several up and coming fighters and female prospects. His work with former world champion Sergio Martinez (51-3-2,) however, is what put DiBella on the top of the pack of promoters fighting for Laurent, former heavyweight champion Evander Holyfield among them.
"I first heard about Mr. DiBella when my brothers went to train with Sergio Martinez at his camp in California. I saw him take Sergio from being an undiscovered, unknown boxer to a superstar, and I look forward to seeing him transform my career as well. It's truly a great feeling knowing that I'm being signed by one of the biggest names in boxing right now."
The 27-year-old Laurent competed at the 2016 Olympic Games in Rio de Janiero, Brazil, advancing to the second round. With the ultimate goal of becoming the first world heavyweight champion born and raised in the U.S. Virgin Islands, Laurent made his professional debut on August 19, 2017, earning a second-round stoppage against Wayman Carter (2-3.)
"Boxing is what I love to do, it's what I live for," Laurent said. "Growing up, it was exciting to see my brothers excelling. I wanted to be a world champion and a world ranked heavyweight fighter representing the U.S. Virgin Islands, and I appreciate having this opportunity at really building my career and becoming somebody in the ring."
Laurent's stepfather is former three time world champion Julian "The Hawk" Jackson, and his brothers are John and Julius Jackson.
Laurent is co-managed by the Belgian-born Philippe Fondu and Australian-based Matt Clark.
"I was privileged to work several times in the past with Lou DiBella, whom I consider a leading boxing promoter in the world," Fondu said recently. "When it came time to select someone trustworthy to develop Clayton's career, my suggestion to the team was to address DiBella Entertainment's proposal. I am deeply convinced that Clayton has a great future in front of him being associated with DiBella Entertainment."
Details of Laurent's first bout under the DiBella Entertainment banner will be announced shortly.