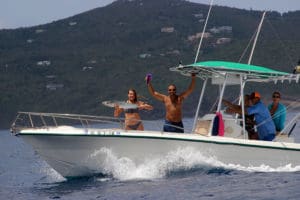 Registration is open for the 30th annual Bastille Day Kingfish Tournament, which is slated to take place Sunday at Hull Bay Hideaway.
The Northside Sportfishing Club hosts the popular tournament, which online travel advisor Hotwire.com named one of the top 10 best ways to celebrate Bastille Day in the world.
Whoever catches "the big one" will pocket $2,000 in cash. And there are more than a dozen other ways to win and more than $13,000 up for grabs in cash and prizes.
"We are excited to celebrate our 30th year and to be one of the only fishing tournaments held in the Virgin Islands to date in spite of the hardships of last year's hurricanes," said Catherine Bryan, one of the team of six tournament organizers.
"We really have to thank our sponsors for their generosity and invite the public to show their support as well by either registering to fish or coming to the weigh-in and party Sunday afternoon at Hull Bay Hideaway. This way, we can continue our long-standing practice of giving back to the St. Thomas community by supporting beneficiaries such as the Joseph Sibilly School, St. Thomas Rescue, the Civil Air Patrol and Nana Baby Children's Home, as well as providing college scholarships," Bryan said.
This year, for the first time, there will be free safari taxi shuttles from the parking lot at Sib's On the Mountain Bar & Restaurant (intersection of Routes 33 and 37 in Estate Elizabeth) to Hull Bay Hideaway starting at 10 a.m. on Sunday. The last transport leaves for the Sibs parking lot at 6 p.m. Taxis also will pick up passengers along the Hull Bay Road route. This takes the hassle out of finding a place to park at Hull Bay, organizers said.
Flamon Taxi & Island Tours and Lollipop Taxi Service is providing this service.
Entry forms are available at Neptune Fishing Supplies in Red Hook. Registration continues at the Captain's Meeting at 7:30 p.m. Friday at Hull Bay Hideaway, and from noon to 6 p.m. Saturday, also at the Hideaway.
Organizers credited "the generosity of sponsors" for keeping entry fees are low – $45 for adults, $35 for juniors ages 8 to 17. All registered anglers will receive an official Bastille Day Kingfish Tournament T-shirt, hat and goodie bag. More than 200 anglers – adults and juniors of all skill level – and more than 60 boats are expected to enter.
Full Circle Band will entertain from 6:30 to 9:30 p.m. Friday, with a break at 8 p.m. for the Captain's Meeting.
Prize categories include: Largest Kingfish, 2nd Largest Kingfish, 3rd Largest Kingfish, 4th Largest Kingfish, Best Captain, Best Boat, Best Male Angler, Best Female Angler, Best Junior Male Angler, Best Junior Female Angler, Largest Barracuda, Largest Bonito and Largest Mackerel.
This year Budget Marine is sponsoring the Best Boat prize package, valued at $500. In addition, several Virgin Islands' businesses have contributed many luxury prizes, the organizers said. There will also be a 50/50 raffle drawing.
Like last year, the conservation-oriented organizers of the Bastille Day Kingfish Tournament have eliminated the Jack species and increased the minimum length on barracuda to 40-inches in length. To assure fairness for all, tournament participants are not allowed to leave shore until 4 a.m. Sunday.
Competitors will put their lines in the water starting at 5:30 a.m. Sunday and the competition ends sharply at noon. From noon until 2 p.m., while the weigh-master and judges go to work, registered anglers can quench their thirst with Coors Light and rum punch or juice, depending on age and preference. The awards ceremony will take place at 8 p.m. at Hull Bay Hideaway.
Junior anglers are eligible for the special "Catch in the Hat" drawing, sponsored by Offshore Marine. All registered junior angler names will be placed in a hat. The first eight names drawn will receive $50 cash and the next one will win $100 for a total award of $500. Junior anglers must be present at Hull Bay Hideaway to win. The drawing will take place during the band break Sunday afternoon.
There will also be a bouncy house and face painting for the kid's in the afternoon.
They will draw a "lucky/unlucky" prize of $1,500 distributed over several participants too. Anglers must be present to win.
After the fishing comes the party. Cool Session Brass plays from noon to 5 p.m., followed by the Dem Fellas Band from 6 to 10 p.m. Hull Bay Hideaway will serve food and the Armstrong Real Tasty Ice Cream Truck will be parked at the venue during the day.
The 30th Bastille Day Kingfish Tournament is sponsored by Coors Light and Captain Morgan, distributed by Bellows International; Offshore Marine, the YAMAHA distributor in the Virgin Islands; NEMWIL and Red Hook Agencies, Inc.; TOPA Insurance Services Inc.; Budget Marine, the Caribbean's Leading Chandlery; Hawaiian Tropic; Scoops & Brew Gelato and Coffee Bar; Frank's Electric; Amalie Car Rental; and Hull Bay Hideaway.
More information is available by email to nssfcvi@gmail.com, calling 340-998-0854, or online at the Northside Sportfishing Club's Facebook page.
https://www.facebook.com/Northside-Sportfishing-Club-138023976318893/