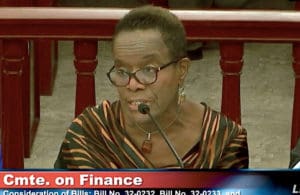 The Finance Committee approved three bills Friday to bring the territory's oversight of insurance more in line with uniform stateside laws and bringing it closer to compliance with National Association of Insurance Commissioners' expectations for accreditation.
But enforcement will need more funding and personnel, officials said. The bills now go to another committee and if approved there, on to the full Senate for final passage.
"These are just a few of the many bills we need to pass to ensure the Office of the Lieutenant Governor's Division of Banking and Insurance is on the same level of the other 50 states and Puerto Rico who have already adopted these standards," Sen. Kurt Vialet (D-STX), the Finance Committee chair, said. He said many of the territory's laws governing insurance have not been amended since 1968.
The bills, if approved, will join more than half a dozen updates to the territory's banking and insurance laws since 2016 that were all aimed at matching stateside standards. (See Related Links below.)
Gwendolyn Hall Brady, the territory's director of banking, insurance and financial regulation, testified for passage of all three bills, with support from staff of the Division of Banking, Insurance and Financial Regulation. The bills will give the division additional regulatory authority to ensure entities that come in have the necessary financial status "especially after hurricanes Irma and Maria" to meet their insurance obligations.
D. Theresa Fabela, representing the Virgin Islands Association of Admitted Property and Casualty Insurers, also testified in support. She said they "will bring the territory's Insurance Code in line with other U.S. States and provide support for the much desired NAIC accreditation."
Accreditation is good because it "establishes standardized solvency laws and regulations, which are put in place to protect consumers," she said.
One bill (32-0232) deals largely with re-insurance, which is insurance purchased by your primary insurer, to cover their own potential losses. It sets capital requirements and rules for being accredited in the territory. It mandates when and how re-insurance companies are to report their finances and regulates how they can leave the business or sell their portfolios to other insurance entities.
Another (32-0233) provides for annual audits and financial reports from insurance companies and sets up rule for carrying them out.
The third (32-0234) requires insurers to have an appointed actuary prepare an actuarial report and allows the V.I. insurance commissioner to hire an actuary at the insurance company's expense, to review that report.
Vialet asked how much additional staff the banking and insurance division would need to carry out the bills' mandates. Brady said they would need at least four financial examiners; two in each district, plus a financial licensing examiner on St. Thomas.
"Hence you are saying these bills are only as effective as your ability to bring on additional people?" Vialet asked.
"That is correct," Brady said.
Voting to send the bills out of committee and on to the Rules and Judiciary Committee were: Vialet, Sen. Marvin Blyden (D-STT), Neville James (D-STX), Nereida Rivera-O'Reilly (D-STX), Tregenza Roach (I-STT) and Brian Smith (D-At Large). Sen. Dwayne DeGraff (I-STT) was absent.
Senators discussed a number of other insurance-related issues during debate on the bills, including the details of force-placed insurance and the problem of owners who are underinsured.
O'Reilly asks about homeowners who had damage during the storms last year and collected insurance payments and "didn't live here, don't have a mortgage and don't plan to do repairs."
"Now we end up with properties which are derelict which push down values of properties in the area," O'Reilly said.
Dolace Mclean, legal counsel for the division, said owners of damaged buildings may get a break on their property taxes. But no one cited any provision of law or policy that would require someone to fix their property.
O'Reilly said some states, including Florida, require homeowners to set aside some insurance settlement money "to at least clean the property if not to repair it. But to at least clean debris off the property."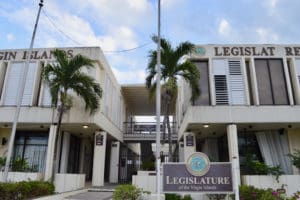 On a related note, the Legislature abandoned its complex in Frederiksted after last fall's storms and has passed legislation appropriating funds to procure a new location, but has not made public any plans to address the abandoned facility nor proposed legislation to fund any cleanup of that facility. There is also an older, abandoned legislative complex near Bassin Triangle at the outskirts of Christiansted that has long been used by the homeless.