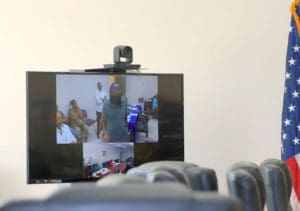 What was meant to be an emergency Elections board meeting to discuss the disqualification of Sen. Terrence "Positive" Nelson and his running mate from the 2018 gubernatorial race ended with no resolution, and was permeated Tuesday with in-fighting between members.
St. Thomas-St. John district board chair Arturo Watlington said he called the "meeting" and set the agenda, which Elections Supervisor Caroline Fawkes said was released to the public Friday. In the few minutes that Nelson got to speak, he said that no formal invitation was given to his team, and his attorney, Trudy Fenster, said that a complaint against the Elections System and motion for a temporary restraining order had already been filed with the courts.
Since Nelson's complaint has been outlined in the court documents, Fenster said she didn't have any new information to present to the board, which has until June 14 to file a response. Asked if he wanted to proceed in light of the lawsuit, Watlington said the meeting was "moot" and that the board would work on responding.
Fawkes disqualified Nelson and running mate Gary Udhwani from the gubernatorial race on June 5. Two days later, she explained that Udhwani submitted an affidavit which said, in part, that he was a registered voter at the time the candidates' official paperwork was turned in. Election Systems records would later document the candidate registered as a voter several days later, on May 8.
That cast questions on the signatures on the team's nominating petition. The first signature on that petition was dated April 11. Other signatures bore dates prior to May 8 when Udhwani registered to vote himself.
It was also noted that the petition was picked up from the Elections office on May 8.
"His running mate is not eligible to be a candidate," Fawkes said at the time. "He cannot circulate petitions on April 11. Based on documents received in my office he was circulating petitions on April 11. You can issue a notice of defect, which can be cured but we cannot cure a registration."
Nelson has contended that other candidate teams in the governor's race were given notices of defect, along with opportunities to correct erroneous filings.
None of those details came up Tuesday and after Fenster revealed that a suit had been filed, the meeting promptly ended. The half an hour before, however, was filled with discussion about another matter that also hasn't been resolved: the election of new officers to a single elections board. From the minute the meeting started, board members couldn't agree on whether to talk about the Nelson matter, whether the meeting was legal, or when new officers could be elected.
Currently, there's no quorum to even get a vote in. Asked after the meeting when that could happen, Watlington said he didn't know, but that he would keep trying to "see when the matter could be resolved."